More women are getting into the best-paid jobs, according to an analysis of official figures which shows that the number of women paying the top rate of tax is growing at a faster rate than their male counterparts.
More than 1.2 million women earned enough to be placed in the highest tax bracket in 2013-14, a 17 per cent increase on the previous year. The number of men earning £42,000 or more rose by only 13 per cent in the period.
The proportion of high earners who are women has climbed to 28 per cent of the total, up from just 21 per cent a decade ago, according to the analysis by Radius Equity.
Even the number of women earning more than £150,000, the threshold for additional tax, has been growing at a faster rate than men. Some 48,000 women are now paying the highest rate, an increase of 9 per cent, compared with 8 per cent for men.
The campaigner Caroline Criado-Perez said: "It's great that women are progressing and being hired in greater numbers to comparatively difficult roles which women are equally as capable to do as men, but it's still the case that vastly more men are in these higher paid roles."
Some 3.18 million men are in the highest-earning tax bracket, more than double the number of women.
Ms Criado-Perez said: "This doesn't reflect women's capabilities, nor does it reflect the number of women who have been in higher education.
"It's great to see things slowly changing but  we're still living in an unequal world."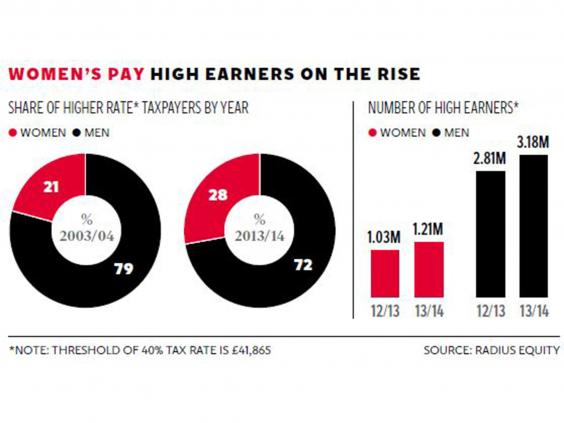 The gap between the earnings of men and women is at its smallest since records began, according to figures last month. Men earn 17.5 per cent more than women on average per hour, a fall of around two percentage points in a year. This means that women now earn 82p for every £1 earned by a man.
Susan Himmelweit, professor of economics at the Open University, said: "The trend towards some equalisation in earnings has been going on for some time. The recession and austerity dampened it down considerably but the latest figures show the gap is falling again."
She said much of the shrinking pay gap has been achieved by men at the bottom earning less, rather than a lift in women's wages.
She added: "I'm pleased [that more women are high earners] and I'm also pleased because it means the Government can raise more revenue, which is really good for women."
Gary Robins, director at Radius, said: "It's great to see the gap between men and women close as the economy recovers. What's important now is that the gap between the value of the assets owned by men and women closes, as that will provide women with more influence."
A Bill aimed at encouraging transparency about how differently men and women are paid in Britain's biggest companies was voted through the Commons last week.
Under the Labour-backed Equal Pay (Transparency) Bill, employers with more than 250 staff would be made to publish information showing the difference between male and female pay.
The Bill was passed by 258 votes to eight. Seven of the dissenters were male Conservatives.