Not long after Jeanne Badinga had her first child, Thierry, she realised her well-paid job working as a personal assistant in the City was going to be completely incompatible with having children.
Ms Badinga, 30, from Greenwich in south-east London said: "When I tried to go and pick my son up from nursery [my employers] would say: 'It's not possible', so I had to leave. [The job] was meant to be nine to five, but it ended up being nine until eight. They didn't understand that you need to pick up your child and spend time with your kids."
Now she is self-employed, working for a cosmetic franchise and has a second child, one-month-old Celine. "I'm earning much less, but to be honest the money doesn't matter because I'm much more happy and less stressed," she says. Her husband is an engineer and she says she does more of the childcare but he "works long hours and does his bit".
Her story will be depressingly familiar to mothers across Britain who have struggled to combine bringing up young children with keeping a good job. Ms Badinga was one of hundreds of people who came with their kids to the Work &Family Show at the ExCeL centre in east London yesterday, in search of a solution to making employment and parenting work well together. The show, which continues this weekend, is the first of its kind in Britain to look at the work-life balance. It is an issue that politicians realise is increasingly important to voters.
Liberal Democrat Jenny Willott, Minister for Employment Relations and Consumer Affairs, was one of those taking part in a debate at the show yesterday. Speaking to The Independent afterwards, she said she believed the pressures of balancing parenthood with work was one of the subjects that the next general election will be fought over.
"It's such a big issue for so many working parents," she said. "That's something that I'm sure is going to be in every party's manifesto at the next election, trying to make suggestions of what they can do to make childcare more affordable and to make more of it."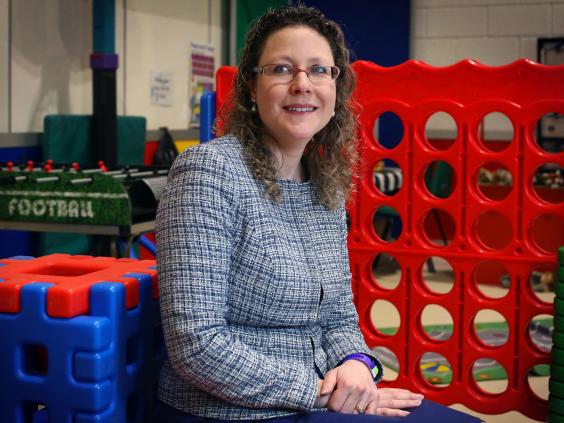 Four out of five women feel guilty about going back to work and worry about leaving their child in the care of others, according to polling released today by the trade show. Only 39 per cent of men report having the same guilty feelings, despite more than a third saying they work full time with no flexibility at all.
A fifth of fathers reported wishing they had not gone back to work after having a family, saying they would have preferred to have been able to look after their child.
Ben Black, director of My Family Care, which put together the show, said: "Due to the lack of support from employers on returning to work, women often feel forced to give up the careers they have trained so hard for in order to fit into their new role of motherhood. But it shouldn't be like this.
"Businesses are missing a trick by failing to support their caring workforce – by offering flexible working and a more understanding ethos through the company, businesses can create a happier and more engaged workforce that will undoubtedly have a positive impact on the business in the long run."
Ms Willott herself is familiar with the pressures of combining work and parenthood. As the interview starts she tucks into sweets on the table, confessing she skipped breakfast because she was feeding the kids. With two young children, she believes Westminster can be an unfriendly place for working parents.
"I have my kids in parliament every day," she says. "A vote can be called at no notice and you're suddenly running through the place with two small children that you can't take into the voting lobbies, so you have to dump them on the nearest MP to look after them while I go and vote."
She says MPs from both sides of the House have ended up being impromptu babysitters. "Jonathan Edwards, who's a Plaid Cymru MP, has been extremely helpful. Claire Perry, who's a Tory MP has been extremely helpful. I literally just dump them wherever the MP is in the corridor and go and vote and come back again."
Making sure that more women become MPs may also help make Parliament better at addressing issues for ordinary working parents, she believes. "It's one of the reasons I think it's very important to have more women in Parliament, because you can think and understand about childcare," she told the audience at the show. But she knows her party has the worst ratio of female members of the main parties, with just 22 per cent of Liberal Democrat seats won in 2010 going to women. "We've got an absolutely dire record," Ms Willott admits.
"This is something that I've been pushing the party on for ages. Personally, I'm in favour of all-women short lists or some form of positive discrimination. I think that we need a kick start."
Ms Willott has tried to make Westminster itself more parent-friendly, even asking the Speaker if babies could be brought into the chamber during votes (he rejected the idea). "If you're a breastfeeding mother and you're supposed to be there til 10.30, then frankly, where are they supposed to be? It would make things easier."
But she is pessimistic about how dramatically Westminster can improve as a workplace. "I don't think you're ever going to make Parliament a really child-friendly place because you have a lot of MPs away from their families during the week. There is no easy way to make it better."