A Muslim charity has collected more than 700 coats and 400 other items of winter clothing in a bid to provide warmth for the homeless on the streets of Manchester during the winter months.
Human Appeal, a British international development and relief charity, launched a campaign in October called Wrap Up Manchester, calling on members of the public to donate their unwanted winter clothing to people in need.
In partnership with Hands On London, an organisation that has run a similar campaign in the capital over the past six years, Human Appeal organised nine collection locations across Greater Manchester, donated by Safestore Self Storages, where people could drop off their coats and other items.
The donated items have now been sorted, and will be distributed by Human Appeal to homeless shelters, elderly organisations, women refuges, children centres and other charities.
Samra Said, Human Appeal's UK Project Coordinator, said: "Now, we have sorted all the coats, we will take them to places like homeless shelters. 
"From there, people sleeping on the streets will come to one of the shelters where their free coats are and, from there, the people giving out the coats can offer them help with other issues – whether it's finding somewhere to live, a health issue, a substance abuse issue – anything. 
"Potentially, those of you who have donated a coat haven't just warmed a soul, but you could have changed a life too."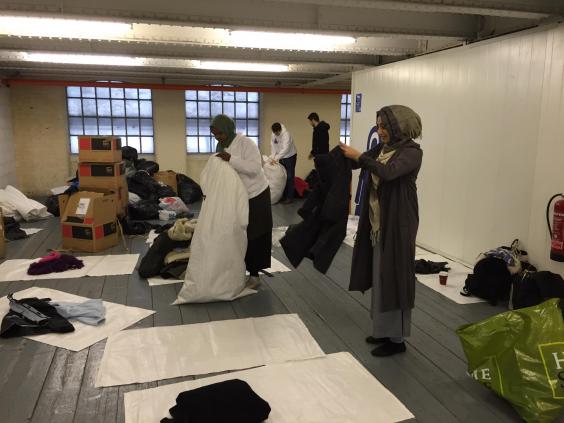 Human appeal is also encouraged that more than 250 parcels are yet to arrive from courier service CollectPlus, which donated a number of labels free to download and drop off for people to donate to Wrap Up Manchester from other parts of the country. Overall, Human Appeal is expecting the number of items donate to exceed well over 1,500.
According to the council's annual rough sleeper count, nearly twice as many people are sleeping on the streets of Manchester as last year. Seventy people were recorded in one night in December, compared with 43 on the same evening in 2014. Meanwhile there were just 10 in 2011.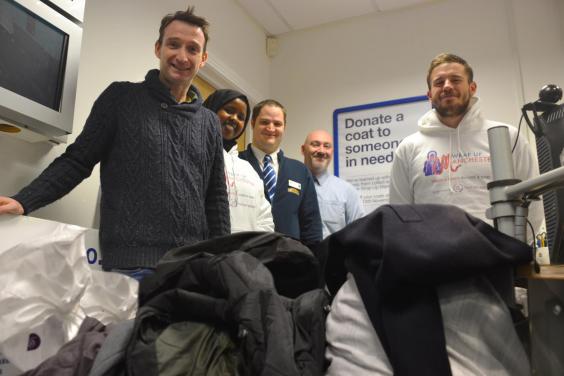 Councillor John Leech said: "It has been truly heartwarming to see the number of donations here today and the effort people have gone to... including dry cleaning!
"It has really hit home in the last few days with all the bad weather and how cold it has been just how important the work of charities like Human Appeal is, and how incredibly important it is that vulnerable people across Manchester have something warm to wrap up with over the Christmas months."
The causes of homelessness
The causes of homelessness
1/7 Family Breakdown

Relationship breakdown, usually between young people and their parents or step-parents, is a major cause of youth homelessness. Around six in ten young people who come to Centrepoint say they had to leave home because of arguments, relationship breakdown or being told to leave. Many have experienced long-term problems at home, often involving violence, leaving them without the family support networks that most of us take for granted

2/7 Complex needs

Young people who come to Centrepoint face a range of different and complex problems. More than a third have a mental health issue, such as depression and anxiety, another third need to tackle issues with substance misuse. A similar proportion also need to improve their physical health. These problems often overlap, making it more difficult for young people to access help and increasing the chances of them becoming homeless

Getty Images/iStockphoto

3/7 Deprivation

Young people's chances of having to leave home are higher in areas of high deprivation and poor prospects for employment and education. Many of those who experience long spells of poverty can get into problem debt, which makes it harder for them to access housing

Getty Images/iStockphoto

4/7 Gang Crime

Homeless young people are often affected by gang-related problems. In some cases, it becomes too dangerous to stay in their local area meaning they can end up homeless. One in six young people at Centrepoint have been involved in or affected by gang crime

Getty Images/iStockphoto

5/7 Exclusion From School

Not being in education can make it much more difficult for young people to access help with problems at home or health problems. Missing out on formal education can also make it more difficult for them to move into work

Getty Images/iStockphoto

6/7 Leaving Care

Almost a quarter of young people at Centrepoint have been in care. They often have little choice but to deal with the challenges and responsibilities of living independently at a young age. Traumas faced in their early lives make care leavers some of the most vulnerable young people in our communities, with higher chances of poor outcomes in education, employment and housing. Their additional needs mean they require a higher level of support to maintain their accommodation

Getty Images/iStockphoto

7/7 Refugees

Around 13 per cent of young people at Centrepoint are refugees or have leave to remain, meaning it isn't safe to return home. This includes young people who come to the UK as unaccompanied minors, fleeing violence or persecution in their own country. After being granted asylum, young people sometimes find themselves with nowhere to go and can end up homeless

Getty Images/iStockphoto
The campaign itself received cross-party support from political leaders across the city with Labour MPs Jim McMahon OBE and Kate Green and Lib Dem Manchester Mayoral Candidate Cllr Jane Brophy donating coats and throwing their support behind the campaign.
Othman Moqbel, CEO of Human Appeal, said: "Human Appeal helps people in need all across the world, Asia, Africa and here in the UK. Whether it's a besieged city in Syria or the growing number of homeless people in our home city of Manchester, Human Appeal aims to help in every humanitarian crisis.
"The winter months can be unforgiving for those sleeping rough or unable to afford a winter coat, Human Appeal want to not only offer a hand to those in desperate need of humanitarian aid, but to wrap an arm around those in desperate need of warmth. Thank you so much for everyone who helped wrap up Manchester this winter."
Reuse content