Two City of London forest keepers had quite a fright on Wednesday when they peered through the fog and spotted what appeared to be a black panther in Epping Forest, Essex. 
Upon closer inspection, however, the pair realised it was simply a stuffed toy which had been left there from fly-tipping and placed on the branch of a tree.
Epping Forest staff later tweeted: "@WFGuardian #Bigcat found in #EppingForest! Sadly, this 'big cat' was found in a big fly tip, then left in a tree."
This isn't the first time fears have been sparked by 'sightings' of big cats in Essex, most memorably when a major police hunt was undertaken after a couple spotted what they believed to be a runaway lion, which was later identified in some media reports as Teddy Bear, a local woman's large domestic cat.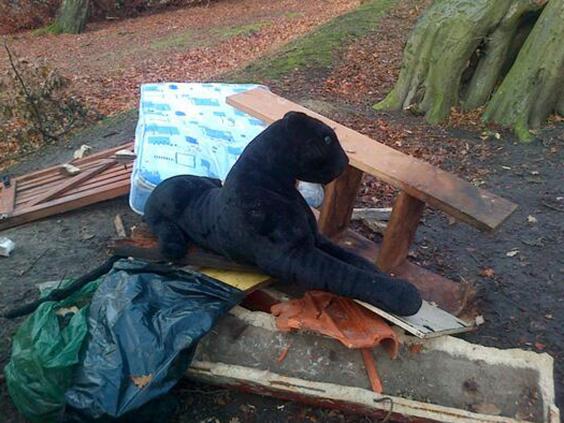 Steve Atkin reported the sighting of a "very large animal … possibly a lion" to police officers, prompting a helicopter search involving firearms officers as well as a media field day on a quiet Bank Holiday Monday in August 2012.
But the hunt was eventually called off by Essex Police when it could find no trace of the animal.
Last year the City Corporation, which runs Epping Forest, collected over 250 tonnes of rubbish, 39 tonnes of which was recycled, from 731 fly-tipping incidents.
The City of London Corporation is offering a reward of up to £500 to any person (or nominated charity) who can give evidence that leads to a successful prosecution in court.
Reuse content