The days of shop assistants casting a disappointing look as you hand over a crumpled bank note mended with tape will soon be over, as plastic banknotes will enter circulation in the UK next year, Clydesdale Bank announced on Thursday.
Made using polymer fibres, research shows that the new notes will stay cleaner for longer, are more difficulty to counterfeit, and last at least 2.5 times longer than existing currency.
Two million £5 notes will be issued across Scotland in March 2015, to mark the 125th anniversary of the Forth Bridge railway bridge in Edinburgh, and the monument's inclusion in Unesco's World Heritage List in 2014.
If Scotland remains in the UK after September's referendum on independence, the notes will be the first of their kind to be used in Great Britain.
The currency will feature the image of Sir William Arrol, one of Scotland's most celebrated engineers, whose company constructed the bridge.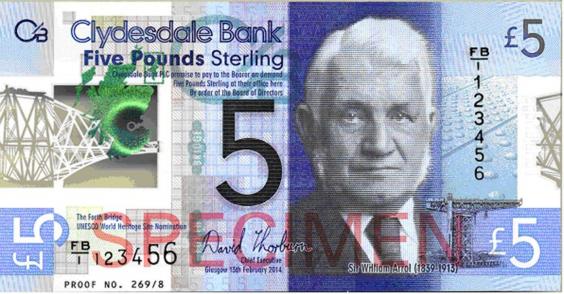 Sara Thiam, director of the Institution of Civil Engineers (ICE) Scotland, said: "Sir William Arrol is one of Scotland's most prolific civil engineers.
"Brought up in the Glasgow area, he developed methods of working and techniques which are still used today and is responsible for three of the world's most iconic bridges - the Forth Rail Bridge, the Tay Rail Bridge and London's iconic Tower Bridge.
"His legacy is littered with engineering 'firsts' so it is fitting that he is to feature on this celebratory first plastic banknote and underlines the vital contribution of civil engineers to society, past and present," she added.
Meanwhile, the Bank of England announced in December that it plans to issue plastic banknotes for the first time in 2016, when a new £5 note featuring Sir Winston Churchill will appear, while the plastic £10 note featuring Jane Austen will follow around a year later.
Additional reporting by PA
Reuse content