Tony Blair's foreign policy adviser, who was in a meeting where the Prime Minister allegedly made a secret pact with George Bush to go to war in Iraq, has been honoured by the Queen.
Sir David Manning, who is now an adviser to the Duke and Duchess of Cambridge and Prince Harry, has been made a knight commander of the Royal Victorian Order in today's list.
The 65-year-old has held several diplomatic posts but is most known for his time as a Prime Ministerial aide between 2001 and 2003 during the so-called War on Terror.
He was present at a two-hour meeting at the White House on 31 January, when the US President and Mr Blair reportedly discussed invading Iraq without international backing or the discovery of supposed weapons of mass destruction.
A memorandum obtained by the New York Times, sometimes dubbed the "Manning memo", was written by Sir David.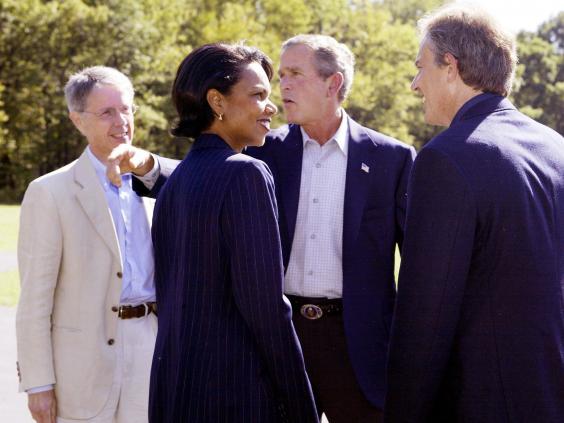 "Our diplomatic strategy had to be arranged around the military planning," he wrote of the meeting between leaders and their six most senior aides.
The memorandum paraphrases Mr Bush as saying: "The start date for the military campaign was now penciled in for 10 March…this was when the bombing would begin."
Stamped "extremely sensitive," the five-page document, which was circulated among a handful of Mr Blair's most senior advisers, was not made public until it was leaked to the press.
It has since been held up as proof that the Bush administration had already resolved to invade Iraq. The invasion started on 19 March that year.
The memo also reportedly discussed ways to provoke Saddam Hussein to engage in conflict, including a suggestion by President Bush to paint a plane in United Nations colours and fly it over Iraq in the hope it was shot down, justifying Anglo-British military intervention.
Sir David was called to the Chilcot inquiry into the war, where he said that Mr Blair ordered Army chiefs to draw up war plans for Iraq nine months before the invasion started, after another meeting with Mr Bush at his ranch in Texas.
The then Prime Minister wanted to keep plans secret so he could encourage the US to deal with Iraq through the UN and avoid conflict, he claimed.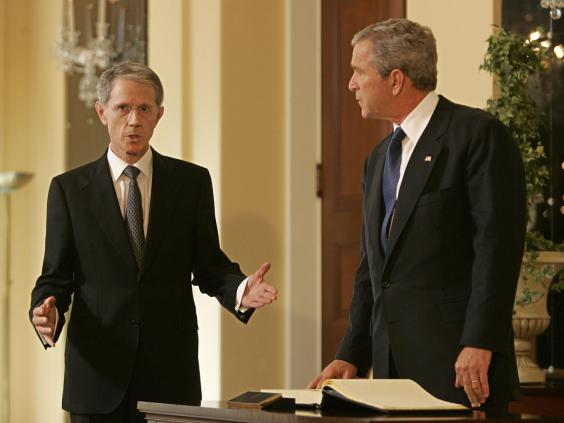 After leaving his post as Mr Blair's foreign policy adviser in 2003, Sir David became Britain's ambassador to America for four years.
Sir David retired from the diplomatic service in January 2008 and in the same year was appointed a Knight Grand Cross of the Order of St Michael and St George.
He was appointed by the royals in 2009 for his wealth of experience on the international stage and advises them on a range of issues, joining them on travels abroad including the Duke and Duchess of Cambridge's recent tour of New York.
Sir David is also currently a non-executive director of multinational oil and gas firm BG Group and Lockheed Martin, a weapons manufacturer described as the "Pentagon's number one supplier" by Reuters.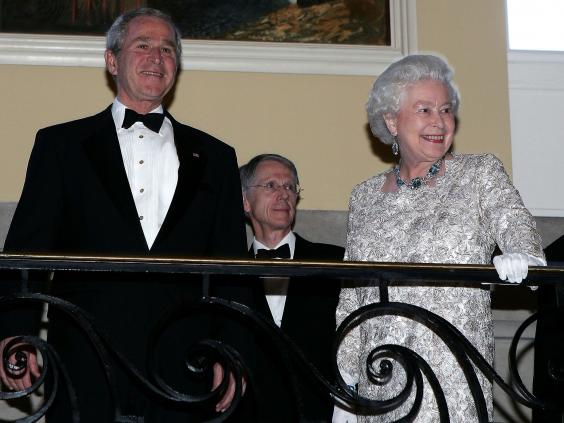 Sir David first joined the Foreign and Commonwealth Office in 1972 and served in Warsaw, New Delhi, Paris and Moscow. From 1994 to 1995 he was Head of Policy Planning, then the ambassador to Israel until 1998 and the Deputy Under Secretary of State for Defence and Intelligence and a member of the Foreign Office Board until 2000.
He was also the UK Permanent Representative at NATO from 2000 to 2001 before returning to London to work for Mr Blair.
The Royal Victorian Order is given by the Queen to people who have served her or the monarchy in a personal capacity and is bestowed independently of 10 Downing Street.
New Year Honours 2015
New Year Honours 2015
1/19 James Corden - Actor / Broadcaster

James Corden - OBE

PA

2/19 John Hurt - Actor

John Hurt - Knighted

Getty

3/19 Emily Watson - Actor

Emily Watson - OBE

Getty

4/19 Esther Rantzen - Presenter

Esther Rantzen - Dame

PA

5/19 Fiona Woolf - Former Lord Mayor of the City of London

Fiona Woolf - Dame

PA

6/19 Kristin Scott Thomas - Actor

Kristin Scott Thomas - Dame

Getty

7/19 Sue Bruce - Edinburgh City Council Chief Executive

Sue Bruce - Dame

PA

8/19 Carol Ann Duffy - Poet Laureate

Carol Ann Duffy - Dame

PA

9/19 Margaret Aspinall - Chair of the Hillsborough Family Support Group

Margaret Aspinall - CBE

PA

10/19 Fauja Singh - 103-year-old marathon runner

Fauja Singh - British Empire Medal

PA

11/19 Sheridan Smith - Actor

Sheridan Smith - OBE

Getty

12/19 Jenny Clark - Runs Sussex Bat Hospital

Jenny Clark - MBE

PA

13/19 Jamal Edwards - Founder and CEO of youth broadcasting channel SBTV and ambassador for MTV's Staying Alive Foundation

Jamal Edwards - MBE

PA

14/19 Steve Cram - Former athlete, sports broadcaster and chairman of the English Institute of Sport

Steve Cram - CBE

PA

15/19 Charlie Mullins - Founder of Pimlico Plumbers

Charlie Mullins - OBE

PA

16/19 Paddy Ashdown - Former Lib Dem leader

Paddy Ashdown - Companion of Honour

PA

17/19 James Caan - Investor

James Caan - CBE

PA

18/19 Brendon Batson - Former footballer and campaigner for equality in the sport

Brendon Batson - OBE

PA

19/19 Dame Mary Peters - 1972 Olympic pentathlon Gold medalist

Dame Mary Peters - Companion of Honour

PA
Others recognised by the Queen include two senior royal aides from Clarence House.
Jo Camm, an assistant private secretary to the Duchess of Cornwall, and William Nye, principal private secretary to the Prince of Wales and his wife, have both been made Lieutenants of the RVO.
Shan Legge-Bourke, mother of William and Harry's former nanny Tiggy Legge-Bourke, was made a dame commander of the RVO for her work as Lord Lieutenant of Powys since 1998.
Additional reporting by PA
Reuse content