One is a tax-efficient European statelet,  a founding member of the EU where the world's only Grand Duke sits on the throne. The other is a South London borough closely identified with sixties tower-blocks, Kate Moss and garage music.
Luxembourg and Croydon have little in common, then, except that they have now featured in a single Nigel Farage tweet. The Ukip leader has claimed that the Luxembourg is smaller than Croydon, when in fact it is 30 times larger.
Mr Farage made the bizarre comparison on Twitter while engaging in his favourite sport: bashing the EU. Luxembourg has just taken over its six-month rotating presidency - and Mr Farage attempted to belittle Brussels by pointing out that "a country smaller than Croydon is running the European Union".
We now have a Luxembourg Presidency of the EU Council and of the Commission. A country smaller than Croydon is running the European Union.

— Nigel Farage (@Nigel_Farage) July 8, 2015
Apart from the area of Luxembourg is 998 square miles, compared to 34 square miles for Croydon – factor of around 30 out. Even comparing their populations pushes the boundaries of artistic licence: 550,000 to 376,000 in favour of the land of Mr Farage's nemesis, Jean-Claude Juncker.
Such an error is surprising, given the role of Croydon in United Kingdom Independence Party folklore.
It was the venue for its ill-fated mulitcultural "carnival" during the general election campaign, complete with steel band and angry protesters.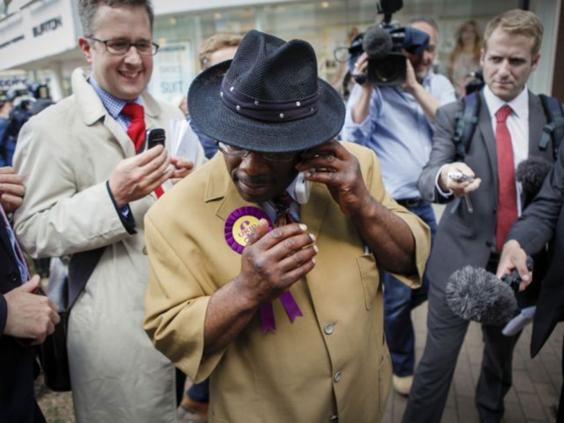 And last year, campaigners dumped manure outside Ukip's Croydon office after Mr Farage suggested people with HIV should not be allowed to enter the UK.
Luxembourg took over the EU presidency from Latvia on 1 July. The country's main objectives for its six-month stint - where it gets to chair meetings of the Council of the EU - are listed as tackling the economic crisis, creating jobs and boosting technology.
Luxembourg is a constitutional monarchy that has been a Grand Duchy - meaning it is ruled by a hereditary Grand Duke or Duchess - for exactly 200 years, when it was elevated from a duchy at the Congress of Vienna.
Reuse content