Norman Poole died last month aged 95, but had barely spoken of his exploits when his six-man team landed in Normandy on 6 June 1944.
The former SAS paratrooper was described by his family as "a joyful man who was full of life" – and only a handful of his closest relatives knew anything about his time behind enemy lines.
His nephew, David Barnes, said: "I didn't realise he was such a hero. I knew that my uncle and my father were involved in the war but they never really spoke about it a great deal. I guess that is typical of their generation sometimes, not to mention what happened."
The former lieutenant died in Portishead, near Bristol, where he had spent much of his life with his wife, Elisabeth. Mr Poole, who had two daughters, was long retired as a bank manager with NatWest and had been a widower for four years.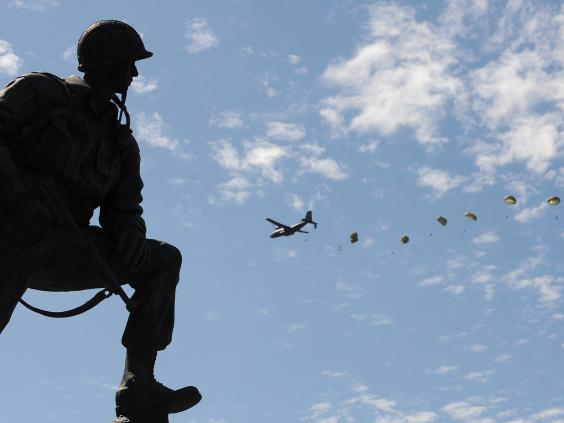 His place in Allied forces' history was secured when he leapt from a plane with 200 dummy parachutists and his crew, tasked with distracting German troops.
He landed with a carrier pigeon strapped to his chest and sent it home with vital details about the Nazi war effort. The contents of the message were never made public. Mr Poole and his team spent six weeks behind enemy lines before being captured by German troops, although they were eventually liberated. He was later awarded the Military Cross for his bravery.
Mr Barnes, whose father, Hugh, was Mr Poole's brother-in-law, said: "I knew he had the Military Cross but I didn't know what he did to win it. I didn't realise he was the first to land on D-Day, I only found out last week."
Press Association
Reuse content