A family has spoken of their heartbreak after sun rays shining through a Nutella jar containing loom bands sparked a severe fire, gutting their home and killing their pet dog. 
Declan Murphy, his wife Lindsay and their two children were all out celebrating their anniversary at the time of the blaze.
The jar was on the windowsill of his daughter's south London bedroom when the blaze broke out.
Firefighters believe low winter sunlight was refracted by the container. It is thought the rays were magnified and beamed onto blinds, causing them to catch fire and damage the room and roof. The family's nine year-old Jack Russell Chilli was trapped inside the house at the time of the fire. He died from smoke inhalation.
Mr Murphy told The Independent he received a call from a neighbour while they were out informing them of the fire.
"We were out and we were shopping, then we got a call saying 'you need to come home- your house is on fire'. We got home and it was pretty much as bad as you've seen it seen it."
"We've got accommodation sorted and a house to rent for the next few months.
"In terms of damage we are not sure yet, but we are speaking to different professionals and it looks like there is a minimum of £200,000 worth of damage."
He urged the public to be aware of the dangers of leaving glass near a window and sunlight. "Anything, even a watch - anything that could reflect light. I just want to get this out there so people don't have to go through what we have."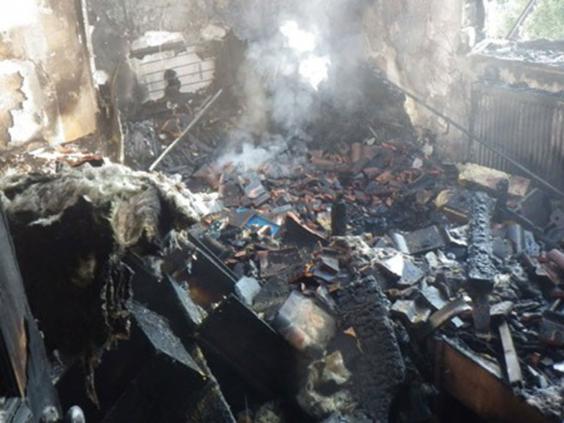 Charlie Pugsley, of the London Fire Brigade (LFB), said: "It sounds far-fetched that a jar containing a few rubber bands caused a severe house fire but that's exactly what happened.
"It's worth spending five minutes checking that your window ledges are clear of any glass or crystal that might lead to a potentially life changing blaze."
LFB said sun rays have caused 125 fires in the last five years and warned they are a risk in the winter as well as the summer.
Additional reporting by PA
Reuse content