The only letter believed to have been written on board the ill-fated Titanic night that it sank, is expected to fetch as much as £100,000 at an auction this month.
The letter, embossed with the White Star Line flag and headed 'On Board RMS Titanic', was penned by survivor Esther Hart the night the New-York bound ship struck an iceberg in April 1912.
1,500 passengers and crew perished in the incident, including Mrs  Hart's husband, Benjamin.
The letter was meant to be delivered to Mrs Hart's mother in Chadwell Heath, Essex, at the end of what would have been the Titanic's return journey to Southampton, but the tragedy meant the letter was never sent.
In the document, Mrs Hart describes how she had been sick the day before and was unable to eat or drink, but she had recovered and had been to a church service with her daughter Eva that morning.
Mrs Hart writes of how Eva had "sang [sic] so nicely" the hymn Oh God Our Help In Ages Past.
 
Read more: Glacier that sunk the Titanic moving at record speeds
Unaware of the impending disaster, she talked of how she and Eva were due to sing in a concert on board "tomorrow night".
Commenting on the fact that the Titanic was not supposed to roll, Mrs Hart says: "Any how it rolls enough for me," addnig: "Well, the sailors say we have had a wonderful passage up to now."
At the foot of the letter Mrs Hart left space for Eva to scrawl: "Heaps of love and kisses to all from Eva".
Mrs Hart and her seven-year-old daughter, Eva, were among those rescued from the crash.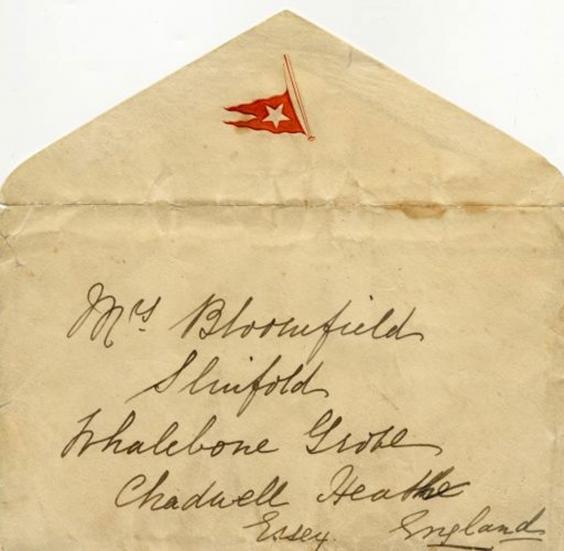 Eva lived until 1996 and became one of the most-celebrated of the Titanic survivors.
Years later, Eva recalled how her mother had found the letter in the pocket of Mr Hart's sheepskin-lined coat after the rescue.
Andrew Aldridge, head of Titanic and ocean memorabilia at Aldridge auctioneers, said: "The importance of this legendary item cannot be overstated, being the only known surviving example of its type to have been written on that fateful day, surviving the sinking, and having belonged to such a well-known survivor."
The letter, and its envelope, were passed on to Henry Aldridge & Son auctioneers of Devizes, Wiltshire, by a private owner.
The letter will go under the hammer on 26 April.