It was the most fearful moment in the history of modern Britain – when Adolf Hitler's shock troops lined up along the coast of France and prepared to launch an invasion.
But a never before published Nazi map shows how at least one German officer may have found the assault, codenamed Operation Sea Lion, well, a little bit comical.
The mystery officer appears to have got the doodle bug, taking time out from drawing attack lines to sketch three invasion ships steaming across the English Channel. He also drew what appears to be a rather rotund paratrooper descending on the Kent countryside.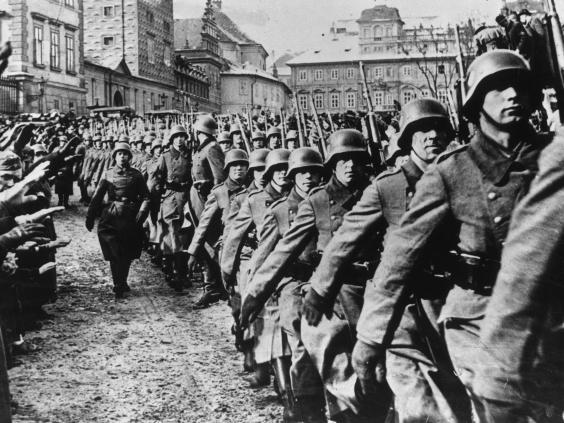 Historians at the Imperial War Museums, who found the map in their archives, say it gives a rare insight into the minds of German officers  preparing to storm Britain.
The map can be revealed today, in the week of the 75th anniversary of Hitler's decision to cancel the invasion after he realised he had lost the Battle of Britain.
"The drawings on the map almost look quite childish in some ways," said Ian Kikuchi, a historian at the Imperial War Museum in London.
"But they are quite chilling when you think about what the invasion would have really entailed, with German tanks landing on the beaches and then rolling northwards through Kent."
Hitler began drawing up plans to invade Britain in July 1940, buoyed by his swift occupation of France, Belgium and Holland.
He issued the invasion plans under Führer Directive No 16 and announced: "The aim of this operation is to eliminate the English Motherland as a base from which the war against Germany can be continued, and, if necessary, to occupy the country completely."
Hitler hoped to destroy the Royal Air Force in the Battle of Britain before sending troops across the Channel.
As RAF Spitfires and Hurricanes battled against the Luftwaffe in summer skies over England, German cameramen confidently filmed Nazi infantry practising the invasion on a beach near Antwerp, in Belgium.
But the scheme was opposed by some leading Nazis, including the Luftwaffe's commander Hermann Göring, who was pessimistic about its success, and that cynicism may have rubbed off on the officer who drew the doodle map.
It was discovered by British troops following D-Day and is believed to have been handed over to the Imperial War Museum in London by the Government shortly after 1945.
The officer who drew the map is thought to have been a member of the headquarters staff of the German 16th Army, which was due to play a major part in the offensive.
It is unclear what his boss, Fieldmarshal Ernst Busch, thought of his work.
The highly-decorated commander, who later led his men in Hitler's failed invasion of Russia, was one of the few who did ultimately make it across the English Channel. He died of heart-failure at a prisoner of war camp in Aldershot in 1945.
The map is now on display at the Imperial War Museum in London. A copy can also be seen at the Imperial War Museum North in Trafford, Greater Manchester, where "Blitzed Brits", an exhibition in association with the Horrible Histories children's television programme, is currently taking place.
Britain during WWII - in pictures
Britain during WWII - in pictures
1/30 WWII

1939: A squadron of Spitfires took part in mimic 'air alarms', during a speed demonstration at Duxford Aerodrome

2/30 WWII

1939: British railway workers fit floodgates below river level at Underground Stations

3/30 WWII

1939: A patient on a stretcher is loaded into a Green-Line coach ambulance when being evacuated from Guy's Hospital in London

4/30 WWII

1939: Metropolitan Police Constables wearing gas masks line up to enter a mobile gas chamber at East Ham Police Station, London

5/30 WWII

1939: A young female British Navy officer sitting astride a minesweeper's cannon and lighting a cigarette whilst two officers look on

6/30 WWII

1939: Schoolchildren crowd Ealing Broadway Station in London, some of the first youngsters to be evacuated to the country during World War II

7/30 WWII

1940: Bells rescued from the belfry of St Giles in Cripplegate, London, which was bombed during a night raid

8/30 WWII

1940: A projector, operating from its sunken sandbagged emplacement, at a searchlight station in the London area

9/30 WWII

1940: Auxiliary Territorial Services personnel sealing and preparing a Churchill tank for export to the Soviet Union

10/30 WWII

1940: An Australian soldier leaps from a tank during training exercises in Britain

11/30 WWII

1940: A man flies a Union Jack on a bomb site. The area was bombed twice, and the second time it tore the flag in two

12/30 WWII

1941: A policeman coaxing his pony to leave an area which is being evacuated due to the discovery of an unexploded bomb

13/30 WWII

1941: Charles de Gaulle (C), Chief of the French Free Forces, inspects the French colonial troops during during his visit of a military base in Great Britain

14/30 WWII

1941: US politician Wendell Willkie viewing the bomb damage to the Guildhall during the Blitz, London

15/30 WWII

1941: Men, women and children stand with their belongings on a pavement in Clydeside, in the aftermath of a severe bombing raid

16/30 WWII

1941: The famous American 'Eagle' Volunteer Air Squadron, formed during WWI, takes its place in the ranks of the RAF

17/30 WWII

1942: Work in progress of the decks of almost completed ships, being built for the merchant navy

18/30 WWII

1942: Two London buses passing through thick smoke screens during Civil Defence Service training operations

19/30 WWII

1942: A British ship (either the Cathay or the Karanja) on fire in Bougie Harbour (Bejaia), during the North African 'torch' landings. The Luftwaffe bombed three of the Allied ships as they attempted to reach shore

20/30 WWII

1943: American soldiers viewing some of London's raid damage during a tour

21/30 WWII

1943: A crashed German Messerschmitt is towed past the Houses of Parliament in London

22/30 WWII

1943: The wreckage of Sandhurst Road School in Catford, south London, the day after it was partially destroyed in a German bombing raid

23/30 WWII

1944: Extensive manoeuvres for invasion being carried out by American Sherman tank units in Britain

24/30 WWII

1944: Rescue workers searching through the rubble of a block of flats destroyed by German raids in London

25/30 WWII

1944: Bomb damaged buildings in London's Pall Mall after an air raid

26/30 WWII

1945: British officers liberated by the 9th Army from Brunswick Oflag 79, the largest British officers' camp in Germany

27/30 WWII

1945: Essex-class fleet carrier USS Franklin after suffering a hit by a Japanese dive-bomber off Japan, during war in the Pacific

28/30 WWII

1945: The scene in Farringdon Road, London, after a V-2 rocket had fallen in daylight on the Central Markets

29/30 WWII

1945: VE day, held to commemorate the official end of Britain's involvement in World War II, is celebrated by crowds at Trafalgar Square in London

30/30 WWII

1945: Soldiers from the Women's Royal Army Corps in their service vehicle, driving through Trafalgar Square during the VE Day celebrations in London
It is set to be published for the first time in a forthcoming book called Mapping the Second World War, by Peter Chasseaud, which will be published next month in association with the IWM.
Mr Kikuchi said: "The scale of the map and the narrowness of the Channel shows just how close the Nazis came to invading Britain.
"Whoever drew those ships did it deliberately, rather than as an afterthought. He left a space for one of them in one of the lines he has drawn on the map.
"The ships look like German destroyers. The German Navy had lost a lot of destroyers by 1940 and the reality is that, if the invaders had made the crossing, they would have been annihilated by the Royal Navy. They were planning to make the journey in river barges.
"This map is special because it's a map of an idea or an aspiration, rather than a map of an actual battle.
"It's a moment in history that has been frozen in time. When you look at the map, the ships of the invasion fleet are for forever steaming across the Channel and are never quite getting there."
Reuse content