Anti-terror police established a ring of steel as the body of PC Keith Palmer began a final journey through London.
Temporary concrete barriers were set up at key junctions near London Bridge and Southwark Bridge, completely closing a 2km square area to traffic.
The 48-year-old was stabbed to death by Westminster attacker Khalid Masood as he carried out his duties on the cobbled forecourt of the Palace of Westminster.
Thousands of police officers lined the route as his funeral cortege, led by the Metropolitan Police Colour Party and a "Black Guard" of mounted officers, left the palace, where his coffin laid in rest overnight.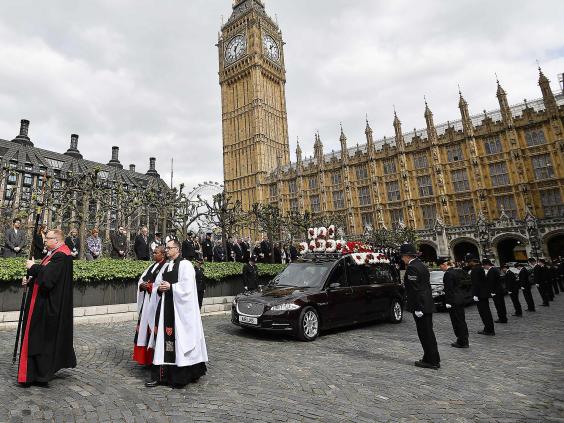 His coffin then travelled along 2.6 miles of streets, avoiding the scene of last month's atrocity on Westminster Bridge, on its journey to Southwark Cathedral in central London.
A floral tribute left on top of the hearse read: "No 1 Daddy".
Around 50 members of Pc Palmer's family including his wife, child, mother and father, brother and sisters will attend the cathedral service, which will be led by the Dean of Southwark The Very Reverend Andrew Nunn and followed by a private cremation.
Met commissioner Cressida Dick, the first female head of Scotland Yard in its 188-year history, will also attend the funeral in her first public engagement in her new role.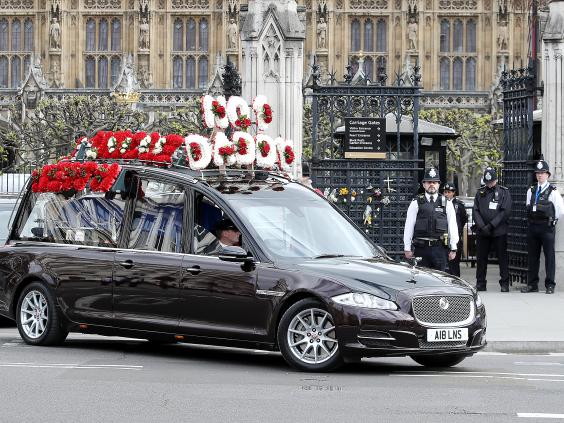 The Met said more than 5,000 officers from the force and across the country were expected to gather in central London for the service and to line the route.
Columns of officers in dress uniform, many with service medals pinned to their jackets and wearing white gloves, lined up near the cathedral as on-duty colleagues involved in the large security operation stood guard.
Members of the public also began to line the barriers several hours before the service began.
Ahead of the service, Labour leader Jeremy Corbyn said of PC Palmer: "He was a lovely man, we all saw him every day when we went into the gates of Parliament.
"He was there with a smile, with a wave, always talking to tourists, always talking to visitors, always unbelievably polite and courteous - a real, good public servant of the people in Parliament.
"He died defending our Parliament."
Mr Palmer's family have previously thanked those who helped him in his final moments, saying: "There was nothing more you could have done." 
Additional reporting by agencies
Reuse content