People around the UK and in Europe adapted household items to watch the solar eclipse today, looking slightly ridiculous while keeping their eyes safe from the sun's rays.
Since the lens in the eye can work to magnify the sun's rays as they come to Earth, and in doing so fry the retina that our sight depends on, people can only safely watch eclipses and other solar phenomenon by blocking out much of its light. But eclipse glasses are often expensive — and, apparently, have all been stolen by dogs — so people across the country and on the continent also used a range of available kit to watch the sun.
Some hid behind welding masks. Others made pinhole projectors using boxes. Others grabbed X-rays to look at the sun through.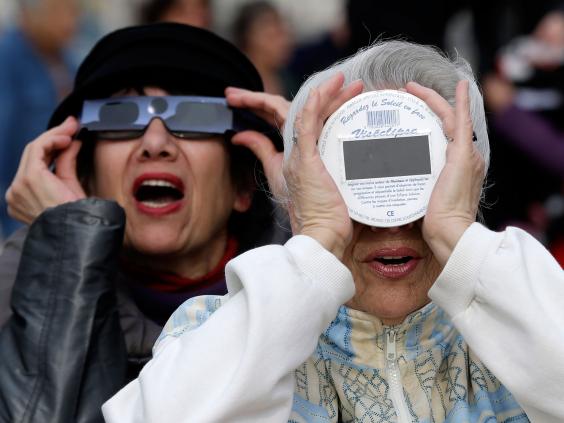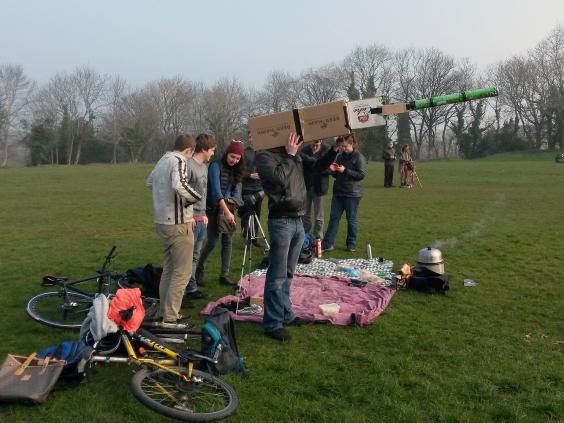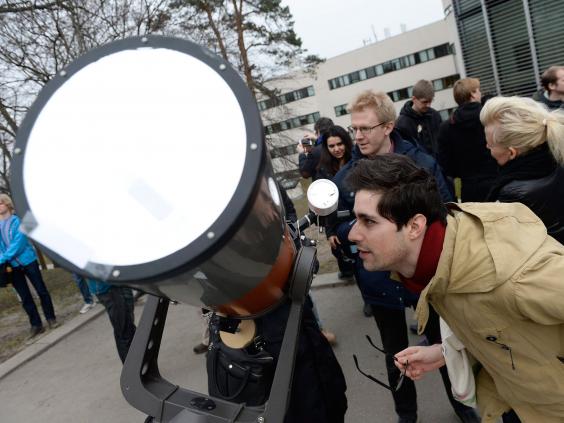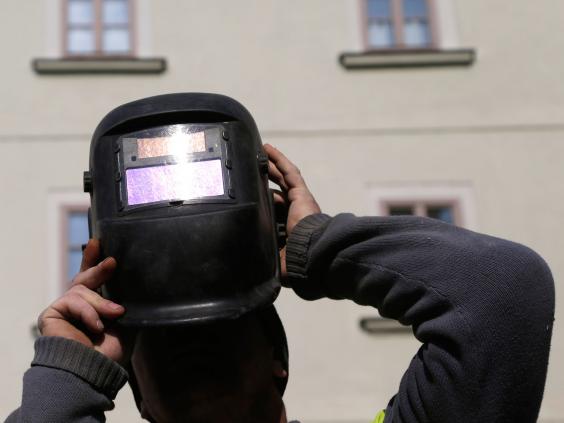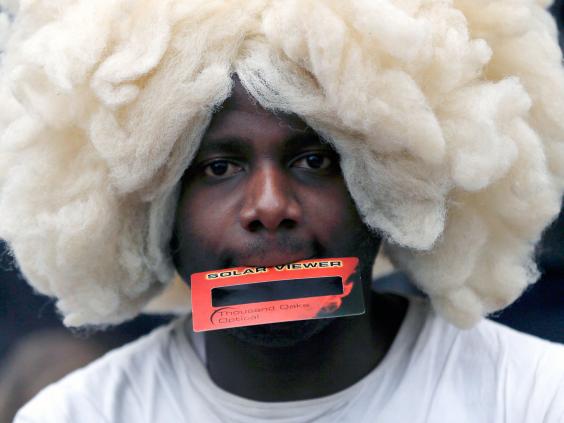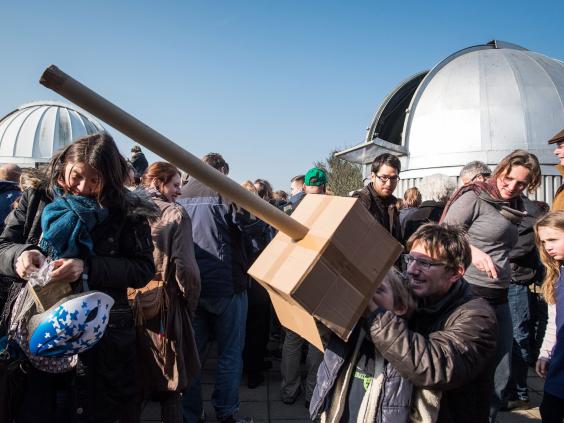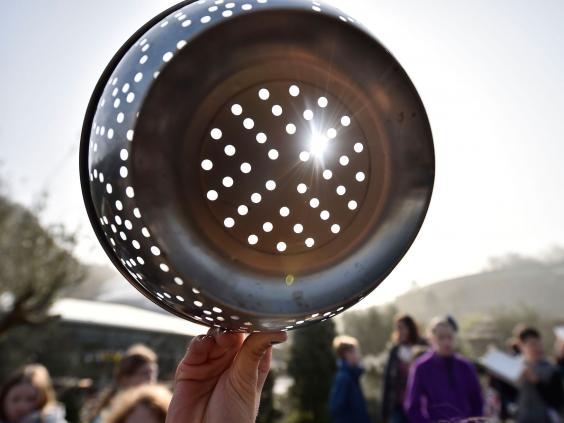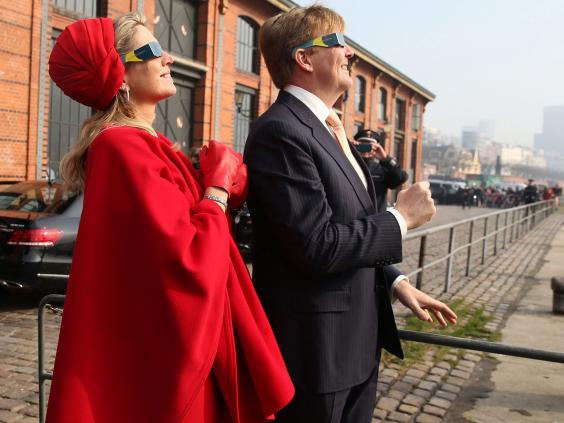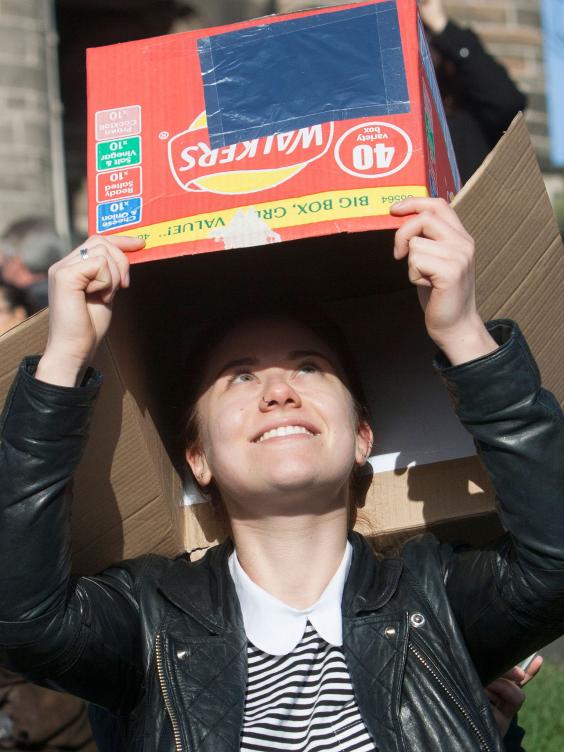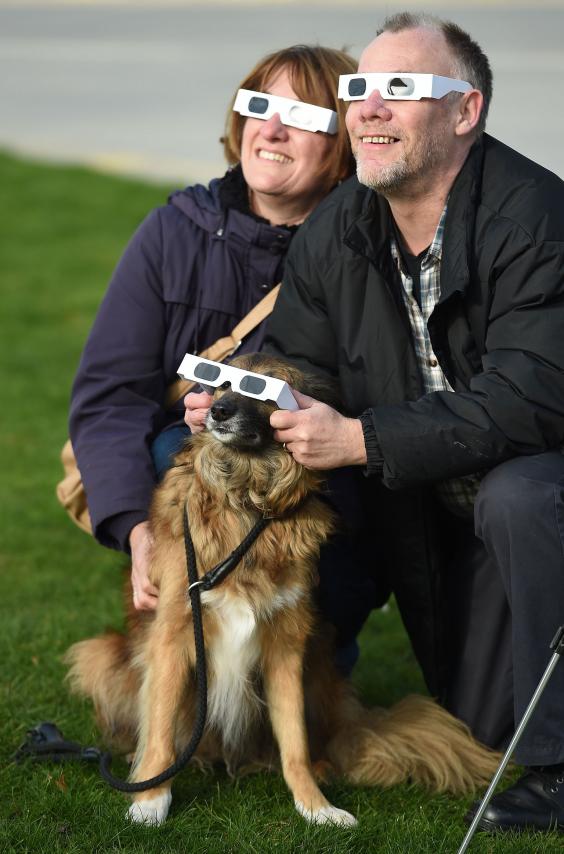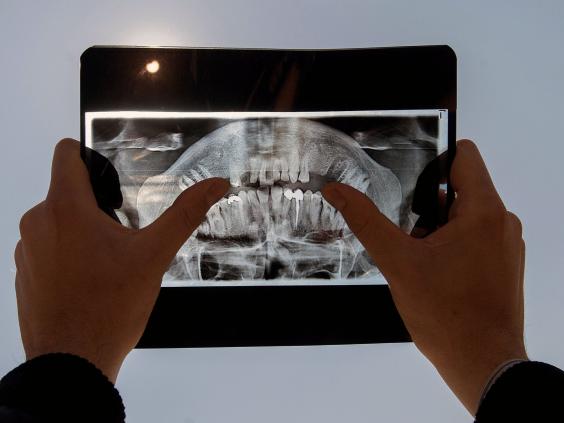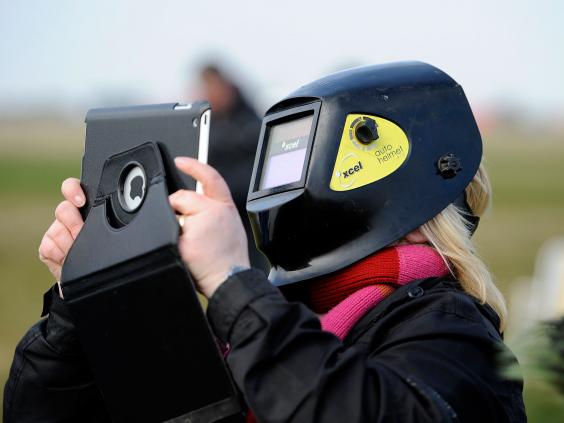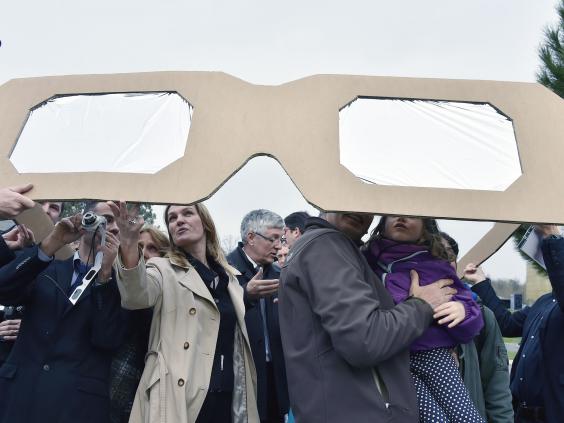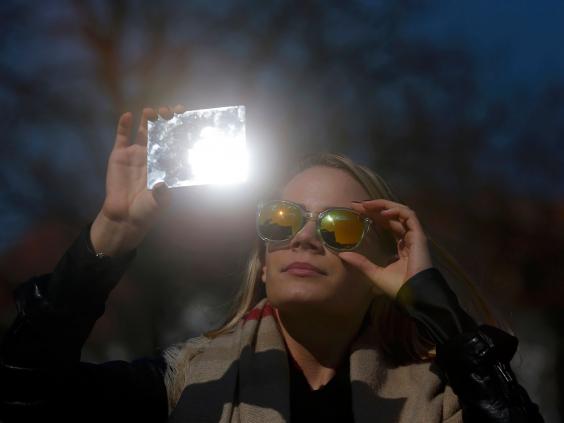 Not everyone may have enjoyed the sight — for much of the country, it looked mostly grey — but others were able to see spectacular images and catch them on film.
Solar eclipse 2015 in pictures
Solar eclipse 2015 in pictures
1/20 Solar eclipse 2015

The total solar eclipse at Svalbard, Norway

2/20 Solar eclipse 2015

The moon blocks part of the sun during a solar eclipse as seen over Moscow Kremlin's Troitskaya (Trinity) tower, in Russia

3/20 Solar eclipse 2015

A partial solar eclipse is visible over Strasbourg, eastern France

4/20 Solar eclipse 2015

A partial solar eclipse of the sun is visible in Rabat, Morocco

5/20 Solar eclipse 2015

A partial solar eclipse of the sun is visible in Rabat, Morocco

6/20 Solar eclipse 2015

A partial solar eclipse in seen above a mosque in Oxford, central England

7/20 Solar eclipse 2015

A partial solar eclipse of the sun is visible next to the statues of Milan's cathedral

8/20 Solar eclipse 2015

The moon passes in front of the sun to form a partial solar eclipse in Nice, southeastern France

9/20 Solar eclipse 2015

The sun is seen during a partial eclipse over the spires of the Duomo gothic cathedral in Milan, Italy

10/20 Solar eclipse 2015

The total solar eclipse seen from Svalbard, Norway

11/20 Solar eclipse 2015

An eclipse of the sun passes behind a cloud, from Carlton Hill in Edinburgh

12/20 Solar eclipse 2015

A partial solar eclipse forms in the sky through clouds near the cross of the Church of St Nicholas the Miracle-Maker in Sofia, Bulgaria

13/20 Solar eclipse 2015

People view the total solar eclipse in Svalbard, Norway

14/20 Solar eclipse 2015

A partial solar eclipse of the sun is visible next to the iconic Liver Bird on top of the Liver Building in Liverpool, north-west England

15/20 Solar eclipse 2015

People watch as a solar eclipse begins over the Eden Project near St Austell in Cornwall

16/20 Solar eclipse 2015

An eclipse of the sun begins over the Eden Project near St Austell in Cornwall

17/20 Solar eclipse 2015

A partial solar eclipse is seen from near Bridgwater, in south western England

18/20 Solar eclipse 2015

A view of a partial solar eclipse seen over Zurich, Switzerland

19/20 Solar eclipse 2015

A dove is pictured in front of the sun during a partial solar eclipse in Muncih, Germany

20/20 Solar eclipse 2015

An eclipse of the sun begins over Northumberland
Reuse content