A senior Plaid Cymru peer has apologised for "any offence caused" after he compared the effects of a Trident submarine base to Auschwitz.
Lord Dafydd Wigley's comments came the day after 300 survivors and international leaders gathered at the former Nazi death camp to mark 70 years since the end of the Holocaust. As many as 1.1 million people were killed at the concentration camp between 1940 and 1945.
He used the comparison as he commented on reports that the nuclear weapons system could be relocated from the Faslane naval base in Scotland to Pembrokeshire, Wales, and made it clear that Plaid would be "tremendously opposed" to the move.
The Government has denied the plans. Prime Minister David Cameron's spokesman said today: "There are no plans whatsoever. It is not on the table at all."
Lord Wigley initially made the comparison in an unrecorded conversation, before repeating it in an interview for the BBC and the Press Association.
Asked whether job creation from a hypothetical move could have a positive effect on the area, Lord Wigley replied: "Look, this week we have been remembering what happened in Germany before the war, no doubt there were many jobs provided in Auschwitz and places like that but that didn't justify their existence and neither does nuclear weapons justify having them in Pembrokeshire."
When asked to explain why he had compared a Trident base to the notorious death camp, he replied: "The number of people that will be killed by Trident will be infinitely more."

Read more: Russell Brand invited to meet shipyard workers on Trident replacement programme after calling for it to be scrapped
Greens, SNP and Plaid Cymru 'may back Labour' - if they scrap Trident
The former Plaid leader quickly came under fire for making the comments, which other politicians labelled offensive and inappropriate.
Former Welsh secretary David Jones branded Lord Wigley's comments "crass", and said he was right to offer an apology - albeit a "mealy-mouthed" one. He added that it was "not appropriate at any time" to use Auschwitz to make political points.
"His remarks were crass and defensive, and while the apology is a bit mealy-mouthed, at least it is good that he has acknowledged they are offensive," the Tory MP for Clwyd West said.
"Nothing that ever happens in this country could ever be as appalling as what the Nazis did," he added. "But to say it at Holocaust memorial time is even worse."
Scottish First Minister and SNP leader Nicola Sturgeon distanced herself from Lord Wigley's comments, and said: "It is not language I would use. It is not a comparison I would make."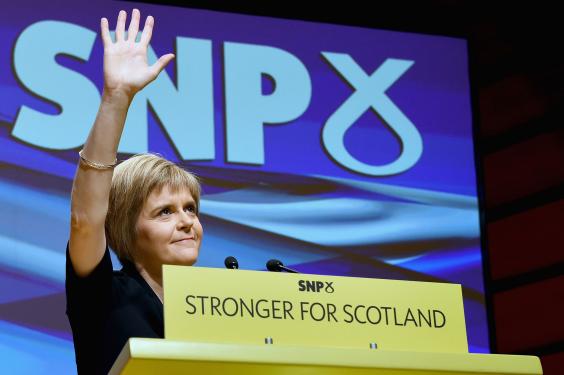 Scottish Secretary Alistair Carmichael was more vocal in his condemnation, branding the comments "offensive" and said they trivialised the Holocaust.
"It's offensive to our servicemen and servicewomen who work there (at Faslane) - and that's bad enough. But it really is offensive towards the people who suffered and died in Auschwitz.
"It tells you a lot about the attitudes that you get from people whose judgment seems to go out of the window when a topic like this comes into play. It's not a rational position.
"The whole point is Auschwitz's place in history is because of the people who died there and not the people that worked there. And if you trivialise that - and that is trivialising it - then you increase the chances that something like that could happen again.
"There are some things that shouldn't be used in day-to-day politics and Holocaust memorial is one of them."
Former Liberal Democrat leader Sir Menzies Campbell said: "Dafydd Wigley has always been a passionate politician, but on this occasion he has gone too far. He should withdraw the comparison."
Tory MP Glyn Davies said he was "deeply shocked" by the comments.
Deeply shocked that Lord Wigley, usually a man of reason and balanced opinion should compare UKs nuclear deterrent with Auschwitz. Shocking.

— Glyn Davies (@GlynDaviesMP) January 28, 2015
Lord Wigley has apologised for comparing Trident with Auschwitz. Good. We all make mistakes. Let's move on.

— Glyn Davies (@GlynDaviesMP) January 28, 2015
In a statement, Lord Wigley said: "I am certainly sorry if my remarks were open to any misinterpretation and I apologise for any offence that has been caused."
"The point I was trying to make was that you can't have jobs at any cost and I reiterate that."
He told the Press Association: "The point I'm making is that you have to look at what a job entails not just the fact that there is a job located in any particular area and, in this instance, we do not believe that we should have nuclear weapons at all, we believe that Trident shouldn't be renewed and we most certainly don't want that renewal to happen in Pembrokeshire or anywhere in Wales or, to be fair, anywhere in Britain.
Pressed on whether he was suggesting there was a "moral comparison" between working on a Trident base and working at a Nazi death camp, Lord Wigley said: "No, the point I was making was this, that you have to consider the nature of the work and not just that a job exists."
Additional reporting by PA
Reuse content