Police are searching for two men who sexually assaulted two women at a bus stop in Mitcham while a third filmed the offence as it took place.
The two women, aged 45 and 49, were waiting at the 'Amen Corner' bus stop when the three men approached them.
The assault, which happened on 10 October, involved two of the suspects rubbing themselves against the women, while their friend filmed it.
According to the Metropolitan Police, one of the victims was spat as when she attempted to help the other woman.
Officers from the Roads and Transport Policing Command have released CCTV images of the men in an appeal to help identify them.
All three suspects have been described as white, slim built, and in their early 20s. Two of the suspects have short, light-coloured hair and the other has dark-coloured hair.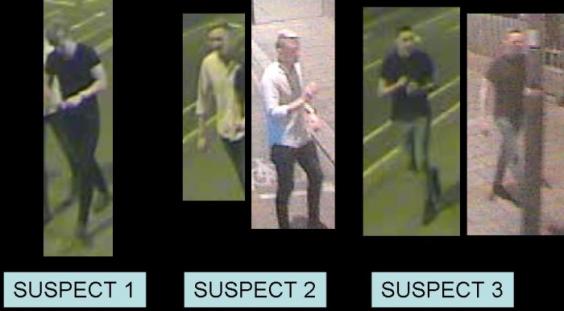 The men left the scene in the direction of the Sainsbury's at Amen Corner after a 355 bus stopped there and passengers on board alerted the police.
Police recently launched the 'Report it to stop it' campaign to encourage people to report unwanted sexual behaviour on transport networks.
Anyone with any information should contact PC Neil Webb on 020 3054 6712, or call Crimestoppers on 0800 555 111 quoting the reference 0321904/15.
Reuse content