First an engineer came up with a formula for the perfect Poohstick. Then Visit England released a list of the best places to play the game, invented by Winnie the fictional bear. There was even a new book, called Poohstickopedia.
It was enough to make civil service mandarins in Whitehall get nervous. Had anyone stopped, even for a moment, to consider the potential dangers of Poohsticks?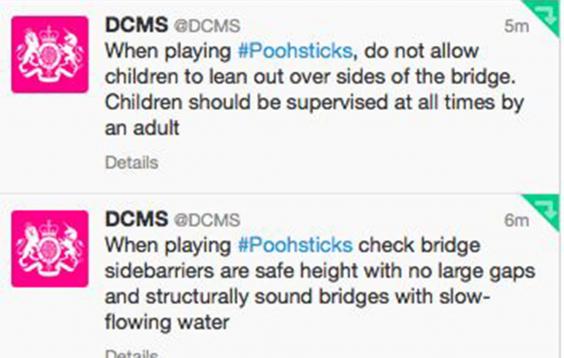 Normally the wheels of the Government turn slowly, but this time it sprang into action, with the Department for Culture, Media and Sport (DCMS) sending out an urgent missive on Twitter.
Stuck for #bankholiday ideas? Play a game of #Poohsticks! Here are our fave bridges: http://t.co/Pqz3tPh8O8 pic.twitter.com/WZdKHGojMB

— VisitEngland (@VisitEngland) August 27, 2015
"When playing #Poohsticks, do not allow children to lean out over sides of the bridge. Children should be supervised at all times by an adult," it said. "When playing #Poohsticks check bridge sidebarriers are safe height with no large gaps and  structurally sound bridges with slow-flowing water."
And so Poohsticksgate began. James Cook demanded an end to government interference, tweeting: "Unregulated street poohsticks for all!"
But Ned Donovan, a journalist who specialises in defence matters, noted soberly: "The underground Poohsticks scene needs to be tackled by the Government, it's getting out of hand."
The DCMS then mysteriously deleted the tweets, leading Mr Donovan to tweet: "Now that DCMS have retracted their Poohsticks rules, rural rivers will run with the blood of those killed playing the unregulated game."
Silly mistake on our part on the #PoohSticks tweet - we didn't mean for it to be posted. Apologies all.

— DCMS (@DCMS) August 27, 2015
Some suggested Tigger had hacked the DCMS Twitter account, but a spokesman for the department insisted it was just "a silly mistake on our part". In an Eeyore-ish manner, he added: "All we are saying is what that tweet says."
Reuse content