Some of the poorest people in the UK are "struggling" to afford electricity, as those who use pre-pay energy meters (PPM) are paying over £200 a year more than other energy customers, Citizens Advice has warned.
Research by the charity which compared energy firms' cheapest PPM tariffs with their best online direct debit deals has revealed that PPM customers pay 22 per cent more – amounting to £226 annually on average.
The firm with the widest gap was the Co-Operative Energy, as PPM customers were left to pay £405.25 more than direct debit users.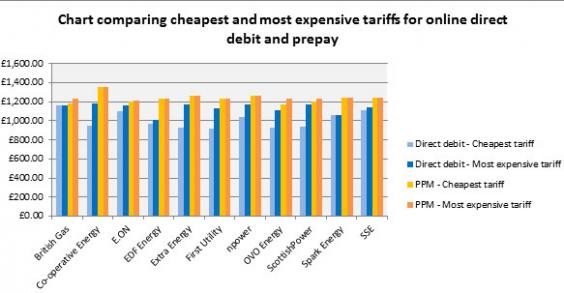 The UK's most vulnerable people are most likely to suffer from the difference, as PPM users are more likely to be on lower incomes, according to the charity. It also highlighted Ofgem statistics which highlighted that 80 per cent of households opting to have PPM metres installed were already in debt.
Citing results which show regional disparities in prices, Citizens Advice said this suggests competition is not working for all consumers.
Figures showed that the difference between the best available fixed term direct debit deal from any supplier and the worst PPM tariff increased between December 2014 and June 2015.
Citizens advice urged the Government's Competition and Markets Authority (CMA) to seize the upcoming publication of an investigation into the energy market to address the unfairness.
Gillian Guy, Chief Executive of Citizens Advice, said: "Prepay energy consumers get a raw deal."
"Our research shows many PPM customers have to fork out hundreds of pounds more than those on online direct debit deals. This unfairness leaves some of the poorest people struggling to heat their homes and keep the lights on.
He added: "The CMA investigation provides an opportunity to overhaul the energy industry and make it fairer - giving PPM customers a better deal is a crucial part of this."
Co-operative Energy responded to revelations it was the worst-performing firm in the study said  it was cutting its pre-payment rates.
The company told the Press Association: "Following contact with Citizens Advice, we have taken the opportunity to review our dual fuel pre-payment tariff and will be reducing it to match the cheapest of the Big Six rates immediately."
Some 214 Co-operative Energy customers were on a "pre-pay dual fuel tariff" and the firm have "never actively sought to attract pre-payment meter customers, promote or advertise this facility", it added.
Reuse content