Posters suggesting refugees are rapists have been put up outside a UK hospital, causing locals to be "angered".
The A5 stickers, stating the words "Attention! Rapeugees not welcome" and "Stay away!", were made by a group called the Northern Patriotic Front. 
The group describes itself as a "movement is designed to campaign in the north east of England against immigration and asylum seekers and all that comes with this".
The signs also depict a woman running away from a knife-wielding group.
Stephen Sullivan, who first spotted one of the posters on Wednesday outside South Tyneside District Hospital in South Shields, reported it to police.
The 29-year-old wrote on Twitter: "I have contacted @northumbriapol re: these stickers in #SouthShields not acceptable! Ignorant and offensive!"
Responding to the message, Labour MP for South Shields Emma Lewell-Buck wrote: "This is awful, pleased you have contacted them."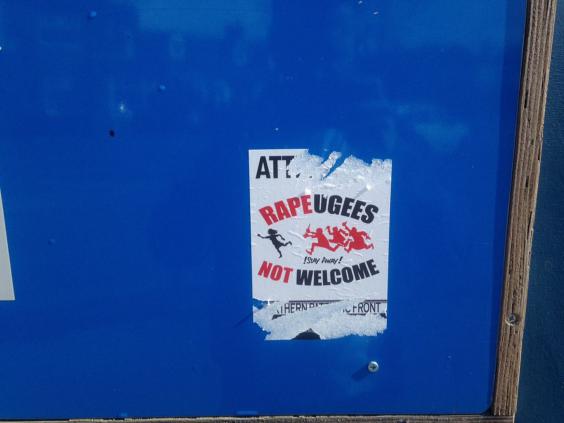 Mr Sullivan told the Independent he was "outraged" to see another appear today, just metres away from the original poster. He said: "I was heading home walking past the hospital when I saw the poster.
"It angered me because South Shields thrives on its many cultures and is a town proud of its multicultural heritage.
"Refugees are fleeing horrible conditions and this sort of scare mongering is not welcome here. It's ridiculous."
In graphics: Refugees in the EU
Shah Lalon Amin, who runs the Refugee Aid Network, also told the Shields Gazette: "This group is using refugees as a scapegoat and creating false tension.
"It is trying to create tension when there is none, especially in a town like South Shields which is known for being culturally diverse. It's disgusting.
"Suggesting that refugees are going to come here and victimise women is scaremongering and not right. These people are fleeing persecution."
A Northern Patriotic Front spokesman said he didn't know how the poster appeared outside the hospital.
He told the Gazette: "They're not intended for fly-posting. They are for the personal use of group members, so there's nothing we can do about that.
"It doesn't suggest all refugees are rapists, they're stating a simple fact. A lot of refugees are raping people. It's in the news every day.
"I don't want people to be offended but if people can't read and they can't understand it, there's nothing I can do about that."
Northumbria Police said in a statement: "We are aware of one sticker that has now been removed and enquiries are ongoing."
Reuse content