Prince Andrew may speak publicly about allegations he had sex with a teenage "sex slave" as he makes his first public appearance since the scandal broke at the World Economic Forum.
The Duke of York is joining ministers, chief executives, bankers and academics at the four-day event at the Swiss mountain resort of Davos.
He will be holding his annual drinks reception in aid of British business and his Pitch@Palace competition, which supports young people developing digital ventures.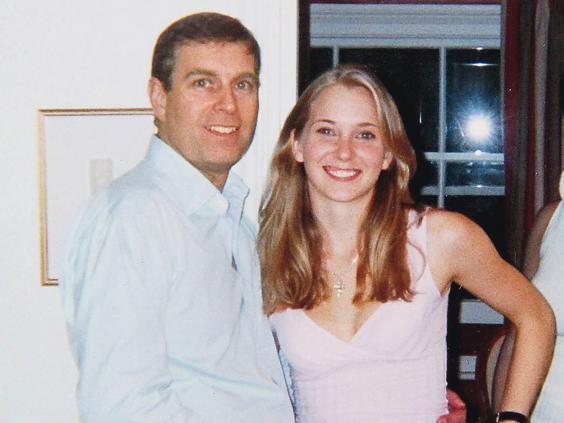 The event is usually closed to the media but television cameras could reportedly be invited inside for a speech by Prince Andrew.
Buckingham Palace told The Independent that suggestions that he will use the opportunity to publicly deny claims he slept with Virginia Roberts was mere "speculation".
  A spokesperson said: "Media arrangements for the Duke of York's reception have yet to be determined. We would not speculate on what the Duke might or might not say during any public comments."
The palace has previously issued staunch denials to claims that the Prince slept with Ms Roberts on three occasions between 1999 and 2002 in London, New York and on a private Caribbean island during an orgy.
The allegations are contained in a motion filed in a Florida court as part of a lawsuit over how federal prosecutors handled the case of Jeffrey Epstein, who was jailed for 18 months in 2008 for soliciting a minor for paid sex.
Prince Andrew, 54, stepped down as the UK's trade envoy in July 2011 following controversy over his friendship with the American financier.
"This will hopefully be a chance for Prince Andrew to draw a line under the Epstein business and move on," a source told the Mail on Sunday.
"He wants to put this behind him and he realises that if he didn't address the allegations, then his message about entrepreneurship might get lost."
Liberal Democrat MPs Sir Menzies Campbell and Norman Baker had both urged the royal to stay away from Davos.
Prince Andrew: Life in pictures
Prince Andrew: Life in pictures
1/15 Prince Andrew

Prince Andrew, Duke of York arrives at the Royal Albert Hall on 8 November 2014 in London

2/15 Prince Andrew

Prince Andrew, the Duke of York (L) speaks to Queen Elizabeth II on the Queens stand during Derby day at the Epsom Derby Festival, in Surrey on 1 June 2013

3/15 Prince Andrew

Prince Andrew with his daughters Princess Eugenie and Princess Beatrice on the Balcony at Buckingham Palace, 2013

4/15 Prince Andrew

Princess Beatrice (C) poses for photograph with her parents, Britain's Prince Andrew, the Duke York (L) and Sarah Ferguson following her graduation ceremony at Goldsmiths College, in London, 2011

5/15 Prince Andrew

Prince Andrew's 'pointless plunge' down the Shard was the moment to take stock of his usefulness

Getty Images

6/15 Prince Andrew

Prince Andrew is the first royal to take and tweet a selfie

7/15 Prince Andrew

Prince Andrew with Bahrain's Crown Prince Salman bin Al-Khalifa at Royal Ascot in 2010

Getty

8/15 Prince Andrew

Prince Andrew with Ilham Aliyev, president of Azerbaijan in 2009

Rex Features

9/15 Prince Andrew

Prince Andrew with Indonesian President Susilo Bambang Yudhoyono on the first day of his state visit to London

Getty Images

10/15 Prince Andrew

Duke of York in his uniform

REX FEATURES

11/15 Prince Andrew

Britain's Prince Andrew speaks to the press during a meeting with Turkish Businessmen at Ciragan Palace in Istanbul on 26 May 2004

12/15 Prince Andrew

Wearing a traditional Guatemalan ceremonial jacket, Britains Prince Andrew, the Duke of York, turns on the tap innaugurating an irrigation system sponsored by the European community on 7 March 2002 in Nevaj, Guatemala

13/15 Prince Andrew

The newly wed Prince Andrew, the Duke of York and his wife Sarah Ferguson, the Duchess of York, wave to crowds on 23 July 1986 from the balcony of Buckingham Palace in London while Queen Elizabeth II and Queen Mother look on

14/15 Prince Andrew

Prince Andrew and Prince Edward with their governess, Lavinia Keppel, at the Children's Book Show in Westminster, London on 7 November 1969

15/15 Prince Andrew

Prince Andrew (bottom left) with his parents Queen Elizabeth II and Prince Philip and siblings, Prince Charles, Princess Anne, and little Prince Edward at Windsor Castle, 1965

Getty Images
Mr Baker told the BBC: "I think it would be helpful if he wasn't going because of the furore which is surrounding him at the present time, which may well be very unfair.
"I don't know and nobody does know. But I certainly think when we represent our country abroad, whoever we are, we have to bear in mind how that will be received at any particular point."
Former Liberal Democrat leader Sir Menzies spoke of the need for "discretion rather than distraction".
Three Labour members of a Commons business committee also said they were worried he would prove a distraction at Davos, shifting the focus away from British business to his private life.
Prince Andrew's former wife, Sarah Ferguson, defended him earlier this month, calling him the "a great man, the best in the world".
Reuse content