It remains one of the most infamous IRA bombings – the audacious assassination of a member of the Royal Family and three others after they set out for a day's fishing off the coast of Ireland in 1979.
The murders of Earl Mountbatten of Burma – described by Prince Charles as "the grandfather I never had" – the Dowager Lady Brabourne, 83, the mother-in-law of Mountbatten's daughter, Nicholas Knatchbull, the earl's 14-year-old grandson, and his 15-year-old friend Paul Maxwell were widely seen at the time as a terrorist atrocity that could never be forgiven.
But here, the Prince of Wales told of how his personal grief had helped him understand the torment felt by people on both sides of Ireland's sectarian divide, in a speech ahead of a visit to the scene of the attack, the village of Mullaghmore, County Sligo.
"At the time I could not imagine how we could come to terms with the anguish of such a deep loss, since for me Lord Mountbatten represented the grandfather I never had," he said.
"It seemed as if the foundations of all that we held dear in life had been torn apart irreparably."
But while "those directly affected don't easily forget the pain," he said recent years had shown that "healing is possible, even when the heartache continues".
"Through this dreadful experience, though, I now understand in a profound way the agonies borne by so many others in these islands, of whatever faith, denomination or political tradition," Prince Charles added.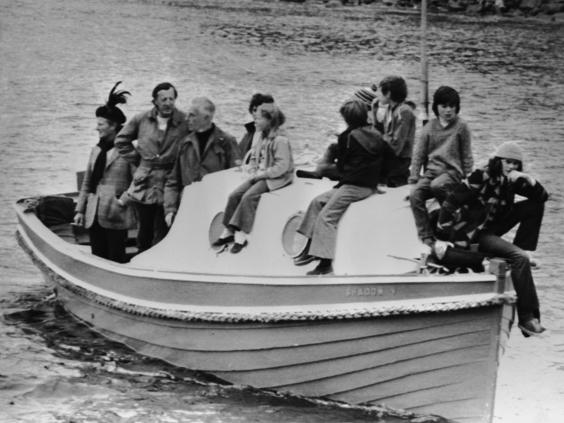 "Despite the tragedy of August 1979, the memories that Lord Mountbatten's family have of Classiebawn Castle and Mullaghmore, going right back to 1946, are of great happiness. I look forward to seeing, at last, the place that he and they so loved and to meeting its inhabitants."
His two-day visit to the Irish Republic, which is to be followed by two days in Northern Ireland, has been generally well-received. There has been widespread approval of his handshake with Sinn Fein president Gerry Adams.
And the Prince was applauded by several hundred onlookers as he arrived in Mullaghmore, where he toured a peace garden.
The Prince met rescuers who had helped survivors and Mary Hornsey, the mother of Paul Maxwell. She said the visit was extending the hand of forgiveness, adding: "It is going to be a time of reconciliation and I hope that good will come of it."
Richard Wood-Martin, who helped with his wife Elizabeth to pull survivor Timothy Knatchbull from the water minutes after the blast, was in another boat about 200m from the explosion.
"There was a puff of smoke, a loud bang and a shower of bits of timber and the boat was gone," Mr Wood-Martin said.
Reuse content