Public anger is mounting at authorities in Taiwan who have still not found the cause of five deadly gas blasts that killed 28 people and injured hundreds more on Thursday.
Investigators in Kaohsiung are investigating LCY Chemical Corp, a Taiwanese petrochemical firm with pipelines running under the city.
A series of explosions tore through the streets starting at around midnight on Thursday, flinging cars into the air and blasting passers-by and shoppers at a nearby market with rubble.
Several residents had reported a gas leak to authorities in the industrial port city of 2.8 million people hours before the disaster and their failure to avert it has prompted widespread condemnation.
Residents said they were given conflicting advice before the explosions, which left a trail of destruction over one square mile.
One resident told television channel TVBS that five minutes before the explosions, authorities told them: "Everything is under control. You can go home and sleep." 

The blasts also damaged rows of shops and low-rise apartments.
In pictures: Kaohsiung explosions rock Taiwan
In pictures: Kaohsiung explosions rock Taiwan
1/6 Kaohsiung blasts

Residents carry a wounded person following a blast in the city of Kaohsiung in southern Taiwan

Getty Images

2/6 Kaohsiung blasts

A blast rips through the city of Kaohsiung in southern Taiwan

Getty Images

3/6 Kaohsiung blasts

People take pictures of a crater caused by a blast in the city of Kaohsiung in southern Taiwan

Getty Images

4/6 Kaohsiung blasts

Flames from an explosion from an underground gas leak in the streets of Kaohsiung, Taiwan

AP

5/6 Kaohsiung blasts

Tossed vehicles line an destroyed street as flames continue to burn from multiple explosions from an underground gas leak in Kaohsiung, Taiwan

AP

6/6 Kaohsiung blasts

Wreckage of a damaged car is pictured after an explosion in Kaohsiung, southern Taiwan

Reuters
The city's environmental officials blamed LCY Chemical Corp for failing to notify authorities of problems with a pipeline in the area, despite being aware of irregularities in the supply.

Chen Chin-der, director of the Environmental Protection Bureau in Kaohsiung, said: "If we were informed earlier by LCY, we could have evacuated everyone."
The pipeline was leaking nearly four tons of propene every hour as pressure dropped at around 8.45pm on Thursday.
As reports of leaks flooded in, firefighters and environmental officials tried to work out the nature of the gas and where it was coming from but their failure allowed it to accumulate and spread over several hours.

"The leak was at a different location from the explosions, because propene was leaking and spreading through the sewer system everywhere," Mr Chen said.
"When the density of propene is very high, anything can trigger an explosion, anything as small as a cigarette, or starting the engine of a motor scooter."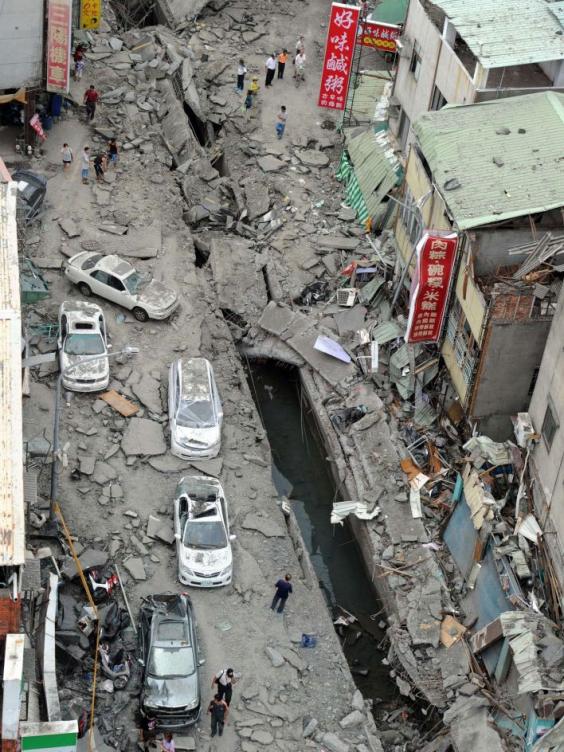 Authorities had summoned representatives of a companies including LCY Chemical to check their pipelines but all said their operations were normal.
Propene, also known as propylene, is mainly used for making plastic that is widely used in a wide variety of packaging, caps and films.
The highly flammable gas is colourless and has only a mild, slightly unpleasant smell.
Thinking at first that it was natural gas, firefighters poured water at the site in the hope of dissolving it, which had no effect. 

Experts were only able to identify the gas as propene at around 11.55pm but by then it was too late and a few minutes later, the blasts started ripping the streets apart. 
The supplier said it had initially shut off the propene pump when it noticed irregularities several hours before the blasts, but had resumed delivery on LCY's request.  
Tens of thousands of people lost electricity and water supplies in the disaster zone but the Government promised amenities would be restored within five days.
LCY Chemical Corp said it would co-operate with the investigation.
"Our priority is to figure out the truth and responsibility," spokeswoman Pan Lee-lin said.
Industrial pipelines are believed to precede many of the residential districts they run beneath in Kaohsiung.
The city contains much of Taiwan's heavy industry, especially petrochemicals.
Additional reporting by AP