Millions of pounds of public money will be given to landowners in exchange for culling grey squirrels, when a new action plan is launched this month.
Taxpayers will also fund research into scientific research into chemical contraceptives and vaccines, in an attempt to prevent the growth of the grey squirrel and encourage that of their red counterparts.
Under the first national plan for managing the animals' numbers, Grey Squirrels and England's Woodland – Policy and Action, landowners who agree to deal with the creatures themselves will be eligible for forestry grants from the Government or European Union.
They will be able to apply for funding of £100 per hectare per year for five years to help them cull the squirrels,using whatever method they prefer.
The money could be used to buy poison or traps, so they can be trapped and shot.
Animals in decline
Animals in decline
1/8 Harbour seal (Phoca vitulina)

Where: Orkney Islands. What: Between 2001-2006, numbers in Orkney declined by 40 per cent. Why: epidemics of the phocine distemper virus are thought to have caused major declines, but the killing of seals in the Moray Firth to protect salmon farms may have an impact.

Alamy

2/8 African lion (Panthera leo)

Where: Ghana. What: In Ghana's Mole National Park, lion numbers have declined by more than 90 per cent in 40 years. Why: local conflicts are thought to have contributed to the slaughter of lions and are a worrying example of the status of the animal in Western and Central Africa.

3/8 Leatherback turtle (Dermochelys coriacea)

Where: Indonesia, Malaysia, Mexico, Costa Rica. What: Numbers are down in both the Atlantic and Pacific. It declined by 95 per cent between 1989-2002 in Costa Rica. Why: mainly due to them being caught as bycatch, but they've also been affected by local developments.

Alamy

4/8 Wandering albatross (Diomedea exulans)

Where: South Atlantic. What: A rapid decline. One population, from Bird Island, South Georgia, declined by 50 per cent between 1972-2010, according to the British Antarctic Survey. Why: being caught in various commercial longline fisheries.

Alamy

5/8 Saiga Antelope (Saiga tatarica)

Where: Kazakhstan, Mongolia, Russia, Turkmenistan, Uzbekistan. What: fall in populations has been dramatic. In the early 1990s numbers were over a million, but are now estimated to be around 50,000. Why: the break up of the former USSR led to uncontrolled hunting. Increased rural poverty means the species is hunted for its meat

6/8 Swordfish (Xiphias gladius)

Where: found worldwide in tropical, subtropical and temperate seas. Why: at risk from overfishing and as a target in recreational fishing. A significant number of swordfish are also caught by illegal driftnet fisheries in the Mediterranean

7/8 Argali Sheep (Ovis mammon)

Where: Central and Southern Asian mountains,usually at 3,000-5,000 metres altitude. Why: domesticated herds of sheep competing for grazing grounds. Over-hunting and poaching.

8/8 Humphead Wrasse (Cheilinus undulatus)

Where: the Indo-Pacific, from the Red Sea to South Africa and to the Tuamoto Islands (Polynesia), north to the Ryukyu Islands (south-west Japan), and south to New Caledonia. Why: Illegal, Unregulated and Unreported (IUU) fishing and trading of the species
The Department for Environment, Food and Rural Affairs (Defra) will fund research into an "oral form of fertility control based on single shot injectable immune-contraceptive vaccine".
According to the Forestry Commission document, grey squirrels cause between £6 and £10million worth of damage to UK woodlands every year.
It also claims that grey squirrels "out-compete our native red squirrels as well as spreading the squirrel pox virus to them.
"Efforts to control grey squirrels in England's woodlands need to be more effective, better coordinated and sustained in order to protect and enhance our vulnerable red squirrel population and to reduce impacts on woodlands so that they can thrive for biodiversity and economic interests."
The Forestry Commission drew up at the Government's request, to review the current approach to grey squirrel control and assess the effectiveness of existing measures in addressing the "threats" posed by grey squirrels both to woodlands and to red squirrels.
This comes after a year where it seemed the fight for the native red squirrel, and against the grey, was declared over.
In March, the Solicitor General for England and Wales, Oliver Heald, told an MPs' committee on deregulation: "It is no longer considered feasible to eradicate grey squirrels, so the requirement to report their presence on one's land is no longer useful or observed."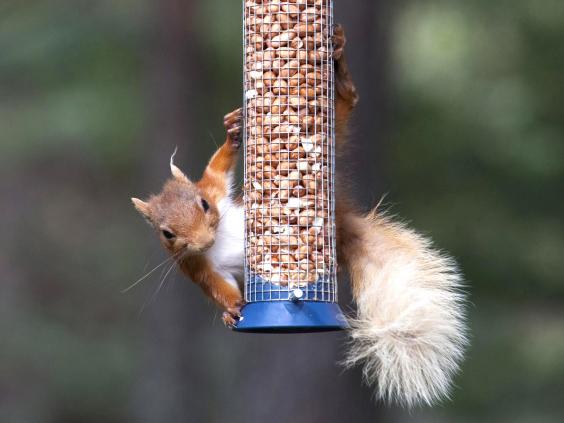 However the Director of the Red Squirrel Survival Trust, Janet Wickens, told The Independent that it is important people remember grey squirrels are not native to the UK, and are destructive to both forests and businesses.
"Where there are red squirrels we are already culling and controlling grey squirrels to protect the native species. Where there are red squirrels there's a keen awareness of the need to be alert to the presence of greys," said Ms Wickens.
"What we are saying is in the future things may be different. We were quite surprised to hear that ministers had given up. As science develops there may be ways of using reproduction control to work towards removing grey squirrels."
Animal charities are opposing the plans for culling greys.
Andrew Tyler, the director of Animal Aid, told The Telegraph: "People have been responsible for wiping out the red squirrel. It's an excuse to blame the grey squirrel.
"They're on a list of animals that are considered pests but they're an indigenous species.
"The damage they do is exaggerated. Attempts to purge the landscape of them in the past have failed and this will fail too.
"It amounts to a bigoted pogrom."
The UK has around five million grey squirrels, descendants of those imported from America in the 19th century, while the number of red squirrels is estimated at between 120,000 and 140,000. About 75 per cent of the red population is in Scotland.
Reuse content