Jewish people around the world celebrated the annual flamboyant festival of Purim over the past two days with fancy dress costumes and big parties.
What is Purim?
It is a festival to celebrate the salvation of Jewish people in ancient Persia from Haman's plot "to destroy, kill and annihilate all the Jews, young and old, infants and women, in a single day" around 2,500 years ago.
Purim 2015: In pictures
Purim 2015: In pictures
1/10

People dressed in animal costumes surround a man reading from a holy text in Bnei Brak near Tel Aviv

AFP

2/10 Purim 2015

A boy dressed in a pilot's costume at a reading from the Book of Esther in a Jerusalem synagogue

3/10 Purim 2015

A boy wears a fake beard during a snowstorm on Purim in the Williamsburg neighborhood of the Brooklyn borough of New York

AP

4/10 Purim 2015

Little girls in fancy dress in Williamsburg, New York

AP

5/10 Purim 2015

Young men celebrate and get drunk in the Israeli city of Bnei Brak near the coastal city of Tel Aviv

AFP

6/10 Purim 2015

Jewish settlers celebrate in the West Bank city of Hebron in Palestine

EPA

7/10 Purim 2015

A group of boys dance in the street in London while fundraising for their school

8/10 Purim 2015

A Mickey Mouse head peeks out of a car in north London

PA

9/10 Purim 2015

Young girls dressed as Russian stacking dolls while out with their mother on Purim in north London

PA

10/10 Purim 2015

Boys dressed as Vikings in Zurich, Switzerland

EPA
How is it celebrated?
The Book of Esther – which recounts the Purim story – is read the night before the celebrations begin after a day-long fast and also during the following morning. Noise, stomping, booing and hissing are encouraged by everyone whenever the name Haman is mentioned.
Parties are held with lots of dancing, singing, drinking and eating. Drinking at least one glass of wine is also expected as the drink is significant in the story of Esther.
Fancy dress costumes are donned by both children and adults and all those who can afford it are obliged to give money to charity.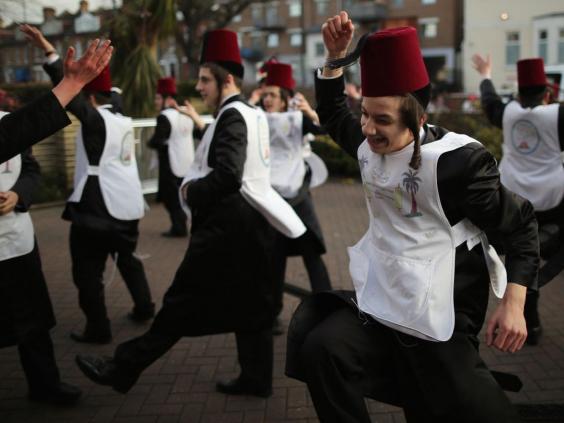 When is it celebrated?
Purim is usually held over two days on the 14th and 15th days of Adar, the twelfth month of the Jewish calendar that usually falls in March.
Who is Esther?
Esther was chosen to be the wife and Queen of King Ahasuerus (believed to be Xerxes I) of Persia. When the King's adviser, Haman, persuades him to kill all the Jews in the empire, Queen Esther's cousin and adopted father, Mordecai, calls on her to use her influence to stop the planned massacre.
The tale is told in the Book of Esther, known as the Megillah, and ends with Haman's hanging and the Jewish people being saved.
Reuse content