Youth unemployment is at its lowest level since the financial crisis began, as the UK's jobs market rapidly shrugs off the impact of recession and its aftermath, official figures showed yesterday.
There were 817,000 people aged 16-24 looking for work in the quarter to May: the lowest since October 2008 in the immediate aftermath of the collapse of Lehman Brothers, and more than 200,000 fewer than the 1.04 million peak in late 2011.
The Office for National Statistics data showed unemployment among 18-24-year-olds showing the largest drop among any age group over the latest quarter. Barring a hiring spree around the Olympics in 2012, the 59,000 decline was the biggest for 20 years. Neil Carberry, the CBI's skills director, said the shift was "particularly encouraging".
The improvement stood out among strong jobs figures which showed a record 30.64 million people in work and a fresh 121,000 decline in overall unemployment to 2.12 million, 6.5 per cent of the workforce and the lowest since 2009. The jobs recovery has also been driven by a record surge in self-employment to 4.5 million – up 404,000 over the past year.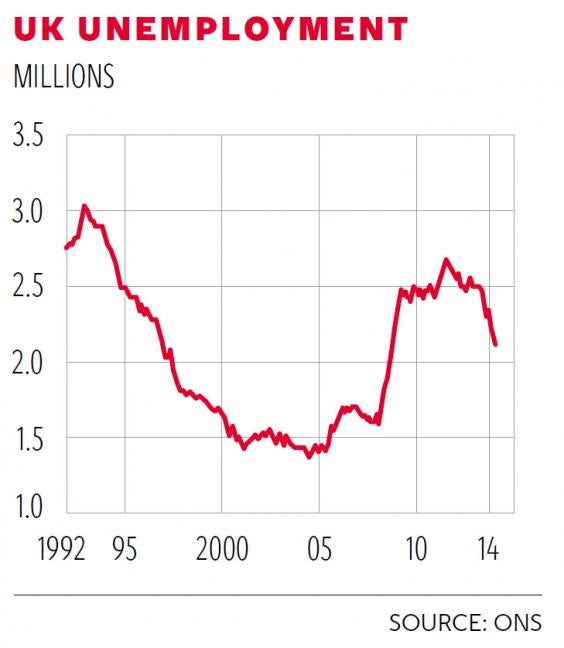 Prime Minister David Cameron hailed a "record to be proud of" but unions highlighted pay growth at a record low of 0.7 per cent, less than half the current 1.9 per cent inflation rate.
The TUC general secretary, Frances O'Grady, said: "Serious questions must be asked about the quality of jobs being created in Britain today.
"If all the recovery can deliver is low-paid, low-productivity jobs – many of which don't offer enough hours to get by – then it will pass most working people by and Britain's long-term economic prospects will be seriously diminished."
Reuse content