A cancer treatment 'breakthrough' is beginning in the UK, as London, Cardiff and Northumberland are named as the locations for the UK's first three proton beam therapy centres.
The announcement marks an advance in cancer treatment provision, and comes after five-year-old Ashya King, whose parents were jailed for taking their child from a UK hospital in order to seek proton therapy abroad, reportedly made a full recovery from brain cancer.
Aysha's parents were concerned that the conventional radiotherapy, suggested by Ashya's British doctors to treat his medulloblastoma following surgery, would "kill him or turn him into a vegetable" and so turned to proton therapy instead.
Once fully functioning, the centres will be available to both NHS and private patients from England, Scotland and Wales.
The Cardiff centre will be the first to be set up and should be fully operational next year.
Professor Gordon McVie, Senior Consultant at the European Institute of Oncology said: "This is an exciting and important development of the provision of cancer treatment in the UK.
"As things stand, patients who can benefit from this treatment have to go abroad for treatment, often at great expense to the NHS.
"The creation of these centres will go a long way to ensuring the very best of treatment is available in the UK."
Cardiff-based Proton Partners International Ltd is to open and run the three centres and has been formed following discussions between life sciences entrepreneur, Professor Sir Chris Evans and life sciences and health care investors on addressing cancer treatment in the UK.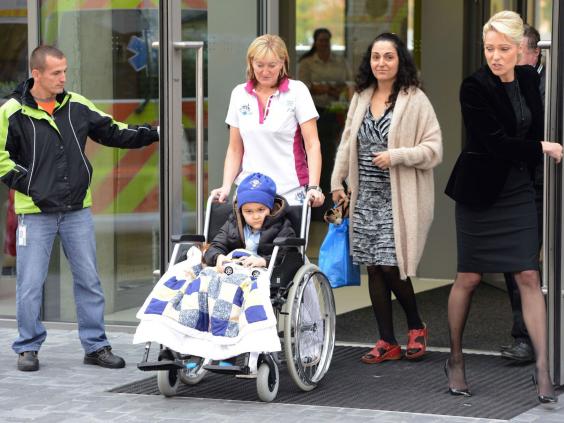 Professor Karol Sikora, Chief Medical Adviser to the company, said: "I was delighted to be approached by Sir Chris as there are only 40 proton beam therapy centres around the world and a pressing need for more.
"In the UK there are none.
"Given the ageing population, there will be a significant rise in the number of cancer cases in the UK and therefore we should do what is necessary to provide the appropriate level and type of care."
Edwina Hart, the Minister for Economy, Science and Transport in the Welsh Government said: "I am delighted that Sir Chris and his Arthurian team are bringing this excellent project to Wales to build the first proton beam therapy centre in Britain."
Proton beam therapy is a highly-targeted type of radiotherapy that can treat hard-to-reach cancers, such as spinal tumours (chordomas), with a lower risk of damaging the surrounding tissue and causing side effects.
Reuse content