A train company that brings thousands of commuters into London every day has been criticised for its "unacceptable" levels of service, with more than half of its trains arriving late.
Southern Trains, which runs services into London Bridge station from south London, Kent and Surrey, were on time on just 46.4 per cent of journeys in the first three months of this year.
Watchdog London TravelWatch blamed the "poor performance" on the £6.5 billion redevelopment of London Bridge, not enough tracks and poor timetable planning - combined with "numerous" signal failures, driver shortages, and faulty tranis.
Southern said there had been a reduction in the number of tracks at London Bridge because of the Thameslink redevelopment. The station is used every day by 140,000 people and has become hugely overcrowded as space has become restricted.
In March, passengers were forced to jump barriers and trains were suspended because of the chaos, branded a "disgrace" by London mayor Boris Johnson.
London TravelWatch uses the "right-time" measure of punctuality, referring to whether trains arrived within a minute of their scheduled arrival time. Southern's 46.4 per cent score was the worst of 11 train operators surveyed by London TravelWatch, and was down 1.5 percentage points on the same period the previous year.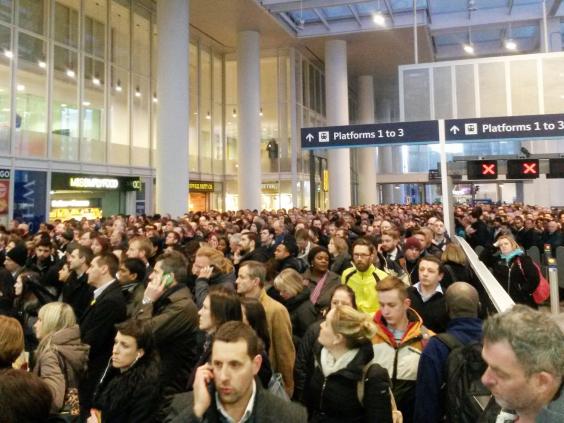 Southern also came last on the so-called "public performance measure" (PPM) - which tracks the performance of individual trains against their planned timetable - and the second worst number of cancellations after Govia Thameslinks Rail.
Janet Cooke, chief executive of London Travelwatch, said: "Passengers are paying a huge amount of money, particularly commuters, to travel on these lines and it's not acceptable that they continue to suffer delays.
"It's essential that these works happen to keep the lines running, but it's a question of how they are planned and managed."
A Southern spokesman said: "January saw a reduction in the number of tracks into London Bridge as part of the Thameslink programme.
"The new infrastructure proved unable to cope with the amount of trains, leading to sustained delays across the network."
"Since then we have made some changes to the departure times and calling patterns of some evening peak services into and out of London Bridge. These changes were made to improve performance and are working well.
"We have been working with Network Rail and Govia Thameslink Railway on a joint improvement plan which is focused on Network Rail improving the reliability of its infrastructure and as a result, Southern's performance has been improving month-by-month.
"However, we know we still have much to do and are working hard to improve further."
Network Rail said punctuality on Southern services "steadily improved" in May.
A spokesman said: "We still have challenging days, but these are now far less frequent and we are managing disruption more effectively."
Travel chaos around the UK
Travel chaos around the UK
1/6 Travel chaos

Travelers are locked out of Finsbury Park station, London, where they were directed to go as trains in and out of King's Cross have been cancelled

PA

2/6 Travel chaos

Passengers wait at King's Cross, London, as trains in and out of the station have been cancelled

PA

3/6 Travel chaos

Railway workers on the tracks outside King's Cross, London, as trains in and out of the station have been cancelled because of overrunning Network Rail engineering works

PA

4/6 Travel chaos

Travellers are locked out of Finsbury Park station, London, where they were directed to go as trains in and out of King's Cross have been cancelled

PA

5/6 Travel chaos

Travellers are locked out of Finsbury Park station, London

PA

6/6 Travel chaos

People wait outside Finsbury Park station, London

PA
Reuse content