The Independent has joined forces with a broad coalition of aid agencies, refugee charities and campaigners to present David Cameron with "1.4 million welcomes for refugees" from the British public.
More than 378,000 people have now signed The Independent's petition urging David Cameron to take immediate action to open the country's doors to refugees, while hundreds of thousands more have signed other petitions or made pledges of support.
Representatives from Save the Children, Amnesty International UK, Refugee Action, Avaaz and 38 Degrees were joined by The Independent in Westminster before Prime Minister's Questions. The campaigners called on MPs to urge the Prime Minister to take a more radical action and to follow the example of other European Union states, including Germany which has said it could take up to 500,000 refugees a year.
Dorothy Sang, a campaigner at the Save the Children, told The Independent: "We want to see David Cameron do more, especially for the tens of thousands of refugee children already within the EU who desperately need help.
"Britain should play its part and offer to resettle 3,000 of these children. Without action the fate of these children is a huge concern. They are at risk of being trafficked or used for slave labour. Action is needed now."
Refugees Welcome: Supporters back The Independent's campaign
Refugees Welcome: Supporters back The Independent's campaign
1/15 Sean O'Grady

Twitter

2/15 Jamie Merrill

Twitter

3/15 Mollie Goodfellow and Marie Le Conte

Twitter

4/15 Naomi Westland

Twitter

5/15 DJ Kooper

Twitter

6/15 Zuhura Plummer

Twitter

7/15 Christine Gingter

Twitter

8/15 Andy Kavanagh

Twitter

9/15 Martijn van Calcar

Twitter

10/15 Dan O

Twitter

11/15 Kerry F

Twitter

12/15 Eulette

Twitter

13/15 Sarah

Twitter

14/15 Barefoot Mower

Twitter

15/15 Swim Deep

Twitter
The call came after the Government's pledge to resettle 20,000 refugees was labelled "pitifully short of what is needed" by refugee groups.
Katie Whyte, 36, a grassroots campaigner from London who started a separate petition calling on the UK to accept "more asylum seekers", said: "The change in the public's mood makes me feel helpful despite the terrible images we have seen in the last week. Hundreds of thousands of people support us and I'm sure millions more share our sentiments. They understand that 20,000 refugees isn't anywhere near enough, it isn't anywhere near our fair share."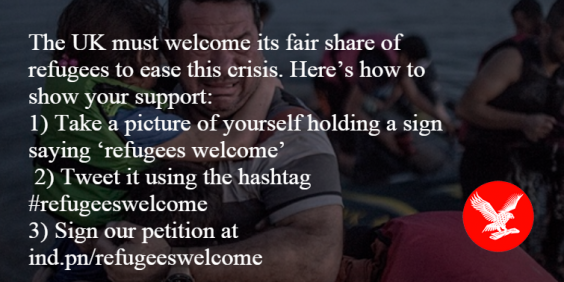 Click here to sign The Independent's Change.org petition
Reuse content