The Government's slow response to the refugee crisis has prompted thousands of people across Britain to take the provision of aid into their own hands. Major charities have seen a huge influx of donations in the past few days and Save the Children has received more than £500,000 in 24 hours.
Groups of friends have also launched their own convoys to deliver supplies of food, clothing and camping equipment to the "Jungle" refugee camp in Calais, while football fans have begun displaying banners at matches saying: "Refugees Welcome".
The Independent's own petition – calling on David Cameron to ensure Britain takes its fair share of refugees – currently has more than 300,000 signatures.
The public clamour follows the publication of the picture of three-year-old Syrian refugee Aylan al-Kurdi, who drowned as his family tried to flee to safety in Europe.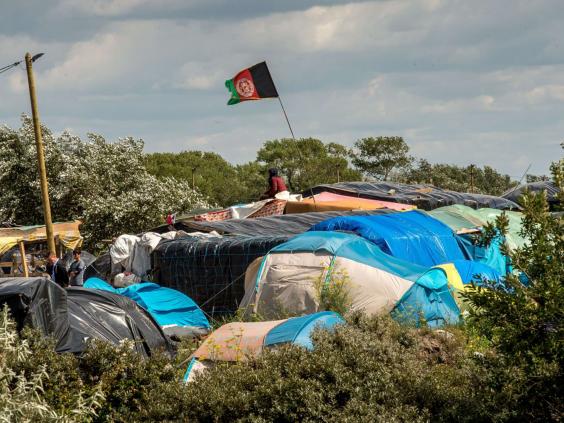 One convoy of 20 cars carrying £6,000-worth of emergency items organised by Stand Up To Racism was travelling to Calais. Others preparing to make the trip include a lorry driver from Northern Ireland; he has filled his truck with hundreds of quilts and blankets.
But people are warned not to go into the refugee camp alone and to first make an appointment with one of the main charities or aid agencies.
Supporters of non-league Dulwich Hamlet Football Club were collecting food and clothing at their home match against Billericay Town. Jack Bagnall, from its supporters' trust, said: "We worked out that Calais is comparable in distance to our furthest away game, so this is a local issue for us."
One group of friends from London plans to return in convoy to Calais this month after recently delivering 400 food parcels, thanks to public support. Mitch Mitchell, a member of the London2Calais Convoy, said: "The response has been amazing."
The JustGiving website said that 14,000 people from 50 countries have already helped raise more than £350,000 since the start of August.
Anne-Marie Huby, JustGiving's managing director, added: "Thousands of people have launched crowd-funders and donated to charity campaign pages as a way of taking direct action to help deliver food, clothes and supplies."
Refugees Welcome: Supporters back The Independent's campaign
Refugees Welcome: Supporters back The Independent's campaign
1/15 Sean O'Grady

Twitter

2/15 Jamie Merrill

Twitter

3/15 Mollie Goodfellow and Marie Le Conte

Twitter

4/15 Naomi Westland

Twitter

5/15 DJ Kooper

Twitter

6/15 Zuhura Plummer

Twitter

7/15 Christine Gingter

Twitter

8/15 Andy Kavanagh

Twitter

9/15 Martijn van Calcar

Twitter

10/15 Dan O

Twitter

11/15 Kerry F

Twitter

12/15 Eulette

Twitter

13/15 Sarah

Twitter

14/15 Barefoot Mower

Twitter

15/15 Swim Deep

Twitter
Five practical ways you can help
1) Make a donation: dozens of aid charities are raising funds to help refugees. They include Save the Children, which is distributing essential items ... nappies, hygiene kits, food.
2) Get involved with a grassroots group: campaigns on the JustGiving site include a bid by the Coach and Horses pub in London's West End; it's raising £5,000 to hire a mobile kitchen to feed the Calais refugees.
3) Buy specific items: an Amazon wish-list has been set up for people to buy items such as shoes and sleeping bags to go to Calais with the #KentforCalais and #HelpCalais appeals.
4) Sign a petition: such as The Independent's (below).
5) Use social media to raise awareness: Thousands are taking to Twitter and elsewhere to support The Independent's "Refugees Welcome" campaign by using the hashtag #refugeeswelcome.
This newspaper has started a campaign for the UK to welcome a fair share of refugees.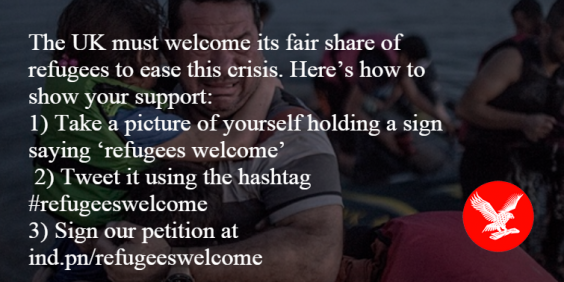 Click here to sign The Independent's petition
Reuse content