I have a spare room. Where do I start?
Contact local charities in your area and see what's most needed. You can register your room with Positive Action In Housing, which is building a database of those willing to house refugees and other migrants (paih.org/host-a-refugee). It is working with the Red Cross, the Refugee Council and other groups to link up local need with available bedrooms. The No Accommodation Network (naccom.org.uk) also has details of schemes that put asylum-seekers in touch with those offering a roof.
Who would the refugees be?
Probably not Syrian, unless you specified that's who you wanted. Eritrea and Pakistan are the most common countries of origin for refugees.
Do I have any control over who stays and for how long?
For obvious reasons, some people may feel more comfortable housing one particular sex. A woman living alone may request another woman. Similarly, those with bigger houses may be able to help a family. If you register with PAIH you can specify who you are willing to accommodate and for how long. You are also under no obligation to say yes if the match comes through at a bad time.
Aren't refugees given housing by the Government?
Yes. Anyone already granted refugee status – or awaiting a first decision on an asylum claim – should be provided with housing under current policy. However, sometimes people need a place to stay for a few nights when they first arrive. Charities also say that the statutory help offered does not always reach those who need it. Robina Qureshi, director of Positive Action In Housing, said: "People fall between the cracks; the bureaucracy is not that great." The most common reason for an asylum-seeker needing accommodation is if their initial asylum application has been turned down and they want to stay on to appeal the decision.
What kind of homes are most needed?
While offering a spare room on an ad hoc basis could provide a haven for someone trying to appeal a rejected asylum claim, what is most needed are landlords willing to offer up whole properties to the existing government scheme. Many councils are willing to house refugees but they need help to find appropriate homes in the private rented sector. Citizens UK has set up a Homes for Resettled Refugees Register which lets landlords register their willingness to help out.
So is it pointless to offer up my spare room?
No. There are many asylum seekers from countries other than Syria trying to appeal rushed decisions about their claim who need housed.
Dave Smith, who set up the Nacomm network, said: "We deal with people who've had their asylum claim refused but have not been sent back and are destitute. They need homes." If it's Syrians you want to help, temporary asylum accommodation of the kind given to those waiting to be accepted as refugees is typically in some of the most bleak "hard to let" properties that council tenants refuse to live in, so a room may be a nicer option for a new arrival.
Asylum-seekers also get no choice about where they are housed, meaning your spare room may help scattered families be near their relatives in the same city. But most importantly, pledging to house refugees sends a strong message to David Cameron that Britain would welcome more of those fleeing persecution.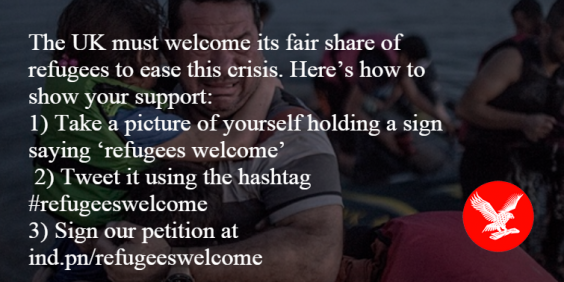 Click here to sign The Independent's Change.org petition
Reuse content