Of the 4 million Syrians who have fled their country since the war began, including hundreds of thousands who have poured into Europe, the number who have been resettled in Britain could fit on a single London Underground train — with plenty of seats to spare.
Just 216 Syrian refugees have qualified for the government's official relocation program, according to data released last week. (Tube trains seat about 300.) British Prime Minister David Cameron has reassured his anxious public that the total number won't rise above 1,000.
As Germany prepares for an expected onslaught of 800,000 asylum applications just this year, the contrast between the two biggest powers in Europe couldn't be sharper. On a continent that is supposed to be bound together by a common set of rules and values, the impact of this summer's migrant crisis is being felt disproportionately by a handful of countries while others, such as Britain, have resisted efforts to more equitably share the burden.
Britain's approach helps explain why efforts to forge a unified European asylum policy have failed, and it could become a major obstacle to agreement when top officials gather for an emergency meeting later this month.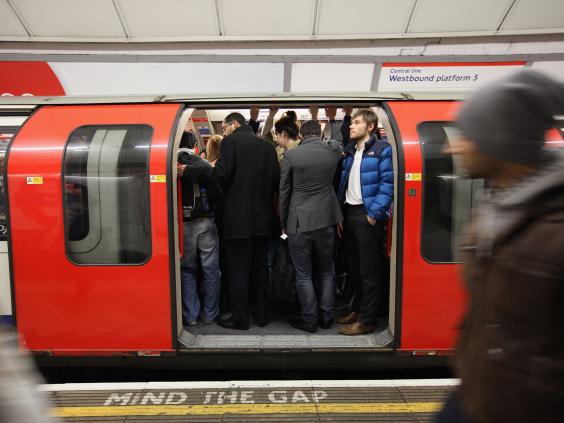 Although Britain is hardly the only European country that has bucked calls for a more cohesive strategy — many Eastern European governments have been similarly opposed — experts say the island nation's stance is surprising given its robust economy and its historical role in welcoming refugees.
"This really is a departure from what the U.K. has done in the past," said Neil Quilliam, an analyst at the London-based think tank Chatham House who has called for Britain to resettle 10,000 Syrians.
But Quilliam said the more miserly policy reflects the political atmosphere in a country where the tabloid press routinely characterizes refugees as an invading army attempting to storm the Cliffs of Dover; the Daily Mail recently wondered why the government could stop Hitler but not "a few thousand exhausted migrants."
Britain's leaders have contributed to the mood, with Cameron referring to the migrants as "a swarm" and Foreign Secretary Philip Hammond warning of "marauding" Africans who threaten Europe's "standard of living."
"There's a state of panic in Britain over the issue of migration," said Franck Duvell, a senior researcher at the University of Oxford's Center on Migration, Policy and Society. "And it's being fed by high levels of misinformation."
New arrivals to the U.K. are unquestionably rising. Britain last week recorded its highest-ever net migration total – 330,000 more people came to Britain than left over the previous year.
But nearly half of those arriving come from other parts of Europe. Refugees from conflict zones in the Middle East, Africa and South Asia account for only a small proportion of the total.
In addition to the 216 Syrian refugees resettled to Britain under the government's Vulnerable Persons Relocation program, nearly 5,000 others have received asylum after traveling to Britain on their own. (The United States, a country five times the size of Britain, has resettled about 1,500 Syrian refugees, with plans to accept more next year.)
Those numbers all pale in comparison with the figures in Germany and Sweden, which between them have received almost half of the nearly 350,000 asylum applications filed by Syrians in Europe since the war began, according to U.N. figures.
Migrants' desperate boat journeys to Europe
Migrants' desperate boat journeys to Europe
1/30 Migrants fleeing conflict

Migrants climb in the back of a lorry on the A16 highway leading to the Eurotunnel in Calais, June 2015

Getty Images

2/30 Migrants fleeing conflict

A police officer sprays tear gas to migrants trying to access the Channel Tunnel on the A16 highway in Calais, northern France, June 2015

PHILIPPE HUGUEN/AFP/Getty Images

3/30 Migrants fleeing conflict

Migrants jump out of a lorry after being discovered by French gendarmerie officers

AP

4/30 Migrants fleeing conflict

A migrant sits under the trailer of a lorry

AP

5/30 Migrants fleeing conflict

A Belgian navy sailor passes life vests to migrants sitting in a rubber boat as they approach the Belgian Navy Vessel Godetia, June 2015

AP

6/30 Migrants fleeing conflict

Migrants on the Belgian Navy vessel Godetia after they were saved during a search and rescue mission in the Mediterranean off the Libyan coast, June 2015

AP

7/30 Migrants fleeing conflict

Iraqis wait as they are detained by Hungarian police after crossing the Hungarian-Serbian border illegally near the village of Asotthalom, Hungary, June 2015

Reuters

8/30 Migrants fleeing conflict

Syrian refugees walking on train tracks through Macedonia on the Western Balkans migration route, after entering Europe through Greece, June 2015

Reuters

9/30 Migrants fleeing conflict

A group of migrants huddle together during an operation to remove them from the Italian-French border in the Italian city of Ventimiglia. Italy and France engaged in a war of words as a standoff over hundreds of Africans offered a graphic illustration of Europe's migration crisis. Italian Interior Minister Angelino Alfano described images of migrants perched on rocks at the border town of Ventimiglia after being refused entry to France as a "punch in the face for Europe", June 2015

10/30 Migrants fleeing conflict

A migrant is carried by Italian police in Ventimiglia, Italy. Police reportedly removed migrants from under a railway bridge, June 2015

EPA

11/30 Migrants fleeing conflict

A Syrian child holds a drawing as he waits to disembark from Belgian Navy vessel Godetia at the Augusta port, Italy. Around 250 migrants from Syria arrived at the Sicilian harbour from a Damascus refugee camp, June 2015

12/30 Migrants fleeing conflict

A dinghy overcrowded with Afghan immigrants arrived on a beach on the Greek island of Kos, May 2015

13/30 Migrants fleeing conflict

An Afghan child migrant is helped off a rib on the gReek island of Kos, May 2015

14/30 Migrants fleeing conflict

An Afghan migrant girl holds the hand of a woman as they arrive on a beach on the Greek island of Kos, after crossing a part of the Aegean Sea between Turkey and Greece, May 2015

15/30 Migrants fleeing conflict

Afghan migrants crossed part of the Aegean Sea between Turkey and Greece, May 2015

16/30 Migrants fleeing conflict

Afghan migrants arrive on a beach of Kos, May 2015

17/30 Migrants fleeing conflict

Rescuers help children to disembark in the Sicilian harbor of Pozzallo, Italy in April 2015

18/30 Migrants fleeing conflict

A boat transporting migrants arrives in the port of Messina after a rescue operation at sea, April 2015

Getty

19/30 Migrants fleeing conflict

Armed Forces of Malta personnel in protective clothing carry the body of a dead immigrant off Italian coastguard ship Bruno Gregoretti as surviving migrants watch in Senglea, in Valletta's Grand Harbour, April 2015

20/30 Migrants fleeing conflict

Rescued migrants talk to a member of the Malta Order after a fishing boat carrying migrants capsized off the Libyan coast, is brought ashore along with 23 others retreived by the Italian Coast Guard vessel Bruno Gregoretti at Boiler Wharf, Senglea in Malta, April 2015

21/30 Migrants fleeing conflict

A boat of would-be immigrants near the Italian island of Lampedusa. Most of those crossing the Mediterranean headed to Italy in December 2014

Getty Images

22/30 Migrants fleeing conflict

The Sierra Leone-flagged Ezadeen vessel, carrying hundreds of migrants, is towed by the Icelandic Coast Guard vessel Tyr in rough seas in the Mediterranean sea off Italy's south coast in January 2015

Reuters

23/30 Migrants fleeing conflict

Hundreds of migrants seen on board the decks of the Moldovan-flagged Blue Sky M cargo ship - believed to be carrying 700 illegal immigrant altogether after it docked at the Italian port of Gallipoli in the early hours of 31 December 2014

EPA

24/30 Migrants fleeing conflict

Hundreds of migrants seen on board Blue Sky M after it docked at the Italian port of Gallipoli in December 2014

25/30 Migrants fleeing conflict

A crowded boat of rescued African migrants off the coast of Sicily in October 2014

AFP

26/30 Migrants fleeing conflict

Migrants of sub-Saharan origin being rescued last month as part of the Mare Nostrum operation in Italy in October 2014

EPA

27/30 Migrants fleeing conflict

An Italian Customs Police boat takes illegal immigrants on board off the coast of Lampedusa, Italy in September 2014. Some 40,000 migrants have died since the year 2000, more than half of them in the Mediterranean

Getty

28/30 Migrants fleeing conflict

Migrants are pictured on an Italian navy ship after being rescued in open international waters in the Mediterranean Sea between the Italian and the Libyan coasts in August 2014

Reuters

29/30 Migrants fleeing conflict

Firemen and policemen evacuate the dead bodies of migrants from a boat on July 1st, 2014 in the port of Pozzallo, Sicily

GIOVANNI ISOLINO/AFP/Getty Images

30/30 Migrants fleeing conflict

An Italian navy motor boat approaches a boat full of migrants making its way to Europe. The boat was carrying almost 600 people – but some 30 died during the journey in June 2014

AP
The disparity is only likely to grow after Germany said last week that the government would no longer observe a long-standing policy, known as the Dublin Regulation, which dictates that refugees should seek asylum in the first European Union country in which they set foot. Instead, Syrians will be free to settle in Germany.
The decision was applauded by human rights advocates as a critical step that will eliminate hurdles for legitimate refugees and help to ease the burden on countries along the continent's southern periphery, where most migrants arrive.
"It's an example of real political leadership," said Anna Musgrave, advocacy manager at the London-based Refugee Council.
But it is highly unlikely to be replicated here. Instead, the British government has moved in the opposite direction, resisting calls to expand its resettlement program, cutting the number of visas given to people from war-battered countries and spending millions on enhanced security at Calais, the French port where thousands of migrants have gathered to try to stow away on British-bound trucks.
"They're making it as difficult as possible for people to arrive here," said Greg Ó Ceallaigh, an immigration lawyer.
Those who do make it to Britain face a tough battle to stay. The government, he said, has repeatedly tried to send clients from Syria, Iraq and Afghanistan back to countries such as Bulgaria and Italy, where deplorable conditions for migrants await.
Defending policies
British officials have defended the government's policies, noting that Britain gives more aid to victims of the Syrian conflict than any other European country. Officials also say that helping refugees in neighboring countries such as Lebanon, Turkey and Jordan is a more efficient use of public funds than resettling them in Britain.
But analysts say the country's restrictive policies toward refugees are largely due to domestic politics.
The British public, Duvell said, has been "traumatized" by the influx of immigrants from Eastern Europe over the past decade, and the government is under pressure to reduce the overall flows. But under the continent's free-movement principles, Britain can't keep Europeans out of Britain. So it's trying to cut the numbers in any way it can, and that has translated into tough restrictions on would-be refugees.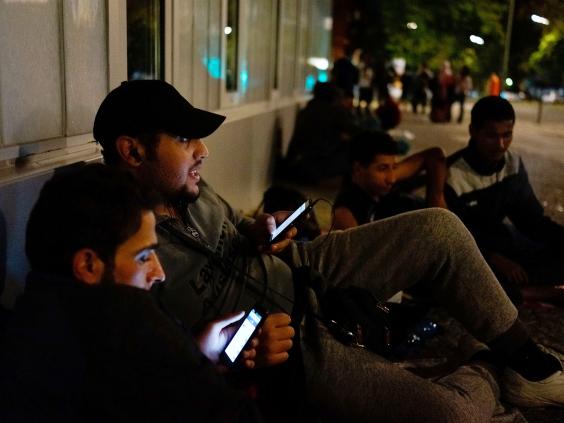 The hostility among Brits toward new arrivals is evident in the pretty seaside town of Whitstable, where government plans to open a new center for under-age asylum seekers has sparked demonstrations. Local residents have raised concerns about the center's proximity to a nearby school and nursery, and the impact young migrants could have on the town's tourist trade.
"They are going to be hanging around on street corners, in doorways around town," said Philippa Axford, a 55-year-old pub owner who said she recently had CCTV cameras installed because she was concerned about crime emanating from the migrant center. "It's going to put people off coming to Whitstable."
Axford said she believed the refugees are coming to Britain to exploit the country's generous welfare system: "There are lots of other places in between they could have stopped. They can get money for doing nothing here."
But experts say that refugees are drawn to Britain because its relatively healthy economy gives them a better chance to work – and because, in some cases, they have no choice.
Ammar, a 28-year-old Syrian refugee, said he was studying in Britain in 2012 when he realized the country's spiraling conflict would make it impossible for him to return home.
"There was nowhere else to go," said Ammar, who declined to give his last name because he worried about the repercussions for relatives in Syria.
Having received asylum, he is now pursuing a doctorate in chemistry and is grateful for the opportunities that Britain has given him. But he said he wishes the U.K. would offer those chances to others desperate to escape the violence.
"It's a human catastrophe," he said. "More is better."
©Washington Post
Reuse content