The Government is not doing enough to meet its commitment to find places in Britain for 20,000 Syrian refugees by 2020, an influential group of MPs has warned.
The Home Affairs Select Committee said progress on accepting Syrian familes had been slow, with fewer than 2,000 resettled at the start of the second quarter of 2016.
The cross-party committee also warned that a separate, more recent commitment to resettle unaccompanied children was at risk.
"We remain concerned about the Government's ability to increase capacity sufficiently to meet its commitment to resettle 20,000 Syrian refugees by 2020, and the separate commitment to resettle thousands of unaccompanied children, which the Government has rightly made," the report said.
Very slow progress during 2014 and most of 2015 means the Government has a lot of catching up to do to meet its 20,000 target. Until the final period of 2015 no more than 53 refugees arrived in any one quarter of the year, figures produced by the committee and attributed to the Home Office show. 
Significantly more people have arrived in recent months, however, with over 1000 in one recent quarter. Whether future progress will be enough to meet the commitment remains to be seen.
The Government last week announced the launch of a community sponsorship scheme for refugee families with the intent of speeding up the resettlement process. Sponsors would provide assistance and housing for refugees.
The Independent understands that key charities are optimistic that the new scheme, which was announced before the report was drawn up, will help resolve the situation.
The report also raises other concerns about the way in which Britain deals with asylum seekers and refugees. In particular it noted a backlog of asylum claims, with "the number of applications received outstripping the number of decisions made" leading to growing delays.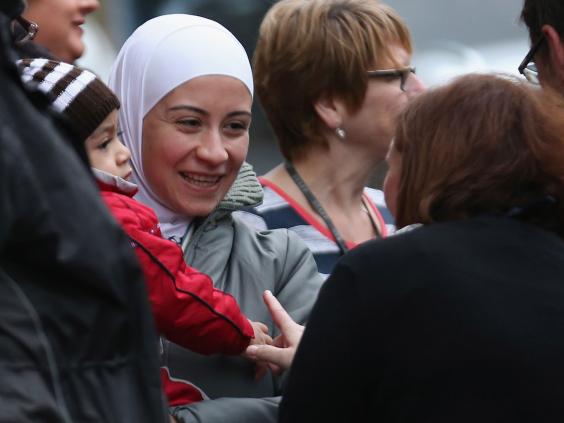 As of the start of this year 34,201 applications were pending a decision – a figure the committee says is the highest figure on record. It attributes this to "worse performance".
Lisa Doyle, head of advocacy at the Refugee Council charity, said the system was leaving people in "limbo".
"It's extremely concerning that so many people are still waiting for a decision on their asylum claim, years after first applying. Behind these statistics are individuals, many of whom will have suffered extreme trauma, forced to live day to day in uncertainty while they await the outcome of what could be a life or death decision," she warned.
"While people are in the asylum system they are living in limbo; they are banned from working, are living in poverty and are simply unable to begin recovering from their experiences and rebuilding their lives.
"It's very important that the Home Office makes decisions in a timely manner, but it's even more important that it gets its decisions right first time. It's vital that people who come here fleeing persecution have access to a fair and effective asylum process."
The Home Office Committee's criticism highlighted the "unacceptable" treatment of asylum seekers being wrongly returned to violence and persecution in the countries they fled.
"An unacceptably high number of asylum applications are being dealt with inappropriately – resulting in people being returned to countries like Eritrea which the Government knows is unsafe – or successfully appealed," the report concluded.
Refugee crisis - in pictures
Refugee crisis - in pictures
1/27

A child looks through the fence at the Moria detention camp for migrants and refugees at the island of Lesbos on May 24, 2016.

AFP/Getty Images

2/27

Ahmad Zarour, 32, from Syria, reacts after his rescue by MOAS (Migrant Offshore Aid Station) while attempting to reach the Greek island of Agathonisi, Dodecanese, southeastern Agean Sea

3/27

Syrian migrants holding life vests gather onto a pebble beach in the Yesil liman district of Canakkale, northwestern Turkey, after being stopped by Turkish police in their attempt to reach the Greek island of Lesbos on 29 January 2016.

Getty Images

4/27

Refugees flash the 'V for victory' sign during a demonstration as they block the Greek-Macedonian border

5/27

Migrants have been braving sub zero temperatures as they cross the border from Macedonia into Serbia.

6/27

A sinking boat is seen behind a Turkish gendarme off the coast of Canakkale's Bademli district on January 30, 2016. At least 33 migrants drowned on January 30 when their boat sank in the Aegean Sea while trying to cross from Turkey to Greece.

Getty Images

7/27

A general view of a shelter for migrants inside a hangar of the former Tempelhof airport in Berlin, Germany

8/27

Refugees protest behind a fence against restrictions limiting passage at the Greek-Macedonian border, near Gevgelija. Since last week, Macedonia has restricted passage to northern Europe to only Syrians, Iraqis and Afghans who are considered war refugees. All other nationalities are deemed economic migrants and told to turn back. Macedonia has finished building a fence on its frontier with Greece becoming the latest country in Europe to build a border barrier aimed at checking the flow of refugees

9/27

A father and his child wait after being caught by Turkish gendarme on 27 January 2016 at Canakkale's Kucukkuyu district

10/27

Migrants make hand signals as they arrive into the southern Spanish port of Malaga on 27 January, 2016 after an inflatable boat carrying 55 Africans, seven of them women and six chidren, was rescued by the Spanish coast guard off the Spanish coast.

11/27

A refugee holds two children as dozens arrive on an overcrowded boat on the Greek island of Lesbos

12/27

A child, covered by emergency blankets, reacts as she arrives, with other refugees and migrants, on the Greek island of Lesbos, At least five migrants including three children, died after four boats sank between Turkey and Greece, as rescue workers searched the sea for dozens more, the Greek coastguard said

13/27

Migrants wait under outside the Moria registration camp on the Lesbos. Over 400,000 people have landed on Greek islands from neighbouring Turkey since the beginning of the year

14/27

The bodies of Christian refugees are buried separately from Muslim refugees at the Agios Panteleimonas cemetery in Mytilene, Lesbos

15/27

Macedonian police officers control a crowd of refugees as they prepare to enter a camp after crossing the Greek border into Macedonia near Gevgelija

Getty Images

16/27

A refugee tries to force the entry to a camp as Macedonian police officers control a crowd after crossing the Greek border into Macedonia near Gevgelija

Getty Images

17/27

Refugees are seen aboard a Turkish fishing boat as they arrive on the Greek island of Lesbos after crossing a part of the Aegean Sea from the Turkish coast to Lesbos

Reuters

18/27

An elderly woman sings a lullaby to baby on a beach after arriving with other refugees on the Greek island of Lesbos after crossing the Aegean sea from Turkey

Getty Images

19/27

A man collapses as refugees make land from an overloaded rubber dinghy after crossing the Aegean see from Turkey, at the island of Lesbos

EPA

20/27

A girl reacts as refugees arrive by boat on the Greek island of Lesbos after crossing the Aegean sea from Turkey

Getty Images

21/27

Refugees make a show of hands as they queue after crossing the Greek border into Macedonia near Gevgelija

Getty Images

22/27

People help a wheelchair user board a train with others, heading towards Serbia, at the transit camp for refugees near the southern Macedonian town of Gevgelija

AP

23/27

Refugees board a train, after crossing the Greek-Macedonian border, near Gevgelija. Macedonia is a key transit country in the Balkans migration route into the EU, with thousands of asylum seekers - many of them from Syria, Afghanistan, Iraq and Somalia - entering the country every day

Getty Images

24/27

An aerial picture shows the "New Jungle" refugee camp where some 3,500 people live while they attempt to enter Britain, near the port of Calais, northern France

Getty Images

25/27

A Syrian girl reacts as she helped by a volunteer upon her arrival from Turkey on the Greek island of Lesbos, after having crossed the Aegean Sea

EPA

26/27

Refugees arrive by boat on the Greek island of Lesbos after crossing the Aegean sea from Turkey

Getty Images

27/27

Beds ready for use for migrants and refugees are prepared at a processing center on January 27, 2016 in Passau, Germany. The flow of migrants arriving in Passau has dropped to between 500 and 1,000 per day, down significantly from last November, when in the same region up to 6,000 migrants were arriving daily.
The committee found that a number of Eritreans had been sent back to the country despite a litany of human rights abuses documented in the authoritarian state.
Eritreans make up the fifth-largest nationality of refugees currently risking their lives to reach Europe's shores, after a damning United Nations report chronicled 25 years of crimes against humanity perpetrated by the country's government.
The Home Office Committee found that a success rate of almost 90 per cent for Eritreans appealing unsuccessful asylum requests showed they had been "incorrectly refused", sparking lengthy and costly court cases.
It blamed a delay in new government guidance on the country, which is lagging behind the current human rights situation, and urged the Home Office to suspend decisions until updates were made.
Further concerns were raised over the guidance on Iranian asylum seekers, who have more than half of appeals against refusals allowed.
The report also condemned "perverse" rules denying lone child refugees the right to be reunited with their families and the automatic removal of financial support and housing when refugee status is granted, leaving many homeless and destitute.
Update: The Home Office has responded to The Independent's request for a comment.
A spokesperson for the Home Office said the committee's assertion that outstanding asylum claims are at an "all-time high" was incorrect as the number was outstripped for several years leading up to 2004.
"UK Visas and Immigration is now consistently meeting service standards and Asylum Operations is currently recruiting and training additional decision makers to ensure we manage intake levels and continue to meet our customer service standards," he added. 
"We have contacted the Home Affairs Select Committee to correct this error."
The spokesperson said the Government remains committed to resettling 20,000 Syrian refugees through the Vulnerable Persons Resettlement scheme by 2020.
"The numbers resettled in a particular period will depend on a range of factors including the flow of referrals from UNHCR in the field and the availability of suitable accommodation and care packages in the UK. We will manage the flows based on need and in support of the wellbeing of the people and communities involved."