Two removal men who died when balcony railings gave way as they carried a sofa into a home have been named by police.
Polish nationals Tomasz Procko, 22, from Greenford, and Karol Szymanski, 29, from Wembley, were killed yesterday in Knightsbridge, central London.
At least six others, also believed to be removal men, were injured in the incident.
Police and emergency services attended the address in Cadogan Square after they were called at around 10am.
Mr Procko was pronounced dead at the scene. Mr Szymanski was taken to hospital in a critical condition and later died.
A Scotland Yard spokesman said: "At this early stage it is believed that a number of sofas were being delivered to the address - which was under renovation - prior to the railings on the balcony giving way.
"An investigation is under way to establish the full circumstances of the incident in close partnership with the Health and Safety Executive and the Local Authority."
Next of kin have been informed and post-mortem examinations are due to be held.
Cadogan Square is full of residential property, with many of the buildings divided into flats.
The first-floor balcony is believed to have been connected to property number 37, where the iron railing crashed 30ft to the ground.
Greg Hands, Conservative MP for Chelsea and Fulham, said: "Believe balcony broke when the removal men were moving a sofa out and the combined weight might have broken it.
"Casualties were removal staff. My thoughts are with their families."
Forensic officers spent the day examining the scene, while a cordon was placed at the front of the five-storey terrace.
A police tent was erected on the pavement and the street, where the average property is worth £3.2 million, was closed to the public.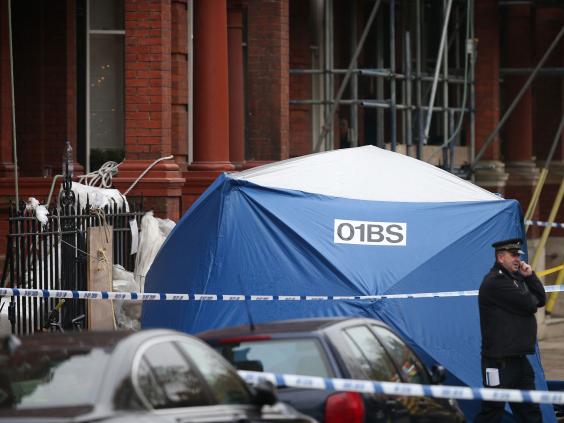 Sinclair Johnston, an engineer who has worked on another property in the square, said decorative railings such as the one which collapsed cannot be depended on to support weight.
Speaking at the scene, he said: "These sort of constructions are always very fragile and the iron railings can rust and the stone can become fragile and break up so you never really know how strong they are.
"It's OK in an ordinary way but if you put any pressure on them, if you lean on them, there's no way of knowing - you can't depend on them.
"It's something that engineers are very aware of. The ironwork is incredibly heavy so if it falls off, it can be a disaster.
"The buildings were built in around 1890 and I should think the railings are original or have been there for a very long time."
PA
Reuse content