A Royal Mail lorry has crashed into the front of an elderly couple's home, trapping them upstairs until firefighters arrived, just days after they agreed to sell the property.
Upon their arrival at the scene, one of the firemen poked his head in through the newly-made hole in the wall and asked: "'Were you expecting a parcel?"
Len and Anne Wiles were seriously shaken by the incident at around 5.45am this morning, and Ms Wiles told the BBC that things could have been a lot more serious.
She said:  "My husband jumped out of bed - went on to the landing and there was a big gaping hole and the front of a lorry.
"We were really, really shook up. My husband broke down because he was going to get up 10 minutes before it happened."
Before its collision with the 7.5-tonne vehicle, Mr and Ms Wiles had agreed to the sale of the property off Brockhurst Road in Gosport, Hampshire.
They are now hoping the buyer doesn't want to pull out.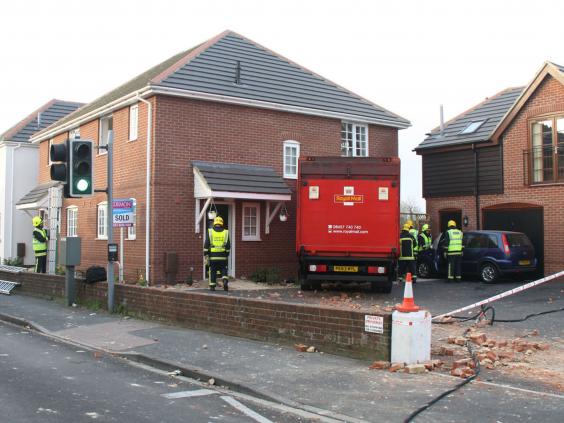 Mr Wiles said: "I'm hoping our buyer can hang on until the house is repaired - it's a beautiful house."
A fire service spokeswoman said: "The lorry crashed into the property cutting off the staircase leaving two people trapped upstairs in the house.
"Firefighters used an aerial ladder platform to rescue the people from the first floor of the house."
Officer in charge Paul Coates said: "Our crews were on scene quickly and worked hard to reassure and rescue the two people who were trapped on the first floor of the property."
A Hampshire police spokeswoman confirmed that the lorry driver and the occupants of the house were uninjured.
Hampshire Fire and Rescue Service's Urban Search and Rescue team were called to the scene to assess structural damage to the property. The house and neighbouring properties were evacuated.
A Royal Mail spokeswoman said: "Royal Mail can confirm that an incident took place involving a Royal Mail vehicle. The vehicle collided with a residential property on Brockhurst Road, Gosport. We are carrying out an internal investigation into the circumstances and we are thankful that no-one was injured as a result of this accident."
Additional reporting by PA