British warship HMS Bulwark has rescued hundreds of migrants travelling across the Mediterranean Sea from Libya, the Ministry of Defence has confirmed.
According to the MoD, more than 400 migrants from four 30ft inflatable boats had to be rescued by the Royal Navy's flagship after they got into trouble off the Libyan coast.
Among the migrants on board were young children and pregnant women.
The HMS Bulwark responded when the Italian Coastguard informed them that four boats were taking on water 40 miles from the coast of Libya. The 19,000-tonne ship located the four boats and with the help of a Merlin helicopter was able to get the estimated 445 migrants to safety.
It was HMS Bulwarks second rescue since it arrived in the Mediterranean in early May and now takes the number of migrants rescued by the Royal Navy this month to 600.
Those rescued by the Royal Navy today are now expected to be taken to Sicily.
Michael Fallon, the Defence Secretary, said: "HMS Bulwark and her crew have already proved an invaluable asset in assisting with the Mediterranean migrant crisis.
"The ship is providing medical assistance, food, water and dry clothes to those in need and will transfer them safely to land as soon as possible."
The HMS Bulwark rescue comes days after the European Commission proposed mandatory refugee quotas for all European States to help stem the number of migrants attempting to enter Europe from the Mediterranean Sea.
Theresa May, the UK's Home Secretary, has since rejected the proposals saying that allowing migrants to enter Europe "regardless of circumstance" would encourage more to make the journey.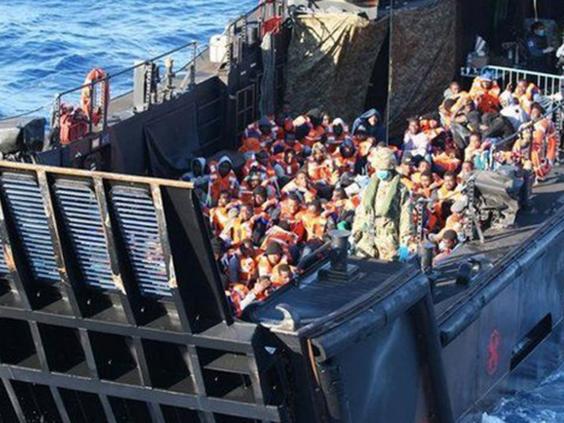 She said that migrants that travelled into Europe from Africa should be sent back.
The UN estimates that in the first five months of this year, 60,000 migrants have attempted to make the journey across the Mediterranean into Europe.
Reuse content