Two Russian multi-millionaires went head to head in a three hour spending war to see who could amass the biggest bill in an exclusive London nightclub.
The men arrived at Kitsch nightclub in Mayfair shortly after midnight, according to the Evening Standard and spent over £130,000 between them.
The pair, who the club have chosen not to name, racked up bills of £66,778.91 and £64,279.70 respectively by ordering bottles of vintage champagnes. 
One onlooker told the Standard:"It was one of the most bizarre nights I've ever seen. These two guys were competing with each other to buy more and more champagne — each time one would buy five bottles the other would order six, then seven, then eight.
"I've seen stuff like this once before in St Tropez where there's a bottle war but not in London."
Items on both bills included: 64 bottles of Dom Perignon at £325 each, 25 bottles of Cristal champagne, 16 of Armand de Brignac Ace of Spades champagne,  30 Magnums of Cristal, 20 Bottles of Dom Perignon, 10 measures of 18-year-old Glenmorangie whisky.
The owner of the highest bill reportedly jumped jubilantly up and down when the bar informed him had spent over £2,500 more than his rival just before the venue closed at 3am.
The nightclub is located in the exclusive Embassy venue which recently underwent a £500,000 refurbishment. Its owners are Mark Fuller and Serg Ivo, who features in Fox reality TV show 'Meet the Russians'.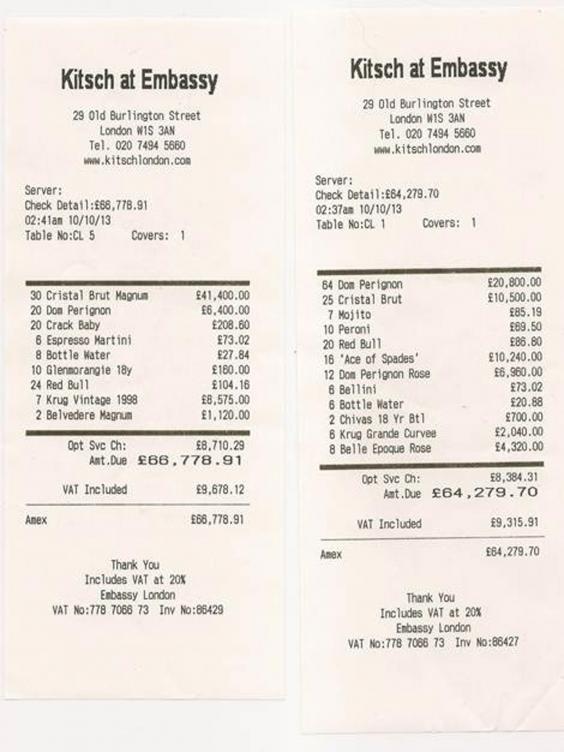 Reuse content