As Russell Brand walked into the trendy coffee shop at the heart of London's hip Hoxton neighbourhood, the camera phones were ready.
But none was trained on the self-styled king of cool. Instead, the pictures uploaded to Instagram were of Clive Lillow, 76, kneading a lump of bread dough. 
"We've only just got electricity where I come from," joked the retired design engineer from Cwmbran, South Wales, when asked if he knew what the social media site was. "I came [to London] when I was a young man, around 18, and I haven't been back since," he added. "It's a lot more cosmopolitan now."
His bread-making masterclass was one of 24 being offered by eight volunteers, all aged 70 and over, as part of the Royal Voluntary Service's (RVS) Grandfest, a celebration of British crafts and skills.
In locations near the "Silicon Roundabout" – home to web developers, phone application creators and a host of other tech companies – they led workshops in jam-making, crochet and homebrewing.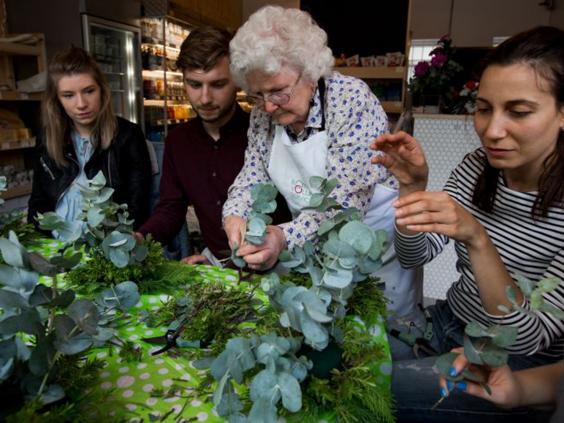 "We got a little grumpy about the idea that it was only young people who could teach old people about technology," said the RVS's chief executive, David McCullough. "So we wanted to show that older people had something to offer and thought there was no better place to do it than the heart of thriving London." 
That message was clearly picked up, as the masterclasses were packed with twentysomethings eager to learn the skills their grandparents used but which have been lost over the years.
The event centred on leafy Hoxton Square, where a series of stalls were set up selling street food as bands played on a small stage. Meanwhile, the masterclasses took place in a number of nearby venues, including a vintage clothes shop, café, pub and a museum.     
"It was really interesting," said Amy Jones, 27, who failed to spot Brand on his coffee run. "Our parents didn't bake or do crochet because they didn't have to, so we're learning those skills afresh."
While she and her friend Lauren Bravo, 25, still play computer games, watch Netflix and engage in other modern pursuits, Lauren added that baking could be very "cathartic. It can be hard to make time," she said. "But try to bake. Both of us sew and stitch and we have colouring books. They help us to relax."
While helping to ease the pressures of the modern world, Celia Dennis, who ran the crochet masterclasses, explained how austerity had played a role in young people wanting to learn old skills.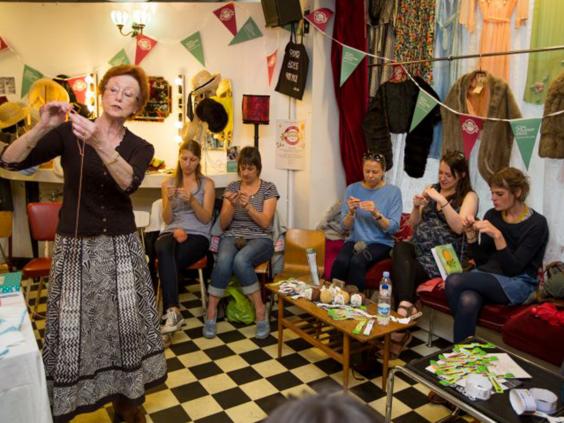 "Being able to create something from scratch or 'make do and mend' something from old is valuable," said the 71-year-old from West Sussex. "While people might have thrown things away in the past, now they seem keener to repair or create things from scratch."
With vintage clothing all the rage, she added that people increasingly wanted to wear clothes that are unique. "You can go to shops and buy the same thing off the shelf," she said. "Or you can make or alter clothes to suit your style."
Rae Wilson, 76, who was running the preserve-making masterclass, agreed that television programmes such as The Great British Bake Off and The Great British Sewing Bee had helped to spark a resurgence in people wanting to learn the skills.  
"They seem to have caught the imagination across all generations," she said. "It is great because we don't want to lose those skills."
It was also important to show novices that making things such as lemon curd was not difficult, she said, adding that "there is no doubt that homemade lemon curd tastes better" than shop-bought food. 
Tristan Scutt, who beside other pop-up bars, set up his Little Nan's cocktail bar in Hoxton Square for the day, agreed that there has been a resurgence in demand for old-fashioned homemade food. 
"People want something unique," said the 32-year-old, who makes the cocktails while serving his mum Diana's homemade cakes. "They like something a little bit different."
All masterclass videos will be uploaded on to the RVS website
Reuse content