If you are particularly concerned about your house getting robbed head towards the coast - the 20 areas of the UK with the least recorded burglaries are nearly all by the sea.
Nine postcodes in the country jointly took the title for least burgled postcode in the country, having recorded zero burglary claims per 1000 people.
The safespots include areas of Devon, Plymouth, Inverclyde and Suffolk, as well as East Riding of Yorkshire, County Antrim, Hampshire, Carmaethenshire and Rhondda.
Two areas of Durham meanwhile had just one claim per 1000 people, as did Londonderry and Aberdeenshire.
The figures came from analysis of 3.1 million home insurance quote requests submitted to website MoneySupermarket over the course of the last year. Those searching for home insurance are required to say if they have previously made a claim for burglary.
Whereas 12 London postcodes featured in the top 20 burglary hotspots list, nowhere in the capital made the safespot list.
The Chorlton area of Manchester topped the most burgled list with 45.2 claims per 1000 people, closely followed by Herne Hill and Tulse Hill in south London, with the SE24 postcode recording 41.8.
Here's the top 20 safespots by postcode in the UK, according to the number of previous claims made per thousand people: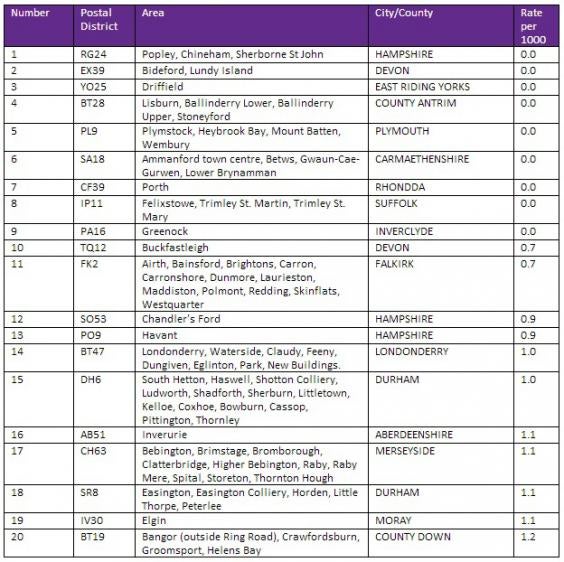 Reuse content