Seventy-six people were injured, seven seriously, after part of London's Apollo Theatre collapsed as an audience of around 700 watched a performance of The Curious Incident of the Dog in the Night-time.
Audience members with blood streaming from their heads were seen pouring out into the lobby of the West End theatre shortly after 8pm.
Police said a London bus was commandeered to take some casualties to hospitals in the area. Others were treated at the nearby Gielgud Theatre. There were no fatalities.
Westminster Council's cabinet member for community protection, Nicola Aiken, told BBC Radio 4's Today programme that district surveyors have attended the scene and declared that the roof is structurally sound.
"Today we are waiting for the police to hand over the theatre to us as we are the health and safety authority for historic theatres in Westminster and we will be doing checks of all historic theatres' consents and licensing today in liaison with the Society of London Theatres because we want to reassure theatre-goers that theatres are safe to attend.
"We will be carrying out the investigation as to why the accident happened in the first place, but that will take some time."
A key line of inquiry will be the effect of adverse weather on the 100-year-old building.
Forecasters have confirmed there was an abnormally high concentration of rain, hail and lightning strikes in London last night, with nearly 15 per cent of the average monthly rainfall for one area in December falling in just one hour.
A MeteoGroup forecaster said: "In terms of that particularly heavy rain that we had overnight, the heaviest rain was between 7pm and 8pm. There was 8mm in an hour in south London, and we had reports that some of that fell as hail."
A spokeswoman for the National Theatre said: "Performances of The Curious Incident Of The Dog In The Night-time today and tomorrow, Friday December 20 and Saturday 21, have been cancelled and ticket-holders will be contacted by whichever box office or ticket agency they booked through to arrange exchanges or refunds."
The theatre, which opened in 1901 and is a Grade II listed building, seats 755 on four levels and the balcony on the third tier is considered the steepest in London.
Kingsland Fire Brigade station manager Nick Harding said: "A section of the theatre's ceiling collapsed onto the audience who were watching the show. The ceiling took parts of the balconies down with it.
"Firefighters worked really hard in very difficult conditions and I'd like to pay tribute to them. They rescued people from the theatre, made the area safe and then helped ambulance crews with the injured."
"In my time as a fire officer I've never seen an incident like this. I imagine lots of people were out enjoying the show in the run-up to Christmas. My thoughts go out to all those affected."
He added that specialist urban search and rescue crews made sure no one else was trapped.
Simon Usborne, a feature writer at The Independent, was on the ground floor of the theatre's sheltered upper circle when the collapse happened.
"There was a series of loud cracks and bangs," he said, "but the show is full of sound effects and for a split second I think a lot of people thought this was something to do with the show.
"Then my vision was instantly blocked by a huge curtain, a huge cloud of falling dust and debris. The sound was still going on.
"We grabbed what we could and ran for the door. There was panic, there was screaming."
Outside he said was a scene of human misery, with children and adults crying and screaming and some bleeding from head injuries.
Others were "in a state of shock" and most people were covered in the black and grey dust.
"I went back into the foyer and saw a dozen or more people either sitting or lying there waiting to be treated," Mr Usborne said.
"There was a woman who said a foot-long chunk of plasterwork fell on her head. She had been bandaged and was bleeding.
"There was one couple I met who were totally glazed over and barely responded to my question."
He said everyone seemed to be "pretty shaken up".

Andrew Howard-Smith, 68, said he saw the edge of a balcony come down.
"In the production you had to hold on to the rail and lean over to see what was going on, and we were doing the same," he said.
"Everybody must have got hold of the brass rail and just pushed it over, and then the edge came off. That was the only bit that came off, just the edge. It wasn't the whole of the balcony, just the front 2ft."
Prime Minister David Cameron tweeted that he had been "updated regularly on the Apollo incident".
"I'm grateful for the fast work of the emergency services in helping the injured," he said.
School worker Hannah George, 29, said people were able to exit the building quickly and orderly: "We were in the balcony, about five rows from the front, and we saw a few people in the front of the balcony row get up and start moving towards the right. Very quickly, the second and third rows started moving all together. We wondered if this part of the show.
"Then I heard someone scream and you heard a shriek - then a chunk of the ceiling collapsed.
"It actually missed the balcony and must have hit people down below in the stalls - you couldn't see anything down there.
"Very quickly ushers held the doors open. It wasn't every man for himself, it was very ordered. There were people in front going, 'You OK?' and trying to get people out.
"There were people coming out who were more seriously injured. There were loads of people coming out shaking, and a fellow next to me had quite a badly bleeding arm and a ripped shirt."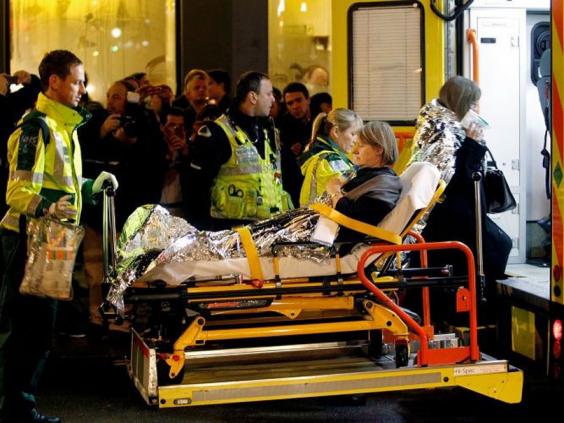 London Ambulance Service incident commander Maria Smith said: "When I arrived it was dark and extremely dusty - people were lying on the floor of the theatre.
"We very quickly set up a casualty clearing area in the foyer of the theatre - the walking wounded were assessed and treated there."
Simon Stephens, the playwright working on the production, thanked people on Twitter for messages of support "on this sad and strange night".
Matt Tait, an actor in the show, tweeted that the cast, crew and stage management were "all safe".
"Thoughts are with all the audience. Horrific and unbelievable," he said.
Audience member Dee Kearney said she was about three rows back from the stage "when an actor turned around and said 'Watch out!'"
"We initially thought it was part of the play. Then what we felt was debris falling on us, a loud bang, and then all of a sudden there was a coat of dust that came on us," she said.
"It was a thick cloud of dust, so you couldn't actually tell what was happening. You knew it was coming from above but you didn't know what was actually happening."
Jess Bowie, content editor of The House magazine, who was also in the audience, said it was "petrifying".
"Don't know if anyone is trapped in there but people outside are covered in dust and some in blood. Utterly horrible," she wrote on Twitter.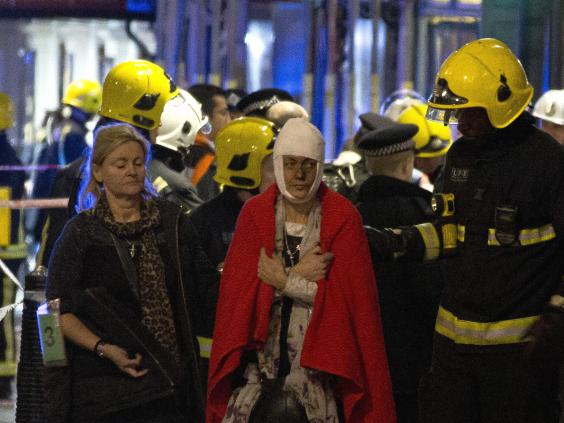 The actor Matt Lucas tweeted shortly after the collapse: "Just seen the news about the Apollo Theatre. Everyone there in my thoughts."
London Fire Brigade said it sent eight fire engines and three fire and rescue units to the scene with a total of about 60 firefighters.
In pictures: Apollo Theatre - A number of people injured after a balcony collapses during performance
In pictures: Apollo Theatre - A number of people injured after a balcony collapses during performance
1/10 An injured man is treated at Queens Theatre after sections of the roof of the Apollo Theatre collapsed

Getty Images

2/10 Emergency services said nearly 90 people had been injured in a packed London theatre when part of the ceiling collapsed during a performance, bringing the city's West End theatre district to a standstill

Reuters

3/10 Injured people leave the neighbouring Queens Theatre and are taken to hospital by ambulance after the collapse of a balcony at The Apollo Theatre

Getty Images

4/10 Police and ambulance services on Rupert Street, behind the Apollo Theatre

Getty Images

5/10 A fireman walks away from the stage door of the Apollo Theatre on Shaftesbury Avenue

Getty Images

6/10 A man receives medical attention after part of the ceiling at the Apollo Theatre on Shaftesbury Avenue collapsed

Reuters

7/10 Emergency services use a cherry picker to look at the roof of the Apollo Theatre on Shaftesbury Avenue

Reuters

8/10 The audience was showered with masonry and debris following the incident at the Apollo Theatre, where about 720 people including many families were watching the hugely popular play 'The Curious Incident of the Dog in the Night-Time'

Reuters

9/10 Injured people are taken away in a London bus from the neighbouring Queens Theatre after the collapse of a balcony at The Apollo Theatre

Getty Images

10/10 People gather at the stage door of the Apollo Theatre on Shaftesbury Avenue, after the collapse of a balcony at historic theatre

Getty Images
Reuse content