A petition against metal spikes placed in front of a flagship department store in Manchester city centre has attracted more than 3,000 signatures, in the latest backlash against so-called "hostile" urban architecture.
The the metal studs, which make it more difficult – if not impossible – for rough sleepers to bed down, are alongside a narrow ledge close to the staff entrance of Selfridges. The retailer rebuts claims it is an anti-homeless measure, saying the studs are designed to stop staff smoking in the area.
University lecturer Cathy Urquhart, 53, who started the petition, described the studs as "inhumane" and said she first noticed them on Friday as she commuted to work in Manchester from West Yorkshire.
Her petition follows a backlash in London last summer when a branch of Tesco in Regent Street installed the studs, leading to days of protests outside the store. The supermarket insisted they were designed to deter anti-social behaviour, not homeless people, but later removed them.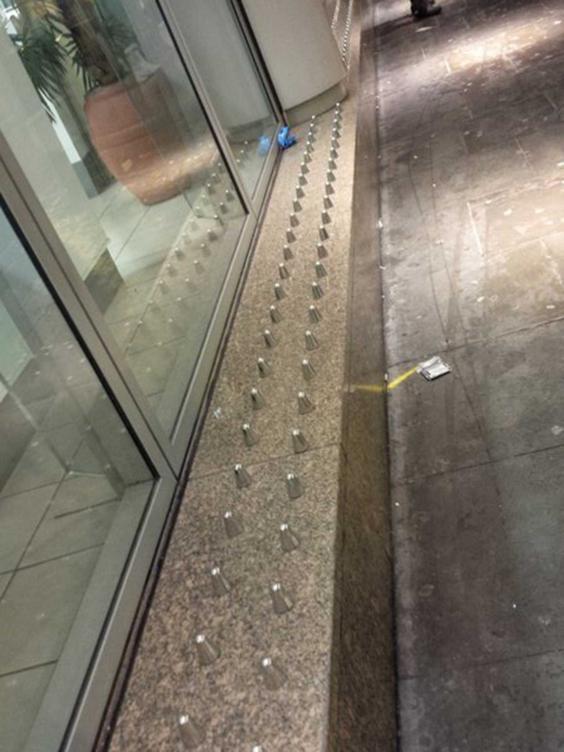 A block of luxury flats near London Bridge with similar spikes also had to remove them after a petition gained more than 100,000 signatures. London Mayor Boris Johnson called them "ugly, self-defeating and stupid."
Other so-called hostile architecture includes uncomfortable sloping benches at bus stops and Mosquito devices, which emit an irritating high-pitched noise.
Ms Urquhart, from Hebden Bridge, said: "These spikes are an affront to humanity. They tell the homeless that they are not welcome, that they are a problem to be moved on.
"We should be looking after the homeless, not demonising and scapegoating them. Manchester is better than this."
The Big Issue in the North, the magazine sold by homeless people, is equally unimpressed by the spikes and the general trend to displace homeless people from city centres.
Fay Selvan, its chief executive, said: "This news highlights the fact that there are still people rough sleeping, and as one of the richest countries in the world, it shouldn't be the case that anyone has to sleep rough." Jon Sparkes, chief executive of the homeless charity Crisis, also criticised the studs, saying homeless people "deserve better."
"Behind these numbers are real people struggling with a lack of housing, cuts to benefits and cuts to homelessness services to help them rebuild their lives," he told The Independent. "We will never tackle rough sleeping with aggressive measures like studs in the pavement."
A spokesman for Selfridges said the ledge is very narrow and mostly used by staff having cigarette breaks. In a statement, the company said: "Selfridges installed the studs on 1 December last year as part of a number of measures to reduce litter and smoking outside the store's team entrance, following customer complaints."
Manchester Street Angels said they will set up their street kitchen by Selfridges on Saturday unless the spikes are removed. Other groups, including Help the Homeless said they would, too, be joining the protest.
Reuse content