Police and vets have issued a warning that poisonous meat from rustled sheep is likely to have entered the human food chain, following a five-fold rise in livestock theft in the past five years.
There are fears that a string of thefts from sheep herds undergoing treatment for internal parasites have led to poisonous meat being offered to unsuspecting consumers by rogue traders.
It is common practice for farmers to dose their flocks with a range of powerful worm and fluke treatments during the summer. Farmers are prohibited from taking these animals to market until the drug has left the animal's system, and an inspector has certified the carcass at an abattoir.
According to the insurance firm NFU Mutual, 90,000 livestock were stolen last year, as organised gangs used quad bikes to target isolated farms. The scale of the thefts has prompted the British Veterinary Association (BVA) to warn of the risk to human health from illegal meat entering the food chain.
"Anti-parasite treatments can leave a dangerous level of drug residue in meat for up to 60 days in some cases," said John Blackwell, president of the BVA. "Criminals have no idea when the sheep they steal were last treated, so there is a real potential for those medicines to enter the food chain above the safe residue level."
If an animal is being treated for sheep scab, it will take three months from the end of treatment before it can be declared fit for human consumption. There is a danger, Mr Blackwell said, that consumption of meat from sheep recently treated with antibiotics could increase resistance to the live-saving drugs.
He added: "The other worry is that these animals are not slaughtered in a legal way with a proper inspection of the carcasses, so the meat will be unfit for consumption, especially if the animal had been suffering from a disease such as septicaemia."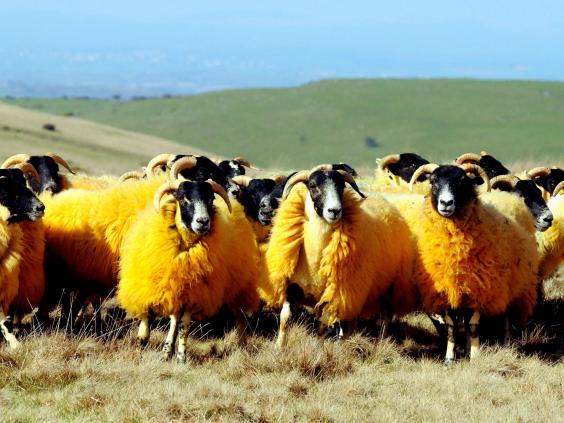 Rural police have boosted patrols in areas where sheep farms have been hit hard by rustlers, but Mr Blackwell said the "big unanswered question" was exactly where the illegal meat was slaughtered and where it entered the food chain.
"In days gone by you would find the entrails and fleeces of sheep on the hills, as rustlers slaughtered them then and there and sold the meat in pubs, but the fear is the operation of criminal gangs has become more advanced since then," he said.
NFU Mutual, which has launched an "Ewe Hostel" where sheep suspected of being stolen can be cared for while police investigate, says farmers now resort to padlocks, motion-activated CCTV and security lighting to protect their flocks. Despite this, almost £7m-worth of livestock, including cattle and pigs, was stolen last year, up from £1.2m in 2010. The company says the thefts are being driven by high meat prices in supermarkets.
In Lancashire the police and the Food Standard Agency (FSA) are warning abattoirs when potentially dangerous meat has been rustled, but John Taylor, a third generation sheep farmer in the Lower Lune Valley in Lancashire, says this scheme needs to be extended nationally.
"The number of sheep being stolen means this isn't just an issue of carcasses being carved up in back-street garages; they are being taken somewhere organised and dealt with on an industrial scale," he said.
Northern Irish farmers have been hardest hit, with 32,572 livestock stolen last year, prompting Chief Inspector Graham Dodds, of the Police Service of Northern Ireland, to urge meat processors to be "extra vigilant" if offered sheep.
The FSA has also called for rural communities to come forward with information if they know about illegal meat entering the food chain via illicit slaughterhouses.
Will Creswell, the head of consumer protection at the body, said: "The FSA's National Food Crime Unit is keen to receive information relating to this type of criminality, as it is able to use this intelligence to build a picture of activity across the UK."
Last year, Cumbrian farmer Robert Birnie was jailed for three years and nine months for stealing sheep from a neighbour, in a rare victory for police.
The court heard that Birnie tried to sell the animals at auction; the meat would have gone into the food chain even though it had been injected two months previously with a drug that is "lethal to people".
Penalties for sheep rustlers used to be considerably more severe. While the death penalty for sheep rustling (and horse theft) was repealed in 1832, transportation to New South Wales continued – often for the theft of a single ewe – until the mid-1850s.