Runners in Sheffield's Half Marathon today were forced to evade police barricades and participate at their own risk after the event was officially cancelled due to a water shortage.
Organisers said that health and safety officers called off the race after the company that was supposed to deliver water for runners failed to arrive in the morning.
The cancellation was announced via loudspeakers at the starting line but, after already waiting for 30 minutes for the race to begin, the disgruntled front runners decided to set off anyway.
South Yorkshire Police confirmed that efforts were initially made to stop them from running, but it was eventually decided it would be "a lesser risk" to let them proceed.
Many participants said they were not even aware the race had been cancelled until a mile or two into the run, and the organisers were criticised for overseeing a "farce".
Like the runners, many volunteers continued to help people along regardless of the announcement, and members of the public were praised on social media for going out to supermarkets and bringing water to the participants themselves.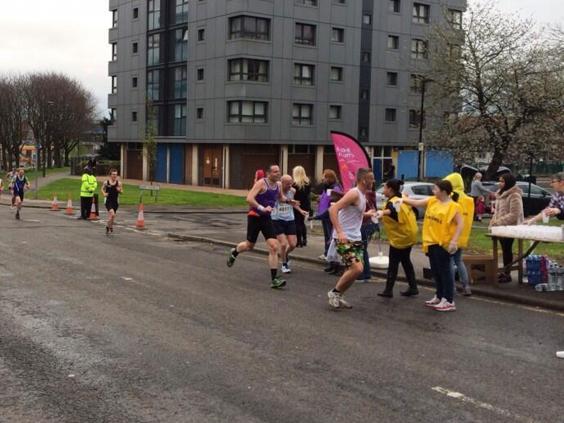 The race organisers issued a statement on the Sheffield Half Twitter and Facebook pages, which read: "It is with huge disappointment & regret that we have been forced to cancel this year's race due to a problem with the delivery of water.
"We would like to express our sincerest apologies to everyone involved in the race who will be affected."
They later added that those who kept their race numbers on and crossed the finish line would have their times published as planned.
Margaret Lilley, the chair of the Sheffield Half organising committee, admitted the episode had been "embarrassing" but praised the spirit of those who "wanted to race anyway" once the cancellation was announced.
She told BBC News: "We had a problem with the supply of water."
"The company we had asked to supply bowsers for the route did not arrive this morning.
Amazing people buying water & giving it t runners #sheffieldhalfmarathon @SheffieldStar @BBCSheffield @BBCLookNorth pic.twitter.com/bKHr7uxrys

—h joanne mathieson (@joemathieson) April 6, 2014
"We have scoured supermarkets around the city, but unfortunately we have not been able to secure enough water for the medical-and-safety officers of the race to say it is safe to go ahead. We therefore took the very reluctant decision to cancel the race."
A spokesperson for South Yorkshire Police said efforts had been made to "divert" those who decided to run away onto a shorter route to the finish line.
Inspector Neil Mutch, from South Yorkshire Police's Organisational Planning Unit, said that after officers attempted to convince people not to race, in the end it was decided it was "a lesser risk" to let them through.
He later tweeted: "Despite cancellation of race, runners have decided to run regardless. All road closure remain in place for safety."
Rosey Alexander, 38, was among those who finished the run, but said: "It was a farce.
"No one ever informed us it was cancelled. When we set off, we were just glad to get running.
"Then someone said there was no timing recording. By one mile in, I heard people saying there was no water on the course.
"This complete lack of information is the real error of the organisers."
Sport England received a number of angry messages on social media from would-be runners who had spent months training and fund-raising for charity.
The organisation tweeted: "We're very sorry to hear of the cancellation of #sheffieldhalfmarathon. We admire everyone who has trained hard & made it to the start line."
Reuse content