A man killed in the Shoreham air crash wrote on Facebook that "life is so god damn short" - just months before the disaster.
Matt Jones, a personal trainer from Littlehampton, was driving on the A27 road when his BMW was struck by falling debris.
In a Facebook post from April he wrote: "Life is so god damn short, just do what makes you happy!" followed by emoji symbols for cool, sun, money, fast cars and the world.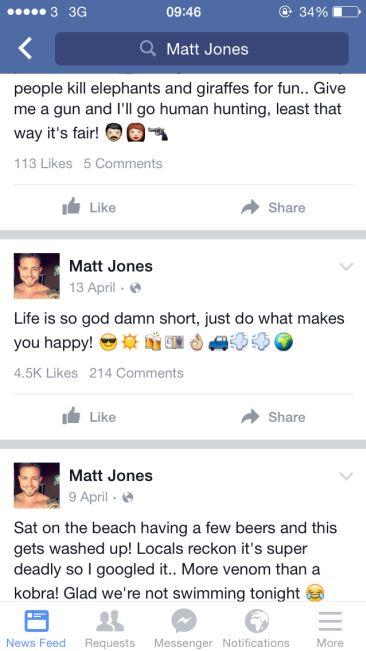 Writing on Facebook, his sister Becky confirmed he was among the dead and said the family was "devastated".
She wrote: "We are just in absolute shock still and devastated that this has happened to us. We love Matt more than anything, he was the best son, brother and uncle to my girls, words can't describe what we are all going through. Thank you everyone who has tried to help."
His mother, Hazel Jones, described her son as an "absolute diamond" and said: "Matt was my boy, a lovely boy. He was an absolute diamond."
She said he had just come back from travelling around India and Australia.
The 24-year-old is one of 20 feared dead after a fighter jet performing in the Shoreham Air Show on Saturday spun out of control while performing a stunt.
The pilot, Andy Hill, is in a critical condition in at the Royal Sussex Hospital after he was pulled from the burning wreckage.
Shoreham plane crash - In pictures
Shoreham plane crash - In pictures
1/24 Shoreham plane crash

The damaged remains of the fuselage of a Hawker Hunter fighter jet are lifted by a crane and put on a pick up truck

Getty

2/24 Shoreham plane crash

A fireball erupted at the Shoreham Air Show in Sussex after a fighter jet crashed

EPA/PAUL JARRETT

3/24 Shoreham plane crash

Sussex Police and Specialist officers examine vehicles that were caught in the explosion

Reuters

4/24 Shoreham plane crash

Floral tributes and a football shirt in memory of victim Matt Grimstone are placed on a bridge over the river Adur

Getty

5/24 Shoreham plane crash

A fireball erupted at the Shoreham Air Show in Sussex after a fighter jet crashed

6/24 Shoreham plane crash

Andy Hill, who was the pilot of the plane

Swords Aviation

7/24 Shoreham plane crash

A 1950s Hawker Hunter jet, the plane involved in the crash

Paul Jarrett/EPA

8/24 Shoreham plane crash

The scene at the A27 following the accident

Richard Blackmore

9/24 Shoreham plane crash

Smoke rises from the scene of the crash

10/24 Shoreham plane crash

Smoke rises from the scene of the crash

PA

11/24 Shoreham plane crash

Smoke rises from the scene of the crash

YouTube

12/24 Shoreham plane crash

Smoke rises from the scene of the crash

@Orchidflower

13/24 Shoreham plane crash

Smoke rises from the scene of the crash

EPA

14/24 Shoreham plane crash

Smoke rises from the scene of the crash

@Cromwell606/PA

15/24 Shoreham plane crash

Worthing United footballer Jacob Schilt was named as one of the victims

16/24 Shoreham plane crash

Another Worthing United footballer, Matthew Grimestone, was also named

17/24 Shoreham plane crash

Matt Jones, a 24-year-old personal trainer, was another victim of the crash

Facebook

18/24 Shoreham plane crash

Police and RAF representatives address the media following the accident

PA

19/24 Shoreham plane crash

Police tape marks the scene on the morning after the crash

PA

20/24 Shoreham plane crash

Emergency services attend the scene on the day following the crash

PA

21/24 Shoreham plane crash

Emergency services attend the scene on the day following the crash

Reuters

22/24 Shoreham plane crash

Emergency services attend the scene on the day following the crash

Reuters

23/24 Shoreham plane crash

Flowers laid near the scene of the crash

PA

24/24 Shoreham plane crash

Flowers laid near the scene of the crash

PA
Reuse content