As the painstaking recovery work began over a stretch of A27 trunk road, where the Hunter jet scorched the earth, the people of Shoreham were trying to come to terms with the devastation the air crash left in its wake.
The only colour under leaden skies was from the floral tributes that have been left around the edge of the airfield.
One of the cards read: "We  didn't know you but we came because we care, we wanted you to know that you and  your families are in our thoughts. Shoreham grieves for you and with you. Rest  in peace."
Cars still lay abandoned on the road, scarred by the fireball of Saturday's crash, as specialist officers from Sussex Police and West Sussex Fire Service started the grim task of recovering the bodies from the scene.
Sales manager Terry Smith, who witnessed the moment the airshow stunt became a tragedy, said: "It was end-of- the-world stuff.
"The plane was coming down and I just knew it wasn't going to make it. It pancaked on to the road and ripped through cars, including a classic Daimler and a white BMW."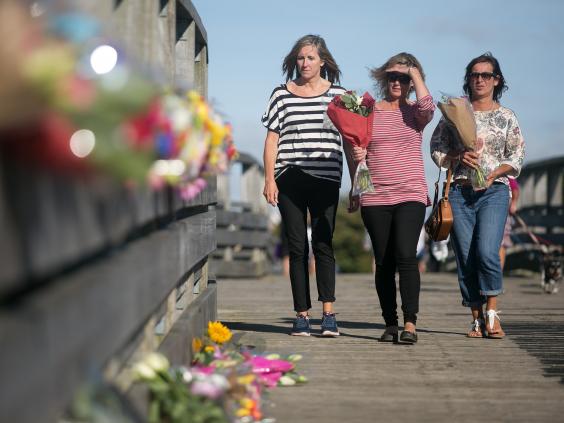 The burning aircraft is believed to have hit several cars including the Daimler, a wedding car on its way to pick up the bride.
In Shoreham, residents packed St Mary de Haura Church for a memorial service as the crash death toll emerged.
Carson Albury, chairman of Adur District Council, said that the whole community was in a state of shock after Saturday's tragedy.
"It has really touched everyone and I really feel for the people who were at the airport yesterday and saw the event take place, and of course the families of those affected. All these occasions like this show that the community is very robust and it brings everyone together. We are still  in a state of shock about what has happened."
Tracy Stevens, 38, another local resident, said that  her son knew two of the victims, named locally as footballers Matthew Grimstone and Jacob Schilt.
She said: "They were on their way to a match apparently. My son knows Matt and Jacob, he plays for the reserves.
"My partner had just gone past and saw it in the [rear-view] mirror, he was quite shocked by seeing it."
Mr Grimstone, 23, was a goalkeeper with Worthing United Football Club and was on his way to play for the team in a home game against Loxwood FC when he was caught up in the crash. His parents, Sue and Phil, and brothers David and Paul paid an emotional tribute. They said: "The family are in total shock at losing our dearest son Matthew so tragically at 23 years old.
"He was the kindest person you could ever meet with a great wit. In his 23 years we can honestly say he never lost his temper."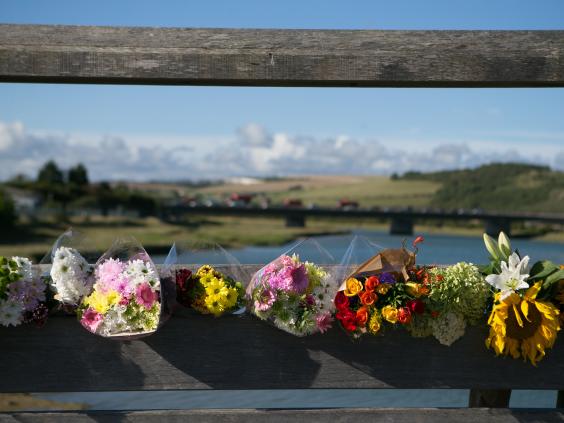 His midfielder colleague at Worthing United, Jacob Schilt, was also remembered by his team mates.
A fellow player, tweeting as markiovelli, said: "Devastated to have lost two teammates and wonderful people. It was a privilege to share a pitch with you. My heart goes out to your families, RIP."
A third victim was last night named as Matt Jones, 24, a personal trainer originally from Littlehampton, West Sussex.
In a poignant message on Facebook, his sister Becky Jones said she was "devastated" by his death.
Ms Jones had appealed on Facebook for help in finding her brother after he failed to return home on Saturday. He had been due to go to the beach after work.