Sue Grimstone, mother of disaster victim, Matthew Grimstone, says that the Shoreham Airshow should never have been allowed to happened next to a busy road.
Tributes are being paid to the three named victims out of the 20 feared dead after the Shoreham plane crash disaster when a 1950s Hawker Hunter jet failed to pull up from a loop-the-loop manoeuvre, hitting the road at over 150pmh.
Police have yet to formally identify any of those killed but Mr Grimstone and fellow 23-year-old footballer Jacob Schilt, as well as personal trainer Matt Jones, 24, have been confirmed dead by their families.
The tragedy took place in West Sussex on Saturday afternoon at about 1.20pm on the section of motorway next to Brighton City Airport.
Mr Grimstone's mother said that stunt plane shows are too dangerous to happen over areas where people are present.
"Air shows should be over the sea. It should never have been over that road. It's such a waste," she told the Daily Telegraph.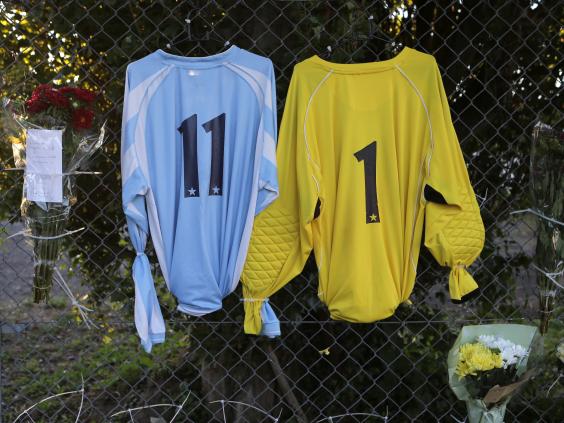 Mr Grimstone, from Littlehampton, Sussex was a goal keeper for Worthing United and had worked as a groundsman for Brighton & Hove Albion FC.
Paul Barber, chief executive of Brighton & Hove Albion, said: "It is hard to the find the right words to express the full extent of our shock and sadness at this time, but Matt and Jacob's family and friends are very much in our thoughts – along with all those who've been affected by this terrible tragedy."
Mr Grimstone's family said they were in "total shock" at his death, and said that he was "the kindest person you could ever meet with, a great wit."
"In his 23 years we can honestly say he never lost his temper," they said.
Flowers, football shirts and other tributes have been displayed at Mr Grimstone's former club.
Other people believed to have died in the crash include the driver of a Daimler wedding car, who was on his way to pick up a bride for her wedding service.
The driver's employers, Chariots Chauffeurs, have said that they believe he was among those killed.
Jay Sherwin, the company's owner, said: "Our heartfelt condolences go out to the family and friends of our driver who was caught up in the tragic air crash on Saturday afternoon in Shoreham, West Sussex."
"We ask the media to respect the privacy of his family. We will be making no further comments at this sad time."
Mark Trussler, a man from Worthing who was driving a motorcycle is also missing. His friends are appealing for information about his whereabouts on Facebook.
The 51-year-old pilot, named locally as Andy Hill, is now in a medically induced coma in Royal Sussex Hospital. Mr Hill previously flew for British Airways and as a Harrier pilot in the RAF.
Sussex Police say that they have entered the recovery stage of the operation and are they are expecting to discovery the bodies of more victims as they use a crane to remove the wreckage.
Steve Andrews, the clinical operations manager at the South East Coast Ambulance Service told BBC Breakfast he thinks the death toll will "undoubtedly" rise.
Reuse content