All 25 crew members of a car transporter ship that ran aground in the Solent have been rescued, the coastguard has said.
The Hoegh Osaka beached on Bramble Bank at the entrance to Southampton Water at around 9.20pm last night and began to list.
One crew members is believed to have been rescued from the sea and a helicopter was sent to the ship to airlift the majority of the crew to safety. RNLI boats were sent to the scene from Yarmouth, Calshot and Cowes.
During the rescue the ship began to list more heavily, at 45 degrees, and three senior crew members, who had remained on board to assist with salvage operations, were also evacuated from the ship.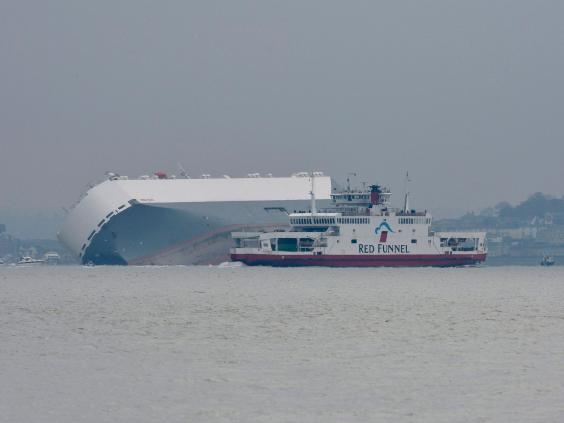 One of the crew has been taken to hospital with non-life-threatening injuries.
Steve Carson, the national maritime operations centre commander, told the BBC: "All of the crew have been accounted for and other than a couple of non-life-threatening injuries, everyone is safe and well."
He added that salvage plans were now underway, but would not comment on how the ship ran into difficulty.
"The investigation will follow and the authorities have been informed at this time. I will not speculate on the circumstances," he said.
The rescue operation was coordinated by the National Maritime Operations Centre at Fareham.
VIDEO: @CalshotRNLI, @CowesRNLI & @YarmouthRNLI help in rescue of cargo ship aground in the Solent: https://t.co/8d1CfKwZXt

— RNLI (@RNLI) January 4, 2015
A statement from the ship's owner, Hoegh Autoliners, said: "Hoegh Autoliners primary concern has been for the crew on board and it has been confirmed that one crew member has been injured and he was airlifted to Queen Alexander Hospital in Portsmouth with non-life threatening injuries.
"The remaining crew have been taken to HMS Daedalus at Stubbington by helicopter and will be accommodated locally overnight," it added.
Hoegh Autoliners confirmed that a salvage master has been appointed and they are cooperating fully with the authorities. No pollution has been reported at the site and the ship is not taking on water.
Hide tide passed this morning, leaving the 600ft, 51,000 tonne ship, registered in Singapore, in place.
Since running aground the ship has become something of a tourist attraction and Hampshire police advised motorists to be aware of "extremely busy" roads along the coast by Calshot.
Additional reporting by PA