Former footballer Alan Shearer beat ex-midfielder Robbie Savage in a gruelling race to win Sport Relief's "battle of the backsides" by sitting on half the seats in Wembley Stadium.
It took the pair five punishing days to cover the 45,000 seats, with Shearer reaching his final one in the royal box 13 minutes ahead of his rival.
The players-turned-pundits were attempting to sit on all the seats in the venue, but were also faced with the personal challenge of completing their section of the stadium first.
His victory comes a day after Savage broke the record for sitting in the most seats in a minute, beating Shearer by just one seat.
"I'm a World Record holder! 86 seats in one minute", Savage tweeted. on Thursday.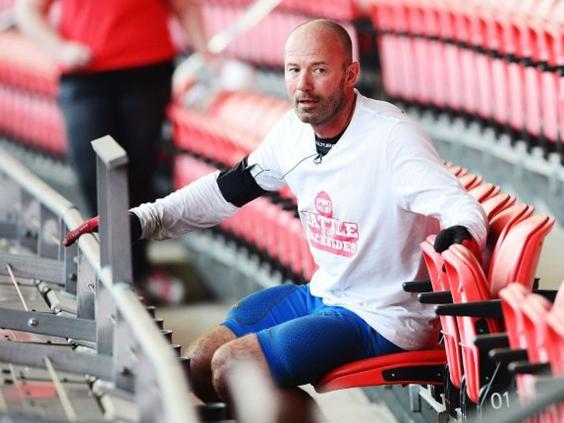 At the end of the challenge, Shearer said: "I'm absolutely knackered. I'm going to change my number if the CEO of Sport Relief tries to contact me again.
"It was desperate at times. When I woke up on Tuesday morning I thought to myself - Al, you're not going to do this.
"I felt dreadful, my muscles, my legs, my knees - I've had nine operations on my knees and they are absolutely hanging off.
"It was hard and we felt like packing it in many times, but you can't pack it in - you've gotta keep on raising that money, and it's well worth it when you finish," he added.
Their feat has raised around £220,000 so far, with money still coming in.
Savage said: "I'm absolutely exhausted, but congratulations to Alan - the better man won. We've both been through pain - 45,000 seats - but he's kept me going. I couldn't have thought of anyone better to do this challenge with.
"If you'd have said to us on Tuesday morning when we were walking on the stairs and our legs were giving way that we'd finish we'd never have believed you, but hopefully we can raise some more money and it'll all be worth it."