Staff at Windsor Castle are threatening to take industrial action over working conditions which see them lead tours at the Royal residence for free.
Union reps say wardens at the castle are expected lead the tours uncompensated – even though adult visitors pay nearly £20 a head to visit.
Workers are set to be balloted on whether begin working-to-rule, with action pencilled in from the end of April.
Mark Serwotka, the general secretary of the PCS union, which organises the wardens, described the current arrangement as "scandalous".
"These workers are loyal to their employer and absolutely committed to ensuring visitors are given the royal treatment," he said.
"It is scandalous that staff are so appallingly paid and expected to do work for free that brings in money for the royal family."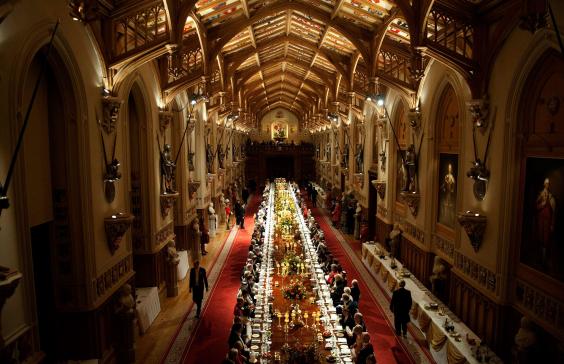 The castle, with its elaborate Baroque interiors, is the largest occupied castle in the world and is used by the Queen as a private home.
The Queen, who is a fan of horse racing, usually stays at the castle for a period during the summer because of its convenient location near the Ascot race course.
It is also used for state occasions, including 'dine and sleep' events for politicians and other public figures, at the pleasure of the Monarch.
A spokesperson for the Royal Collection Trust, which manages the castle, said the unpaid work was not compulsory and defended the existing regime.
"Warden staff are offered voluntary opportunities to receive training and develop skills to lead guided tours for visitors as part of their working day and to administer first aid, as well as to use their language skills," the spokesperson said.
"These are not compulsory aspects of their role, and it is the choice of the individual whether they wish to take part."
The spokesperson however said that part of wardens' pay deal was "performance-related".
Trade unionists say the lowest starting salary at the castle, £14,400, is below the living wage – which is about £15,500 for a full-time worker.
Most expensive places to stay overnight in the UK
Most expensive places to stay overnight in the UK
1/10 10. Jersey

Known for its beaches and offshore accounts, Jersey came in at number 10. Hotel rooms will set you back £97 a night on average, down on 2013 when that price was £101.

Getty

2/10 9. Edinburgh

The Scottish capital only made number nine on the list, with prices averaging £106 last year. In 2013 that figure was 2% lower at £104.

Getty

3/10 8. Cambridge

Prices averaged £108 last year in the university town, a 10% increase on £99 the previous year

Creative Commons

4/10 7. Guernsey

The channel island is a popular tourist destination, with average prices of £113 a night last year up 6% on £107 in 2013.

AMANDA HALL / ROBERT HARDING / REX FEATURES

5/10 5=. Aberdeen

Aberdeen was voted Scotland's most dismal city earlier this year but that didn't stop it being the second-most expensive place in the country. Hotel rooms averaged £118 last year, up 10% on £107 in 2013.

Mkonikkara/Wikimedia Commons

6/10 5=. Windsor

Leafy Windsor averaged £118 a night, rising 4% on £114 in 2013

7/10 4. Bath

Bath came fourth as rooms averaged £120 a night in 2014, up 3% on £117 the year before

Creative Commons

8/10 3. Oxford

Oxford, famous around the world for its university, came third with rooms averaging £127. The 2014 average was up 11% on £115 in 2013.

Getty Images

9/10 2. London

London was beaten into second place. Rooms average £136, up 2% on £133 in 2013.

Getty

10/10 1. St Andrews

The Scottish town averaged £156 per room per night in 2014, up 5% on £148 in 2013

Getty Images
They are also note that workers are used as ad hoc translators and first-aid officers without extra compensation.
The Trust however argued that Wardens at Windsor Castle are paid "above market median based upon the Regional Living Wage" and receive a good pension, cost-of-living pay increases, and complimentary meal at lunch.
The Trust, a registered charity, says it does not anticipate any disruption to the running of tours around the castle.
Money from the tours goes to fund the Trust, which looks after the Royal Collection.
Reuse content