A man is feared to have died while kayaking on a river in Surrey as Storm Katie battered parts of the UK bringing in escess of 100mph winds that caused widespread travel chaos.
Dozens of flights were cancelled at Gatwick and Heathrow and thousands of passengers diverted as flight schedules were wrecked across southen England.
More than 80,000 homes were left without power in Dorset, Devon, Cornwall and Oxfordshire as the storm hit the south coast.
In Guildford, police are searching for a man who eyewitnesses said was overcome by strong currents while kayaking on the River Wey.
It is thought he was kayaking with his son and dog before they capsized. The boy was rescued, but his father was washed away.
Ch Insp Dave Mason, of Surrey Police, said: "We have a large number of officers out looking for this man alongside a number of fire crews.
"The man was spotted in the water by several members of the public and was clearly in difficulty due to the extremely strong current.
"We are doing everything we can to try and find him."
Elsewhere, a roof was ripped off a pub in Bermondsey, an industrial crane was bent double in Greenwich, and in the Channel Islands a gust of wind picked up an entire stable and dropped it outside a house.
Severe weather warnings have been issued by the Met Office for London and south-east England, while a yellow warning for wind has been issued for south Wales, the East and South-west.
Gusts of up to 106mph were recorded on the Isle of Wight and the Environment Agency issued 27 flood warnings after heavy rains.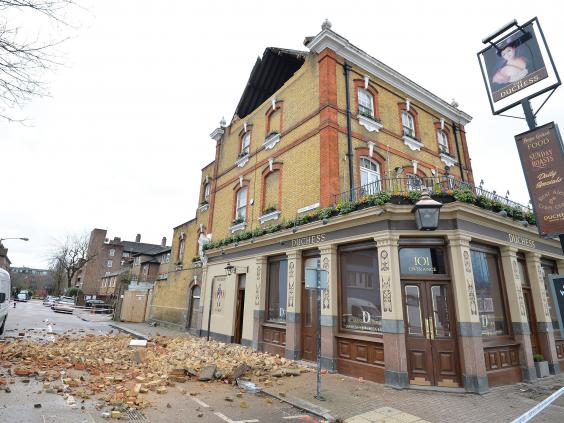 Passengers told of their terror as planes coming in to land at Gatwick and Heathrow airports were forced to divert to Birmingham and Manchester. 
Dan Prance, 27, from south London, branded his trip back from Budapest the "worst flight of my life" and said passengers were so relieved when they finally touched down that many burst into tears.
He said: "When we approached into Gatwick from Budapest the plane was dropping suddenly and swinging left to right. You could see from the windows there was a massive storm happening outside, the wind and rain was smashing against the glass.
"We got closer to the ground at Gatwick until the captain suddenly aborted the landing and we went shooting back up into the sky to attempt again.
"The captain came on the PA system and explained that the winds were way too strong for this kind of plane to land and he had to abort the landing at the last moment for safety. It was absolutely terrifying."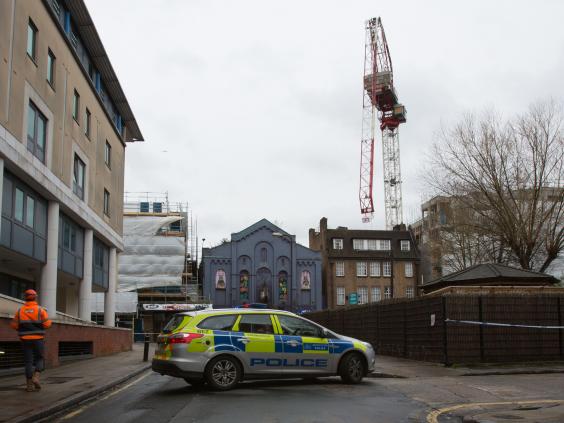 He said they were eventually diverted to Birmingham but only discovered where they were when they landed and people checked Google Maps.
Railways have also been disrupted after planned Easter engineering works were exacerbated by fallen trees on a number of lines in Surrey and Sussex.
In Battersea, south-west London, high winds brought down part of a pub's roof support, spreading rubble across the road.
An industrial crane in Greenwich was bent double by the winds. No injuries have been reported, but Creekside Road was closed and a nearby building evacuated.
Richmond Park was also closed as a safety precaution.
Fallen trees and debris in flood water has also held up motorists, while the Dartford River Crossing and M48 Severn Bridge were closed completely overnight on Sunday by Highways England.
Junctions on the M6 Northbound have now been re-opened after being shut because of rain running off fields flooding the lanes.
Ships and ferries were suspended in Dover harbour due to the strong winds and high seas.
The London Fire Brigade has been called to more than 110 incidents, including collapsed scaffolding and fallen trees.
A spokesperson said: "Firefighters are always on hand should any buildings, hoardings or scaffolding be left in a precarious position and posing a risk to life because of high winds.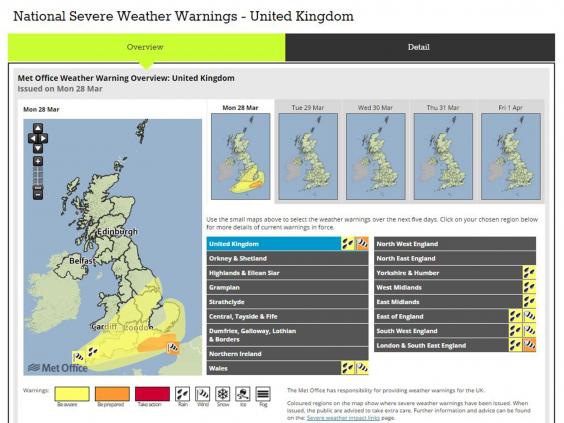 "Our 999 control officers have worked tirelessly to deal with hundreds of calls and get fire crews there as quickly as possible.
"To help stay safe during windy weather people should always clear gardens, balconies and window sills of anything that could be blown away. They should also take extra care if they venture outside and be careful using candles in the case of a power cut."
Additional reporting by agencies
Reuse content