A prized white Ming vase decorated with elegant blue lotus flowers is going on display in Scotland on its first stop of a UK tour.
The ornament, which dates back to the early 15 century, is on loan from the British Museum.
Standing at just over half a metre tall, the vase is the largest Ming imperial porcelain of its kind held by the museum, and will begin its journey around the UK at Glasgow's Burrell Collection.
It will go on show at the Pollok Park attraction from Satruday 12 April until 6 July. The exhibition comes after the Scottish Parliament passed a Bill in January to allow objects from the renowned collection of shipping magnate William Burrell to be toured internationally and for other objects to appear on loan beside it.
The vase will be shown alongside three large Ming bowls used at the imperial court in Beijing, before moving on to exhibitions in Sheffield, Bristol and Basingstoke.
Sir Angus Grossart, who chairs the group that oversees the Burrell Collection, said: "The loan of this wonderful Ming vase will strongly encourage us to revisit and better understand the high quality of the Chinese items within the Burrell Collection.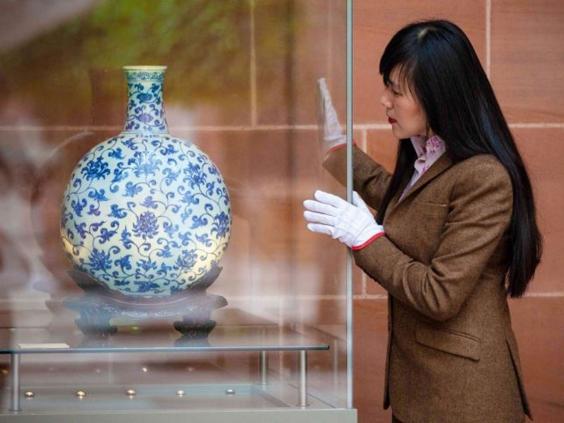 "These provide a clear recognition of how Burrell developed from his early interest, and as he grew in knowledge and confidence to become the great scholar with a wonderful discriminating eye."
Councillor Archie Graham, chairman of Glasgow Life, said: "We have enjoyed a very strong partnership with the British Museum in recent years and we're delighted that the Burrell Collection is the first stop on this UK tour.
"I have no doubt that this stunning Ming vase will delight new and existing audiences alike and I very much hope it leads to increasing interest and understanding of Sir William's remarkable collection of Chinese ceramics and objects."
Yu-Ping Luk, project curator at the British Museum, said: "The imperial Ming vase on tour donated by Sir John Addis is a treasure from the British Museum, and it will be a highlight display alongside the Burrell's own impressive Chinese collections.
"This will mark the first event in our lead-up to the major BP exhibition Ming: 50 years that changed China, opening in September this year."
Additional reporting by PA