A Tesco worker in London called a gay couple "disgusting" and told them they had "no right" to display affection in public in a homophobic rant, a man has claimed.
Steve Luetchford was shopping with his boyfriend, Mattia Pievani, at the chain's Brixton superstore on Thursday night when the woman allegedly launched the tirade.
"We were dashing around looking for dishwasher tablets and my boyfriend turned around and held my hand, gave me a kiss on the cheek and told me he loved me," Mr Luetchford told The Independent.
"Then heard shouting and realised the woman was talking to us.
"She said: 'You can't kiss in front of children, you can't do that in here, you should go outside to do that.'
"We had a moment where we ignored her but she kept on repeating it. She said: 'You don't have the right to do that in front of children'."
Mr Luetchford, 28, who noticed no children in the supermarket, said he told the staff member that they had every right to show affection and what she was saying was discriminatory.
But he claims the woman ignored his protests and that two other Tesco employees standing nearby refused to intervene when he complained.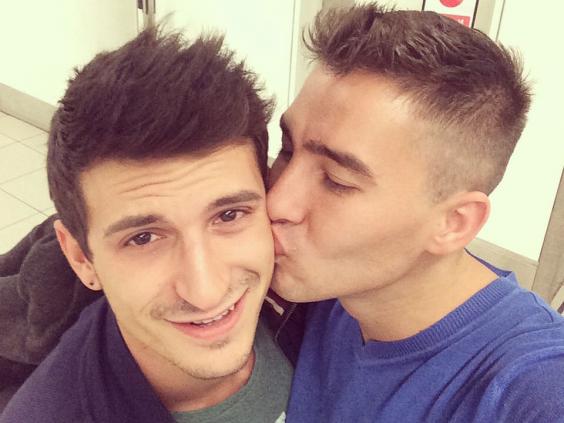 Mr Luetchford, who works at Ku Bar in Soho and as a part-time actor, claimed she called him and his boyfriend "misses", likening them to women.
After attempting to speak to a manager and make a complaint – requests he said were refused – he and Mr Pievani paid and left.
"I felt like I couldn't go back there because I'm gay," Mr Luetchford said.
He moved to London from South Africa four years ago and said he had never before been made to "feel ashamed of who I am".
"I'm in the UK, I'm in the first world, I'm in a place that's supposed to be accepting of all minorities," he added.
"Even if you don't agree with something, you don't get to make someone feel that way. Not anymore."
LGBT rights across the globe
LGBT rights across the globe
1/7 Russia

Russia's antipathy towards homosexuality has been well established following the efforts of human rights campaigners. However, while it is legal to be homosexual, LGBT couples are offered no protections from discrimination. They are also actively discriminated against by a 2013 law criminalising LGBT "propaganda" allowing the arrest of numerous Russian LGBT activists. (Picture: Riot police hold an LGBT activist during a Moscow rall.)

AFP/Getty

2/7 Mauritania

Men who are found having sex with other men face stoning, while lesbians can be imprisoned, under Sharia law. However, the state has not reportedly executed anyone for this 'crime' since 1987. (Picture: Chinguetti Mosque, Mauritania.)

ALAMY

3/7 Saudi Arabia

Homosexuality and transgender is illegal and punishable by the death penalty, imprisonment, corporal punishment, whipping and chemical castration. (Picture: The emblem of Saudi Arabia above the embassy in London.)

Bruno Vincent/Getty Images

4/7 Yemen

The official position within the country is that there are no gays. LGBT inviduals, if discovered by the government, are likely to face intense pressure. Punishments range from flogging to the death penalty. (Picture: Yemen's southern port of Aden.)

Getty

5/7 Nigeria

Both male and female same-sex sexual activity is illegal and in some northern states punishable with death by stoning. This is not a policy enacted across the entire country, although there is a prevalent anti-LGBT agenda pushed by the government. In 2007 a Pew survey established that 97 per cent of the population felt that homosexuality should not be accepted. It is publishable by 14 years in prison. (Picture: The northern Nigerian town of Damasak.)

Reuters

6/7 Somalia

Homosexuality was established as a crime in 1888 and under new Somali Penal Code established in 1973 homosexual sex can be punishable by three years in prison. (Picture: Families use a boat to cross a flooded Shebelle River, in Jowhar.)

Reuters

7/7 Iraq

Although same-sex relationships have been decriminalised, much of the population still suffer from intense discrimination. Additionally, in some of the country over-run by the extremist organisation Isis, LGBT individuals can face death by stoning. (Picture: Purported Isis fighters in Iraq.)

Getty Images
Mr Luetchford, who wrote about the incident on social media, said he received a huge response from the LGBT community on Facebook and Twitter, with many saying they had experienced similar verbal abuse.
"I spoke out because I think a lot of people don't say anything," he added. "Everyone wants to not have to think twice before holding someone's hand or giving them a kiss."
The alleged incident came months after a cashier in another Tesco supermarket, in Surrey Quays, allegedly told a lesbian couple that gay people "shouldn't have babies" and should "die alone".
Mr Luetchford said the manager of the Brixton branch had called him to apologise and say the matter was being fully investigated.
"Everyone is welcome at Tesco so we take any allegations of discrimination extremely seriously," a spokesperson for Tesco said.
"Our Brixton store manager is looking into the incident and our customer service team, who are in contact with Mr Luetchford, will update him as soon as they can."  
Reuse content